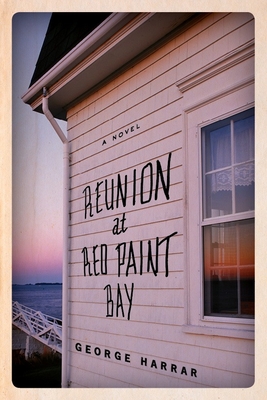 Reunion at Red Paint Bay
A Novel
Paperback

* Individual store prices may vary.
Other Editions of This Title:
Digital Audiobook (1/28/2013)
Compact Disc (2/1/2013)
Compact Disc (2/12/2013)
Description
Red Paint calls itself "the friendliest town in Maine," a place where everyone knows one another and nothing too disturbing ever happens. Native son Simon Howe is a sturdy family man--a good father and husband--and owner-editor of the town's newspaper. Because there's rarely any real news, he runs stories about Virgin Mary sightings, high school reunions, and petty criminals.

One day Simon's predictable and peaceful life is disrupted by the arrival of an anonymous postcard, the first in a series of increasingly menacing messages. He tries to ignore them, but the implied danger becomes more real, threatening to engulf his wife and son as well. The Howe family becomes engaged in a full-scale psychological battle with their unidentified stalker--without even knowing it. Secrets from Simon's past are uncovered, escalating toward a tense and unexpected climax.

More than a conventional mystery or thriller, Reunion at Red Paint Bay is an exploration of the consequences of guilt, denial, and moral absolutism. Harrar weaves a dramatic and suspenseful tale sure to spur readers into examining the limits of responsibility for one's actions.
Praise For Reunion at Red Paint Bay: A Novel…
"Harrar tacklessome big issues here, notably vengeance, guilt, and absolution, with the underlying question of when sex becomes rape. But messages aside, this is tightly written psychological suspense from the author of The Spinning Man (2003). Harrar is one of those writers on the verge of connecting with a much larger audience; this could be his moment." —Booklist

"Harrar skillfully echoes Alfred Hitchcock's theme about how a seemingly innocent man can be sucked into a disturbing vortex of forces that lie just below the surface of 'normal' life." —Kirkus

"More than a conventional mystery or thriller, "Reunion at Red Paint Bay" lays bare the consequences of guilt, denial, and moral absolutism. The novel can be read on several levels, but it devolves into a book tailored to spur readers into examining the limits of responsibility for one's actions." —Huntington News

"George Harrar tells a remarkable story about a newspaperman who struggles to tell the truth, feeling reluctant to bear the consequences, a story of human failure and hard redemption. The writing, razor-sharp and wildly insightful, creates characters who seem to jump off the page—becoming people we know, people we are. Read this book, each page mysterious and compelling, hiding within it the deep core of being human." —Elizabeth Cox, author of The Slow Moon
 
"Harrar's novel...is an intriguing and provocative take on some standard themes of contemporary fiction....Reunion at Red Paint Bay is well written even if it invites controversy and criticism. It is a memorable work that could spur some heated debate." —Metapsychology

"Secrets can haunt us. In George Harrar's novel Reunion At Red Paint Bay, secrets hunt us down for revenge." —Interview Magazine

"This is a gripping thriller, utterly convincing and alarming, as people struggle to justify past deeds, weigh the costs of the truth and decide that maybe a half-lie is just as good." —Bill Bushnell, Morning Sentinel (Waterville, Maine)

"Ironies abound here in this suspenseful study of universal themes of guilt, innocence, punishment, atonement, and absolution as seen through the seemingly simple life of a hitherto respected man in Red Paint Bay." —Seeing the World Through Books

"George Harrar's incisive look at the soft-focus lens through which we view our respective pasts" —Book Page

"The story resolution is quite wrenching. To say more would be to spoil a good read...It's a great tale of moral consequences, ethical dilemmas, differing perspectives, secrets, guilt and absolution." —Tutu's Two Cents
Other Press, 9781590515457, 288pp.
Publication Date: January 29, 2013
About the Author
George Harrar is the author of two novels for adults, including the literary mystery The Spinning Man. Among his dozen published short stories, "The 5:22" won the prestigious Carson McCullers Prize and was selected for The Best American Short Stories 1999. Harrar lives west of Boston with his wife, Linda, a documentary filmmaker. Their son, Tony, was the inspiration for Harrar's award-winning novel for middle-grade readers titled Parents Wanted, published by Milkweed Editions.
At the core of the story is the allegation of a date rape occurring on the graduation night of Simon Howe, 25 years before. There is no explicit description of that event, but rather, it is portrayed in flashes of Simon's memory as well as the comments of his stalker, Paul. Why does the author leave the description up to the different perspectives of the characters? Can you get a clear picture of what happened that night?
Simon is presented in the beginning as a conscientious family man and newspaper editor. How does your opinion of him change by the end of the book?
Personal responsibility is a theme that is explored in several characters. Discuss the relative responsibility Simon should feel for how Jean's life turned out. Can a person be held responsible for an act he didn't even know he committed?
What is the purpose of the character David Rigero, a former prisoner and rapist, in the novel?
Being familiar with the stories of many abused women, Amy tries to get Simon to acknowledge that he raped Jean. Does she seem too hard on him—too ready to assume his guilt? Does she act more like a therapist than a spouse who might naturally give him the benefit of the doubt?
Simon defends his newspaper's policy of running all the local police news, even when it might embarrass someone. Does he keep to that standard regarding his own life?
Should a person be judged by the worst thing he may have done in his life? Simon asks this question of himself while sitting in traffic with Amy. What examples are there in the news of people who have made single bad decisions that have wiped out otherwise respectable reputations? What determines whether we judge a person based on a single act or his or her whole life?
Simon and Amy spar frequently over exactly what happened that graduation night, whether it was a date rape or not. Are the arguments equally strong on both sides or favor one?
Simon has a second chance at taking responsibility in his life when he must decide whether to save Paul, who appears floundering in the lake. Is Simon's hesitation understandable considering the threat his stalker poses or another example of his not doing the right thing?
At the end of the book, Simon is sinking in the water of Red Paint Bay, wondering what comes next for him. Do you expect that he can mend his relationship with Amy? Will she forgive him? Does he even want forgiveness?
or
Not Currently Available for Direct Purchase