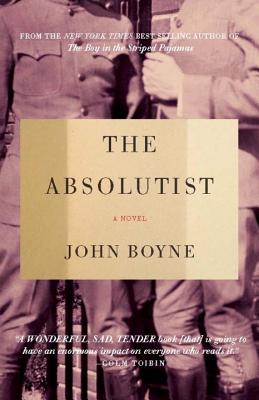 The Absolutist (Paperback)
A Novel by the Author of The Heart's Invisible Furies
Other Press, 9781590515525, 320pp.
Publication Date: July 10, 2012
Other Editions of This Title:
Digital Audiobook (8/19/2012)
Pre-Recorded Audio Player (12/1/2012)
MP3 CD (8/20/2012)
Paperback (5/1/2012)
Hardcover (5/1/2011)
Paperback (2/1/2012)
Paperback (5/1/2011)
Compact Disc (8/20/2012)
Compact Disc (8/20/2012)
* Individual store prices may vary.
Description
"A novel of immeasurable sadness, in a league with Graham Greene's The End of the Affair. John Boyne is very, very good at portraying the destructive power of a painfully kept secret."
—John Irving

A masterfully told tale of passion, jealousy, heroism and betrayal set in the gruesome trenches of World War I.

It is September 1919: twenty-one-year-old Tristan Sadler takes a train from London to Norwich to deliver a package of letters to the sister of Will Bancroft, the man he fought alongside during the Great War.

But the letters are not the real reason for Tristan's visit. He can no longer keep a secret and has finally found the courage to unburden himself of it. As Tristan recounts the horrific details of what to him became a senseless war, he also speaks of his friendship with Will--from their first meeting on the training grounds at Aldershot to their farewell in the trenches of northern France. The intensity of their bond brought Tristan happiness and self-discovery as well as confusion and unbearable pain.

The Absolutist is a masterful tale of passion, jealousy, heroism, and betrayal set in one of the most gruesome trenches of France during World War I. This novel will keep readers on the edge of their seats until its most extraordinary and unexpected conclusion, and will stay with them long after they've turned the last page.
About the Author
John Boyne was born in Dublin, Ireland in 1971. He is the author of nine novels (seven for adults and two for children), including The Boy in the Striped Pajamas, which was made into an award-winning film. The novel also won two Irish Book Awards, was short-listed for the British Book Award, reached the top of the New York Times Best Sellers list, and has sold more than five million copies. His novels are published in forty-five languages. He lives in Dublin. Please visit him at www.johnboyne.com
Praise For The Absolutist: A Novel by the Author of The Heart's Invisible Furies…
"A novel of immeasurable sadness, in a league with Graham Greene's The End of the Affair.  John Boyne is very, very good at portraying the destructive power of a painfully kept secret." —John Irving

"A moving and deeply felt tribute to a love that dared to speak it's name once—or maybe twice—and then forever held its tongue.  We suffer in silence, we love in silence, and we regret and learn to live our unlived lives in silence as well."—André Aciman author of Call Me by Your Name

"John Boyne has produced a gripping, superbly plotted novel, filled with surprises that are by turns confounding, disturbing and tremendously moving.  For all its spellbinding narrative momentum, The Absolutist is, in the end, a sober meditation on the heartbreak that ensues when people and principles collide." —Paul Russell, author of The Unreal Life of Sergey Nabokov

"A relentlessly tragic yet beautifully crafted novel." —Publishers Weekly

"A thought-provoking and surprising page-turner that for some readers may recall Ian McEwan's Atonement." —Reba Leiding, Library Journal

"Extraordinary...The narrative is by turns surprising and tragic in equal measure while its troubling conclusion will stay with readers long after they've closed the book." —Carlo Gebler

"Powerful, poignant and beautifully written. This will become a classic war novel." —The Bookseller

"John Boyne brings a completely fresh eye to the most important stories. He is one of the great craftsmen in contemporary literature." —Colum McCann

"A wonderful, sad, tender book that is going to have an enormous impact on everyone who reads it." —Colm Toibin

"Political, personal, powerful...a fiercely interrogative novel that asks not just what it means to be a man but also what it means to be a human being in the extreme circumstances of war." —Irish Times

"(In) Boyne's fiction, there's a sense that people are fundamentally the sum of their traumas...Boyne's narrative grip is strong." —Literary Review

"The Absolutist is surprisingly slim. Boyne conveys the period accurately and elegantly, but the characters—specifically Tristan, who narrates—are the stars. This isn't a novel about WWI; it's a novel about the unique horror of one man's experience, and Boyne makes every word count." —BookPage

"An outstanding read, very highly recommended." —Historical Novel Society

"What begins as a slow-building World War I period piece…grows deeper, more curious, and uneasy as it progresses--and midway through this sad and beautiful story, you realize you're in the hands of a quiet master. Piling questions atop half-truths, John Boyne…has crafted a taut and tragic tale of love and war, with a kick-in-the-gut ending" —Amazon (Amazon's Best Books of the Month list)
 
"You will hold your breath, you will smile, and you may cry, but when it's all said and done the story will end as it was always meant to." —Examiner
 
"What is most memorable here is the timelessly doomed relationship between Tristan and Will, marked by tenderness and confusion and cruelty in the face of their own internalized repression, as British as it is of its time. This is a wonderfully crafted tragedy that will stay with the reader for days." —The Daily Beast (Hot Read)
 
"The Absolutist needs to be read, for society always needs to be reminded that war and civilization are mutually exclusive, and that if we still have war, then we're not yet civilized." —The Coffin Factory
 
"This story…can be darkly graphic and emotionally brutal. An outstanding, thought-provoking look at the passionate choices we make, and how we react to life-changing situations. Much recommended for all readers, five full stars out of five." —Yahoo (Editor's pick of the month)
 
"In this relentlessly tragic yet beautifully crafted novel, Boyne documents the lives of two inseparable men navigating the trenches of WWI and the ramifications of a taboo involvement." —Publisher's Weekly
 
"Poetic, passionate, and poignant, The Absolutist is about self-discovery, friendship, and how far bravery can take us." —Interview Magazine

"The Absolutist is a slim, tightly wound novel of love and disaster." —The Millions
 
"A powerful story about love, hate, courage, guilt and war where nothing is simple and everything might not be as it seems." —Shelf Awareness

"An unforgettable story that transcends genres." —Huntington News

"This is a different kind of journey into the darkness of war, told by a gifted, powerful novelist, and the result is a book with an often staggering emotional punch." —Book Page

"The Absolutist is a riveting look into what drives the relationships we have in spite of the world around us." —Seattle Gay News

"This is great modern literature with fantastic artistic appeal and superb writing, a story of duty, honor, love, high passion and integrity." —Book Reporter 

"Writing of this sensitivity and simply verbal beauty is rare. Boyne is rapidly becoming one of the great writers of the century." —Literary Aficionado

"It's an outstanding, thought-provoking look at the passionate choices we make, and how we react to life-changing situations. It's much recommended for all readers." —Echo Magazine

"For me, the world totally ceased to exist while I was reading The Absolutist...If you plan on reading just one book this winter, this should be it." —Washington Blade
When Tristan first enters the Cantwell Inn, Mrs. Cantwell's son, David, presents the question of morality and describes the incident that happens in room four as "a personal indiscretion". Which characters does Boyne present as judges of morality in The Absolutist? How does Tristan's complete avoidance of their judgments define his character both negatively and positively?
In solitary confinement, Will makes it clear to Tristan what he dislikes about him and what makes them different.Tristan's silent compliance with the injustice of the military system and his insistence that their intimate moments hold some greater meaning come to repulse Will. Yet when Will removes his blindfold, his reaction suggests a kind of heartbreak. How do you read Will's reaction? Do you find any similarities between the two men?
In the novel's carefully crafted structure, relationships and events build upon one another to culminate in an emotionally complex ending. What implications can we draw from Tristan's description of his father as a butcher with "the boning knives, the animal carcasses, the bone saws and rib pullers, the bloodstained overalls" (p. 35)? What parallels are being made and how do they help us understand Tristan's relationship with his father and with violence? Can you think of other symbolic comparisons?
Tristan's internal conflicts with his family, with Marian, and with Will build in suspense. By not directly identifying Tristan's sexual orientation until later in the novel, Boyne allows room for a larger question of identity to develop. Consider Marian's position within her family and her community, David's ignorant desire to join the military, and Sergeant Clayton's development into a war fiend. How do these individual situations broaden Boyne's theme of troubled self-identity? Which other characters, struggle with their identity, and in what ways?
Tristan shows a particularly insightful ability to read a person's expressions (i.e., "'I do apologize, Mr. Sadler,' [David] said, turning to me now with a complicit smile, as if to imply that he and I were of a type who understood that nothing would go right in the world if we did not take it out of the hands of women and look after it ourselves" [p. 7]). Does Tristan's heightened intuition and sensitivity to other characters redeem his tendency to avoid conflict? What other redeeming characteristics does Tristan possess?
Tristan confides to Marian that he never took another lover after Will. This choice does not seem to be solely out of respect for the love he had for Will. Why else might Tristan insist on spending his remaining days alone?
In old age, Tristan reveals his plan to commit suicide and leave behind the story he has just told, accepting that this will ruin his reputation and cause him to be considered the greatest feather man of them all. How do you interpret Boyne's final treatment of Tristan's cowardice and self-image?
Tristan joins the firing squad on an angry impulse. Later he admits to Marian that he helped murder Will because he couldn't have him. Considering Will's reasons for being disappointed in Tristan, what is the irony of Tristan's action? What is implied when Tristan's own death approaches?