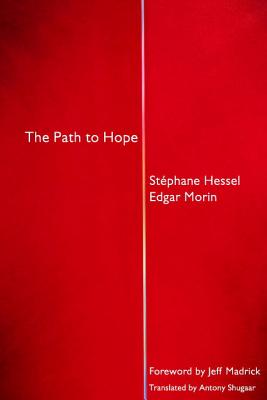 The Path to Hope (Paperback)
Other Press, 9781590515600, 112pp.
Publication Date: April 24, 2012
Other Editions of This Title:
MP3 CD (2/21/2017)
* Individual store prices may vary.
Description
A short, incisive political tract that criticizes the culture of finance capitalism and calls for a return to the humanist values of the enlightenment: equality, liberty, freedom as defined in the Declaration of the Rights of Man, a return to community, mutual respect, freedom from poverty, and an end to theocracy and fundamentalism. The authors argue that a return to these values constitutes "a path to hope," leading the way out of the present worldwide malaise brought on by economic collapse, moral failure, and an ignorance of history.
 
For the authors, 20th-century fascism was no mere abstraction—it was a brutal system brought on by a similar malaise, a system they fought against. This gives their book special urgency.
 
The Path to Hope is written by two esteemed French thinkers—94-year-old Stephane Hessel and 90-year-old Edgar Morin, following on the heels of Hessel's Indignez-vous! (Time for Outrage!). Both books have become bestsellers in France and throughout Europe. Both have also become foundational documents underpinning the worldwide protest movement of which Occupy Wall Street is the American subset.
About the Author
Stephane Hessel was a member of the French Resistance during World War II, a concentration camp survivor, a diplomat, editor of the 1948 Universal Declaration of Human Rights. His book "Indignez-vous!" has sold 3,500,000 copies.

Edgar Morin is a renowned French philosopher and sociologist who fought in the French Resistance.

Jeff Madrick is a regular contributor to the New York Review of Books and author of many works, most recently "The Age of Greed."
Praise For The Path to Hope…
"Brilliantly and in plain, stirring language The Path to Hope maps out the way to rational grassroots salvation for a world on the brink of ruin. It should be required reading for all who fret about our shared political and economic future." —Michael Greenberg, author of Hurry Down Sunshine

  "[The Path to Hope] makes appeal to the imagination and to civic exigencies for the future of humanity." —Livres Hebdo

"They're both over ninety and they envisage the future.  They denounce the financialization of capitalism, xenophobia …  And they recommend, among other things, a politics of "living well" (not in the material sense), a "remoralization" (against corruption), [and] wordly governance (cf. the last papal encyclical).  Generous ideas are not an adolescent privilege.  Politics is the art of the possible." —Panorama
or
Not Currently Available for Direct Purchase