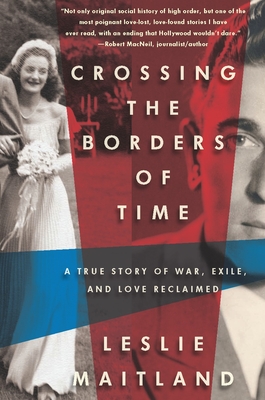 Crossing the Borders of Time
A True Story of War, Exile, and Love Reclaimed
Paperback

* Individual store prices may vary.
Other Editions of This Title:
Digital Audiobook (4/16/2012)
Hardcover (4/17/2012)
MP3 CD (4/17/2012)
Compact Disc (4/17/2012)
Compact Disc (4/17/2012)
Description
   On a pier in Marseille in 1942, with desperate refugees pressing to board one of the last ships to escape France before the Nazis choked off its ports, an 18-year-old German Jewish girl was pried from the arms of the Catholic Frenchman she loved and promised to marry. As the Lipari carried Janine and her family to Casablanca on the first leg of a perilous journey to safety in Cuba, she would read through her tears the farewell letter that Roland had slipped in her pocket: "Whatever the length of our separation, our love will survive it, because it depends on us alone. I give you my vow that whatever the time we must wait, you will be my wife. Never forget, never doubt." 
   Five years later – her fierce desire to reunite with Roland first obstructed by war and then, in secret, by her father and brother – Janine would build a new life in New York with a dynamic American husband. That his obsession with Ayn Rand tormented their marriage was just one of the reasons she never ceased yearning to reclaim her lost love. 
   Investigative reporter Leslie Maitland grew up enthralled by her mother's accounts of forbidden romance and harrowing flight from the Nazis. Her book is both a journalist's vivid depiction of a world at war and a daughter's pursuit of a haunting question: what had become of the handsome Frenchman whose picture her mother continued to treasure almost fifty years after they parted? It is a tale of memory that reporting made real and a story of undying love that crosses the borders of time.
Praise For Crossing the Borders of Time: A True Story of War, Exile, and Love Reclaimed…
"One of those sweeping, epic, romantic novels that seems tailor-made for the Oscars and a long summer afternoon. Except it's real! Leslie Maitland has the rare ability to bring history, adventure, and love alive." —Bruce Feiler, New York Times best-selling author of Walking the Bible and Abraham

"How the small flame of an undying love can illuminate the darkness of a tragic era. This elegantly told story is for everyone." —James Carroll, New York Times best-selling author of Jerusalem, Jerusalem and Constantine's Sword

"Not only original social history of a high order, but one of the most poignant love-lost, love-found stories I have ever read, with an ending that Hollywood wouldn't dare." —Robert MacNeil, Journalist-author

"Maitland is a brilliant reporter who knows what questions to ask and how to get her story. Written with the precision of a historian, the result is a work I could not put down and scarcely wanted to end." —Michael Berenbaum, former director of the Holocaust Research Institute at the U.S. Holocaust Memorial Museum

"A love affair thwarted by war, distance and a disapproving family became the defining story of Leslie Maitland's mother's life, and by extension, her own. What happens next is surprising indeed." —Cokie Roberts, NPR and ABC News analyst and author.

"A poignantly rendered, impeccably researched tale of a rupture healed by time." —Kirkus Reviews

"This is a worthy testament to how war and displacement conspire against personal happiness." —Publisher's Weekly

"Maitland's personal account of her family is a major contribution to history interlaced with a lovely love story." –Arts and Leisure News

"This is a fascinating story of thwarted love, longing, and the travails of one woman and one family within the broader context of war and persecution. Maitland includes a treasury of old family photographs and documents to enhance this incredible story of the gauzy intersection of memory and fact." –Vanessa Bush, Booklist (starred review)

"[Maitland] writes with a clear, candid journalist's eye and manages to remove herself from the story, yet place herself into the narrative at the same time. [She] writes...with insight and honesty. She closes this noteworthy read with poetic understanding and gentleness." –Jewish Book Council

"Schindler's List meets Casablanca in this tale of a daughter's epic search for her mother's prewar beau-50 years later." –Good Housekeeping

"[A] gripping account of undying love-a tale of memory that reporting made real." –Town & Country

"Crossing the Borders of Time is more beautiful than a novel because of the power of its true story and the richness with which it is told." –Neal Gendler, The American Jewish World

"A gripping true-life tale of victims of Nazi persecution and one survivor's quest for her lost love." –Shelf Awareness

"Sometimes the truth is not "stranger than fiction" but more compelling than fiction, and that's the case here. Any reader who likes exciting World War II drama and a good love story will be drawn to this book. Well written and captivating, its story will stay with readers well after the book is finished." –Library Journal

"An absorbing true account of romance, resilience, and survival during the years leading up to and during World War II, set against the backdrop of the Holocaust and the harrowing social history of mid-20th-century France." –The Daily Beast

"Crossing the Borders of Time will bewitch you. There is no fictionalized account of long-lost love that could be as compelling as this valentine to Leslie Maitland's parents and the sad situations that threatened to ruin their moral compasses throughout their entire lives. Simply put, this is an unforgettable tale." –Book Reporter

"Crossing the Borders of Time is a hair-raising tale of escape and survival, where crossing a border means everything. But sometimes, in this complicated world of loss, change and missed opportunities, it is just as amazing that love can make it across the biggest border of all: the border of time. Highly recommended." -American Girls Art Club in Paris

"The author makes fine use of her journalistic skills to conduct the search and to write about it, producing a narrative that is both informative and electrifying. History and the family saga combine in an informative and heart-warming tale that grips the reader's attention." -Indianapolis Jewish Post & Opinion

"This book gives a valuable window into how real people coped with war and also tells a compelling love story with modern twists. I highly recommend it." -Book Buzz
Other Press, 9781590515709, 510pp.
Publication Date: January 8, 2013
About the Author
Leslie Maitland is a former New York Times reporter who specialized in legal affairs and investigative reporting. She joined the Times after graduating from the University of Chicago and the Harvard Divinity School. After breaking stories on the FBI's undercover "Abscam" inquiry into corruption in Congress, she moved to the New York Times Washington Bureau to cover the Justice Department. After leaving the Times, she began, among other projects, extensive research for this book, including five reporting trips to Europe and one to Cuba. She has frequently participated in programs discussing literature on The Diane Rehm Show on National Public Radio. Maitland lives with her husband in Bethesda, Maryland.