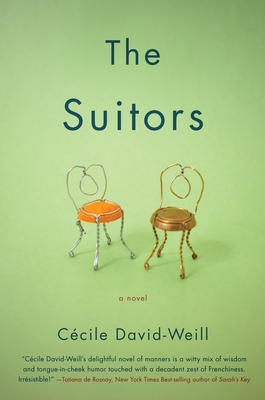 The Suitors (Paperback)
Other Press (NY), 9781590515730, 421pp.
Publication Date: February 26, 2013
Description
A comedy of manners that serves as an insightful look at the lives of those in the upper classes. After two sisters, Laure and Marie, learn of their parents' plan to sell the family's summer retreat, L'Agapanthe, they devise a scheme for attracting a wealthy suitor who can afford to purchase the estate. Selling it would mean more than just losing a place to go during the summer--for the sisters, it's become a necessary part of their character, their lifestyle, and their past. L'Agapanthe, a place of charm and nostalgia, is the perfect venue to exercise proper etiquette and intellect, though not all its visitors are socially savvy, especially when it's a matter of understanding the relationships between old money and the nouveau riche. The comedy of manners begins: with stock traders, yogis, fashion designers, models, swindlers, the Mafia, and a number of celebrity guests. Laure--the witty, disarming, and poignant narrator--guides the reader through elegant dinners, midnight swims in the bay, and conversations about current events, literature, art, and cinema. The Suitors is an amusing insider's look at the codes, manners, and morals of French high society.
About the Author
Cecile David-Weill is French and American. She published her first novel, Beguin (Grasset, 1996) under the name of Cecile de la Baume, which was released in an English translation, Crush (Grove, 1997). She is also the author of Femme de (Grasset, 2002). The Suitors is her third novel. Cecile is also a regular contributor to the online French news magazine Le Point, with a column entitled "Letters from New York." She was born in New York, where she currently lives. Linda Coverdale has translated more than sixty books. A Chevalier de l'Ordre des Arts et des Lettres, she won the 2004 International IMPAC Dublin Literary Award, the 2006 Scott Moncrieff Prize, and the 1997 and 2008 French-American Foundation Translation Prize. She was a finalist for the 2008 French-American Foundation Translation Prize for Life Laid Bare (Other Press, 2007).
Praise For The Suitors…
"A charming peek behind the curtain of French high society as only the ultimate insider can. Cécile David-Weill's novel is a delicious romp and I loved reading it!" —Ina Garten, Barefoot Contessa cookbooks and TV

"I loved Cécile David-Weill's 'Suitors,' a charming comedy of manners set at a country estate in the South of France, apparently one of the few places in the world where anyone still has enough manners to make a comedy about." —Andrew Solomon, New York Times Book Review

"Cécile David-Weill's delightful novel of manners is a witty mix of wisdom and tongue-in-cheek humor touched with a decadent zest of Frenchiness. Irrésistible!" —Tatiana de Rosnay, author of The House I Loved, A Secret Kept, and Sarah's Key

"If you've ever wondered what Downton Abbey would be like if it were set in the South of France during our current century, then pick up this smart novel de charme immediately...The intimate, fascinating detail with which Cécile David-Weill describes this society—complete with seating charts and chauffer pick-up schedules—is what elevates this book from a mere romp through old-money families of France into an intelligent, engaging study of a society that seems as if it should be extinct by now." —Oprah.com

"The Suitors sets out to be a farce and a frolic, but throughout there is an undertone of nostalgia and wistfulness for a disappearing way of life." —Wall Street Journal

"Deceptively charming and delightful, this novel by the French American David-Weill (Crush) portrays class issues and changing mores with the kind of intelligent taste that would make the Ettinguers proud." —Library Journal

"Combining a sociologist's eye for class nuances with wit as dry and sparkling as the best Champagne, Cécile David-Weill has drawn a meticulously observed, wickedly funny portrait of the 0.001%. Her protagonist Laure, a self-described 'freemason of refinement,' is determined to find a suitable savior for her family's legendarily, but discreetly, luxurious house in the South of France; to that end, she tirelessly decodes the signs of old-school elegance and nouveau riche striving that abound (and clash, to hilarious effect) among the house's revolving cast of art collectors and film stars, social climbers and grandes dames, sadistic nannies and billionaire yogis. The result is a sharply perceptive and addictively amusing insider's look at today's superrich—a direct heir to Edith Wharton's and Marcel Proust's portrayals of an earlier Gilded Age, and destined for a classic status all its own."  —Caroline Weber, the author of Queen of Fashion: What Marie-Antoinette Wore to the Revolution

"An entertaining and beautifully observed glimpse into the rarefied lives of the French one percent. Imagine Downton Abbey transported to a chic house in modern day south of France." —Ivana Lowell, author of Why Not Say What Happened?

"A deliciously intimate look at the hijinks of the tres, tres rich on the Cote d'Azur. I laughed on every page, but don't be fooled. The Suitors is above all a meditation on the inevitability of change." —Patricia Volk, author of Stuffed and Shocked: My Mother, Schiaparelli, and Me.

"Laure is disarming and witty, and serves as a charming guide who takes us inside the world of the very rich—and the no longer so." —The Daily Beast

"Cécile David-Weill gives readers an insider's tour of the French upper classes frolicking in a grand villa on the Cote d'Azur where life is meals and proper etiquette is serious business. Beneath the hilarious portrayal of intellectuals, film stars, and the aristocratic elite is the poignant story of two sisters caught in the nostalgic longing for their childhood summers and a precious way of life. Like those sweet French macaroon cookies, this is a novel you will delight in until the very last page." —Katharine Davis, author of Capturing Paris

"[A] delightful rendering of L'Agapanthe, an old French family's summer estate on Cap d'Antibes dedicated to the art of gracious living...David-Weill draws readers in as graciously as any good hostess, but because of her personal background—she comes from an old-monied French family who vacation on Cap d'Antibes—readers may wonder if this is a roman à clef and will likely try to play a who's who guessing game." —Publishers Weekly

"It's filled with the all the comforts (and the ridiculousness) of traditions and habits old and new. Sumptuous descriptions of the estate and their elaborate meals make for a charming read in more ways than one." —Linus's Blanket

"The design of Suitors is delightful, with menus, schedules of arrivals of guests, seating arrangements, and other special pages that make is a lovely thing to hold in your hand." —Mary's Library

"The idea of this 'behind closed doors' among the ultra-rich is excellent and merciless in its charms…we can imagine seeing the film, and the realization is brilliant: it's Vanity Fair meets Rules of the Game. You laugh a lot, you try to guess who is who, and you learn useful things." —Christophe Ono-dit-Biot, Le Point

"Like a French Nancy Mitford, Cecil David-Weill (daughter of a former chairman of Lazard Freres) is at her most interesting when she's parsing the manners of the super-rich, explaining why offering a Jet Ski as a hostess gift is simply never done."—Minneapolis Star Tribune
Advertisement