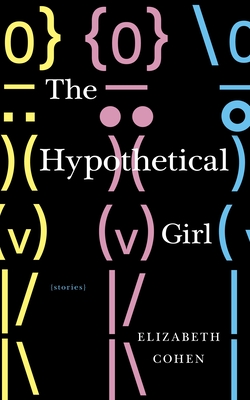 The Hypothetical Girl
Stories
Paperback

* Individual store prices may vary.
Description
Love meets technology with a dash of quirk in this collection of highly original short stories
 
An aspiring actress meets an Icelandic Yak farmer on a matchmaking Web site. An online forum for cancer support turns into a love triangle for an English professor, a Canadian fisherman, and an elementary school teacher living in Japan. A deer and a polar bear flirt via Skype. In The Hypothetical Girl a menagerie of characters graze and jockey, play and hook up in the online dating world with mixed and sometimes dark results. Flirting and communicating in chat rooms, through texts, e-mails, and IMs, they grope their way through a virtual maze of potential mates, falling in and out of what they think and hope may be true love.
 
With levity and high style, Cohen takes her readers into a world where screen and keyboard meet the heart, with consequences that range from wonderful to weird. The Hypothetical Girl captures all the mystery, misery, and magic of the eternal search for human connection.
Praise For The Hypothetical Girl: Stories…
"[An] astonishingly inventive collection of stories...I don't think I've ever read anything more original..." —Caroline Leavitt, New York Times bestselling author of Pictures of You

"With desperation or ambivalence, obsession or just plain hope, Cohen's characters navigate the mysterious etiquette of digital-age romance, often getting lost in the fever of a potential idyllic relationship that falters by the first date. Though many of these stories parallel each other and occasionally slip into bitter, cynical narratives, Cohen is at her best when she departs from conventional romantic comedy plots and explores what we think about when we anticipate love." —Publishers Weekly

"A daring biopsy of what is rapidly becoming the dominant romantic conundrum; love between absolute strangers." —Los Angeles Review

"Clearly, this book is about the state of modern romance, but it's also about our timeless fascination with identity—a weighty subject that Cohen handles with intelligence and a dash of much-needed whimsical comedy." —Oprah.com 
"To describe the sharp and sensitive stories in Elizabeth Cohen's collection 
The Hypothetical Girl 
as updates on the pursuit of love is to sell them short….a curious moment in time preserved and anatomized by an insightful writer."
—Jill Magazine
"Cohen has the eye of an anthropologist, the wit of a satirist, and the brevity of a poet." —Jill Eisenstadt, author of
From Rockaway
and
Kiss Out
"Elizabeth Cohen's stories, with their deep eternal truths, plop into the now with all the promise, hope and excitement of an IM from a secret love." —Wendy Lawless, author of
Chanel Bonfire
"These stories kick some serious ass. If you're looking for love you'll find it right here!" —David Kidd, Emmy nominated television writer, producer and screenwriter of
Yours, Mine and Ours


"I love these stories, each like a date with a great new match from Pretty Cool Fish, each with a man we want to trust but know we better not: Limericks, Harley rides, and, um, Shepherd's pie, also hikes in Senegal, not. Are you ready to take the Love Quiz? Because
The Hypothetical Girl
will read you like a book. Elizabeth Cohen is a wise and funny and very appealing writer, and her women are more than worth worrying ourselves sick over. Then again, do you remember your last great kiss? Because here it is." —Bill Roorbach, author of
Life Among Giants

"These stories--full of surprise and humor and heart--will make you feel less alone. These stories (as the story "Limerence" suggests) may even help you survive. There is nothing hypothetical about this author's talent; Elizabeth Cohen is the real deal." —Gayle Brandeis, author of
Delta Girls
and
My Life with the Lincolns"The Hypothetical Girl
is a collection of wonderfully written stories that are about the age old desires for love, for recognition, for happiness but told through the thoroughly contemporary world of online dating. These tales are illustrations of what happens when everyday technology and dreams collide. Potential lovers think about each other, invent and reinvent themselves, come clean, come together, and come apart, but always with a belief and unshakable faith that love is always worth it. In this way,
The Hypothetical Girl
(a title I happen to love) exposes the romantic gambler in all of us." —Whitney Otto,
New York Times
bestselling author of
How to Make an American Quilt
"Cohen is talented enough, to imbue the best stories—"Dog People," "The Man Who Made Whirlygigs," "The Opposite of Love"—with a sharp, distinctive quality as they show people tentatively using new tools in the age-old search for connection." —
Kirkus

"The Hypothetical Girl
deconstructs online dating and mediated communication while exploring the role of both feminism and femininity and the experiences of women in this new landscape. Cohen plays with the concept of beauty and how it affects and worries women exactly the same way it did before the creation of the Internet. Cohen proves herself a talented author, and these stories are an entertaining testament to that." —
The Coffin Factory"
Cohen's accomplished and funny first collection of stories cuts to the heart of the often heartless and "unfriendly" give and take of the world of Internet dating." —
Shelf Awareness

"
[An] exceedingly creative debut...Each story captures ordinary life in such an amazing, deer-in-the-headlights sort of way. Cohen has a knack for seizing characters when they aren't expecting it, when they are vulnerable—when they are the perfect fodder for a good story. She takes ordinary and she makes it humorous, adventurous, and heartbreaking." —
Bookslut


"
Hypothetical Girl 
is a humorous, often sad and at times dark, exploration of the world of online dating. In each of Cohen's fifteen stories exists a truth about the human experience." —
The Masters Review
"Cohen
brilliantly weaves a collection of mistaken attraction, vanity at its worse, stalking, loneliness, and secret fetishes...Her writing will shock and surprise you with unpredictable endings. Very simple and very honest,
The Hypothetical Girl
is a quick read you won't want to put down." —
At The Inkwell
"Stories at once hilarious, heartfelt, and (quietly, subtly) disturbing...[Hypothetical Girl] makes for a breathless, exciting reading experience."
—Fiction Writers Review

"Cohen pushes genre boundaries...it's gorgeous and heartbreaking. Definitely worth the read." —The California Journal of Women Writers

"Cohen writes with panache about the very particular afflictions of the web that arise when the division between real and not real becomes so murky. The fifteen tales are humane, if dark. Cohen maintains an edgy humor while looking clear eyed at what often goes wrong when her characters take risks...Cohen's stories, written with sharp humor and intelligence, are attuned to both light and dark." —Cleaver Magazine
Other Press, 9781590515822, 256pp.
Publication Date: August 6, 2013
About the Author
Elizabeth Cohen is an assistant professor of English at SUNY Plattsburgh, where she serves as the fiction editor for the Saranac Review. Her memoir, The Family on Beartown Road (Random House, 2003), was a New York Times Notable Book, and her articles, stories, and poetry have appeared in SELF, MORE, Newsweek, People, New York Times Magazine, Salon, Tablet, and the Yale Review, among other publications. She lives in Plattsburgh, New York, with her daughter, Ava.
or
Not Currently Available for Direct Purchase