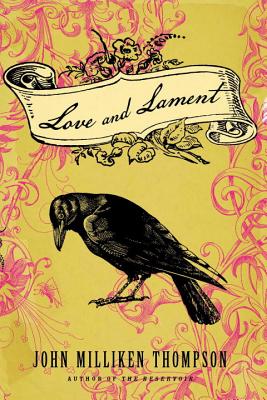 Love and Lament (Paperback)
A Novel
Other Press, 9781590515877, 400pp.
Publication Date: August 6, 2013
* Individual store prices may vary.
Description
A dauntless heroine coming of age at the turn of the twentieth century confronts the hazards of patriarchy and prejudice, and discovers the unexpected opportunities of World War I
 
Set in rural North Carolina between the Civil War and the Great War, Love and Lament chronicles the hardships and misfortunes of the Hartsoe family.
 
Mary Bet, the youngest of nine children, was born the same year that the first railroad arrived in their county. As she matures, against the backdrop of Reconstruction and rapid industrialization, she must learn to deal with the deaths of her mother and siblings, a deaf and damaged older brother, and her father's growing insanity and rejection of God.
 
In the rich tradition of Southern gothic literature, John Milliken Thompson transports the reader back in time through brilliant characterizations and historical details, to explore what it means to be a woman charting her own destiny in a rapidly evolving world dominated by men.
About the Author
John Milliken Thompson is the author of The Reservoir (Other Press, 2011). His articles have appeared in Smithsonian, Washington Post, Islands, and other publications, and his short stories have been published in Louisiana Literature, South Dakota Review, and other literary journals. He holds an MFA in fiction from the University of Arkansas and lives in Charlottesville, Virginia.
Praise For Love and Lament: A Novel…
"A seamlessly told and scrupulously detailed history of the Hartsoe clan of Haw County, North Carolina, Love and Lament is that rare novel that brings the gritty, rural past to vivid life.  I could very nearly smell the moonshine (the moonshiners too!).  Pass a few hours with Mary Bet Hartsoe and family.  You won't regret it." —T. R. Pearson, author of Jerusalem Gap and A Short History of a Small Place

"Mary Bet Hartsoe, the protagonist of John Milliken Thompson's beautifully told new novel Love and Lament, is a character of such intelligent and curious sensibility I would follow her anywhere.  And I did, and so will you as she takes us through some of the most turbulent times in our history while negotiating, with integrity and grace, the brittle demands of family and community." —Michael Parker, author of The Watery Part of the World
 
"Love and Lament is an ambitious and exhilarating novel of the South at the turn of the last century. It is a book you'll devour and savor. It will remind you why you started reading novels in the first place—to be enchanted, to be carried away from your world and dropped into a world more substantial and incandescent. John Milliken Thompson knows that every story is many stories, and he handles this complex tale of romance, family, race relations, and secrets with intelligence, grace, and tenderness. He has breathed life into Mary Bet Hartsoe and her benighted family, and they will breathe life into you." —John Dufresne, author of No Regrets, Coyote

"An appealing historical novel that blends gothic and plainly romantic themes." —Kirkus

"Thompson perfectly captures the Carolina Piedmont's sights, sounds, and flavors and convincingly depicts the turn-of-the-century South—haunted by the Civil War, and embracing old-time religion and new-fangled machinery and ideas. Underlying and uplifting his narrative is Mary Bet's vivid point of view." —Publishers Weekly

"Love and Lament is a monument to memory in its most powerful comingling of past and present. This is an ambitious and engrossing book, difficult to put down and, at times, almost too painful to contemplate...Thomposon, who seems to be a natural heir to [Eudora Welty], has written a wonderful book..." —Rumpus

"Thompson recreates the years after the Civil War with breathtaking clarity; it's a rare joy to sink into a novel and believe in it so completely. I rooted for Mary Bet, and worried over each step she took within a family that seemed mysteriously fated for disaster." —Ann Napolitano, author of A Good Hard Look

"In his new novel, John Milliken Thompson visits again the fertile ground that he explored so satisfyingly in The Reservoir: the south at the turn of the prior century; the trials of families under strain from within and without; and the mysterious relationships between good and evil, God and man. Love and Lament is a powerful book that you'll not soon forget." —Jon Clinch, author of Finn, Kings of the Earth, and The Thief of Auschwitz

"Thompson's Love and Lament offers us a young daughter of a still much-broken South, Mary Bet Hartsoe, as she witnesses the excesses of long-held jealousies, madness, religion and war, suffers the loss one after another of her family members, and yet marches on to become more than a woman of her time. Her story proves how the memory of loss is itself more fearsome than death, and yet even this fear has its limits once Mary Bet's future beckons her.  It's a wonderful journey to behold." —Michelle Hoover, author of The Quickening

"If you live in the rural South, it is a rare delight to find a writer like John Milliken Thompson, who captures familiar landscapes with a grace and freshness and also takes you so vividly and surprisingly into the past. But it's his beautifully drawn, completely original characters—Mary Bet, Cicero, Siler, Flora—who made me fall in love with this book, and who will appeal to readers everywhere." —Belle Boggs, author of Mattaponi Queen: Stories

"...the voice of the narrator feels authentic to the era, and Mary Bet springs off the page as a character. She is confident but conflicted, and her realistic journey will keep readers engaged."—Booklist

"In Love and Lament, John Milliken Thompson binds together the best of the southern gothic tradition of William Faulkner and postmodern studies of human character and psyche like Joanna Greenberg's I Never Promised You a Rose Garden. Mary Bet is a deeply sympathetic character, even--or especially--in her darkest moments, and Thompson's handling of detail makes the novel's early 20th-century setting feel real. Love and Lament captures the complexity of coming of age in the face of death and rapid industrialization, and the sense that although things will never be the same, life may yet endure."—Shelf Awareness
  
"John Milliken Thompson's Love and Lament is a sweeping novel that gets everything right—the details, the panorama—but mainly it allows you to experience the life of another time, about a hundred years ago, in the soul and mind of a young woman whose passions and worries could be your own. In other words, Thompson makes that art form called the novel do the work it is meant to do—thoroughly and beautifully." —Clyde Edgerton, author of The Night Train and The Bible Salesman

"I found myself in love with this novel of grief, passion and enduring family bonds...Love and Lament is the best novel I have read in a couple of years." —Deborah Pate, The Roanoke Times

"John Milliken Thompson transports the reader back in time through memorable characters, meticulous detail, and a voice that brings the past to vivid life." —Deep South Magazine
"Love and Lament is a beautiful book of coping and almost love stories. It is a book of poetry written in prose. It is slow paced, literarily matched to the pacing of its setting. And, really, it's a book about everyday life in a recovering South." —Quail Bell Magazine


or
Not Currently Available for Direct Purchase