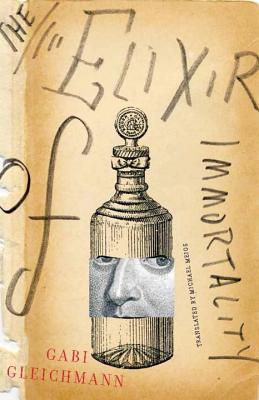 The Elixir of Immortality (Paperback)
Other Press (NY), 9781590515891, 757pp.
Publication Date: October 1, 2013
Other Editions of This Title:
MP3 CD (6/14/2016)
* Individual store prices may vary.
Description
A mesmerizing debut novel that spans a thousand years of European and Jewish history seen through the beguiling members of the Spinoza family

Since the eleventh century, the Spinoza family has passed down, from father to son, a secret manuscript containing the recipe for immortality. Now, after thirty-six generations, the last descendant of this long and illustrious chain, Ari Spinoza, doesn't have a son to whom to entrust the manuscript. From his deathbed, he begins his narrative, hoping to save his lineage from oblivion.
Ari's two main sources of his family's history are a trunk of yellowing documents inherited from his grandfather, and his great-uncle Fernando's tales that captivated him when he was a child. He chronicles the Spinozas' involvement in some of Europe's most formative cultural events with intertwining narratives that move through ages of tyranny, creativity, and social upheaval: into medieval Portugal, Grand inquisitor Torquemada's
Spain, Rembrandt's Amsterdam, the French Revolution, Freud's Vienna, and the horrors of both world wars.
The Elixir of Immortality blends truth and fiction as it rewrites European history through comic, imaginative, scandalous, and tragic tales that prove -the only thing that can possibly give human beings immortality on this earth: our ability to remember.-
About the Author
Gabi Gleichmann was born in Budapest in 1954 and raised in Sweden. After studies in literature and philosophy, he worked as a journalist and served as president of the Swedish PEN organization. Gleichmann now lives in Oslo and works as a writer, publisher, and literary critic. His first novel, The Elixir of Immortality, was sold to eleven countries prior to its first publication. Michael Meigs is an arts journalist and theatre reviewer in Austin, Texas, who served more than thirty years as an economist and diplomat with the U.S. Department of State. In 2011 the American Scandinavian Foundation awarded him the annual ASF Translation Prize for his English version of The Dean by Lars Gustafsson.
Praise For The Elixir of Immortality…
"An ample and fascinating, semi-fictional European chronicle of the old-new Jewish story in a broad historical context. Collaboration, complicities and conflicts came to light in this highly appealing narrative of exile and estrangement, of essential humanness and its spiritual potential for creativity and resilience through time and space."—Norman Manea, author of The Hooligan's Return
 
"This book could be called many things: The book of memory, the book of fictive facts, the book of family, the book of continuum, of fragments, the book of the Jews, that is, of Time. It's a very European book, not Hungarian, not Swedish, not Norwegian, not Spanish, but Central European, Eastern European, Western European. And the sun is also shining in it, thus it is also Southern European. It's the book of belonging and homelessness. It's a rich book: there is joy, drama, passion, defeat, victory in it; above all, words. Words, in great order." —Péter Esterházy

"Rarely — very rarely — a work is born into the world as if already old, as if inevitable, as if immemorially there. We name it Myth, or Folklore, and sometimes History; but always and always it is Story. In this realm of Eternal Tale dwells Sheherazade, and Don Quixote, and Chaucer and Bocaccio, masters of chronicles that seem to have no origin, so integral are they to the air we breathe. The Elixir of Immortality is of this everlasting company, and given the dizzying two-thousand-year-old story of the Jews of Europe, how could it be otherwise? The remarkable Spinoza family line threads through a teeming procession of rabbis, sultans, siblings, philosophers, Inquisitors; chronologies and geographies; God and Torah and torments and pogroms; history's famous (Rembrandt, Voltaire, Freud) and infamous (Torquemada, Hitler, Stalin); geniuses and rascals. And all of it in the naïve voice of the storyteller, with its sly undercurrent of ironic wit, through which one can follow the generational recurrence of the enormous Spinozan nose. Not Gogol's nose, not Cyrano's, but the Shylockian nose of endemic Jew-hatred, here laughingly magicked into mockery of the mockers.
 
In its mammoth scope and aspiration, The Elixir of Immortality is like no other contemporary novel. Call it, then, the humanity-besotted outpouring of a sublime and tragic jester." —Cynthia Ozick

"A Dan Brown novel done right, full of wit and mystery. Memorable and sure to be one of the big novels of the season." —Kirkus Reviews (starred)

"Gleichmann here masterfully spins out the tangled fates of 17 generations of Spinozas...A supple translation of the Norwegian original conveys the cathartic force of this masterpiece." —Booklist (Starred Review)

"If Márquez's One Hundred Years of Solitude took place in cosmopolitan Europe, or if the cast of the Arabian Nights rubbed shoulders with the greatest minds of Western civilization, then those works might resemble this magical and tragic novel." —Jewish Book Council

"[An] imaginative and intriguing story..." —FlavorWire

"The Elixir of Immortality is an entertaining pan-European epic, an extended family saga that will have you flipping back to the family tree diagram at the front of the book while searching Wikipedia to brush up on your European history...[A]n amusing panorama of European history through the many eyes of one prodigious Jewish family." —The Rumpus

"A few novels are so thoroughly engrossing that one feels compelled to reread them immediately...[C]ompellingly readable and lively for some 800 pages. It's the kind of book that, wherever you open it, you get hooked. Quite amazing for a first novel... [T]he simple truth is that this beautiful narrative and its myriad tales celebrates the age-old Jewish injunction: Zachor (remember). Few of us know our family histories back more than a few generations: Gleichmann offers us a world both real and imagined where we can sense our selves as we might have been hundreds of years back. A fabulous novel." –Fuse
or
Not Currently Available for Direct Purchase