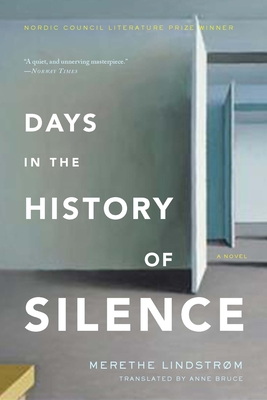 Days in the History of Silence
A Novel
Paperback

* Individual store prices may vary.
Other Editions of This Title:
MP3 CD (6/21/2016)
Description
From the acclaimed Nordic Council Literature Prize winner, a story that reveals the devastating effects of mistaking silence for peace and feeling shame for inevitable circumstances
 
Eva and Simon have spent most of their adult lives together. He is a physician and she is a teacher, and they have three grown daughters and a comfortable home. Yet what binds them together isn't only affection and solidarity but also the painful facts of their respective histories, which they keep hidden even from their own children. But after the abrupt dismissal of their housekeeper and Simon's increasing withdrawal into himself, the past can no longer be repressed.
 
Lindstrøm has crafted a masterpiece about the grave mistakes we make when we misjudge the legacy of war, common prejudices, and our own strategies of survival.
Praise For Days in the History of Silence: A Novel…
"This remarkable novel explores the theme of silence in many different forms—a children's game, a refuge, a lie, a punishment, a solution—and shows its impact on those who long to be spoken to….The prose is simple and elegant, revealing an extraordinary talent." —Publishers Weekly

"This deeply intimate character portrait dwells in the intersection of nostalgia, loss, and forgotten histories... Bruce's translation allows Lindstrøm's sparse and evocative prose to shine, giving equal weight to both highly dramatic and domestically mundane events. Fans of Anne Holt, Nicholas Mosley, and Max Frisch will savor Days in the History of Silence."  —Booklist

"A painful, yet inspiring novel, Days in the History of Silence lingers in the reader's mind and heart and does not let go." —Jewish Book Council

[A]n elegant meditation on the destructive power of family secrets and hidden pasts…Days in the History of Silence is a masterclass in philosophical dilemma, with the razor-sharp edge of a taut psychological thriller. —The National

"In gentle, precise, and thoughtful prose Lindstrøm relates how a dramatic past slowly breaks into an elderly woman's life and consciousness." —The Nordic Council

"[E]ngrossing. The layers of silence that are stacked so neatly within this narrative are skillfully and precisely constructed, so that peeling one back only releases another." —Minneapolis Star Tribune

"A quiet and unnerving masterpiece." —Norway Times

"Lindstrøm interweaves past and present in an intricate and gradually highly suggestive tale that makes use of a sober, simple language. In masterly fashion, she shows how remaining silent isolates the narrator Eva and her husband Simon from a sense of belonging they both actually long for…By means of a finely tuned, simple language [Lindstrøm]…expands out small everyday circles so that they become part of the large historical circle in which we all findourselves." —Norwegian Critics Prize for Literature Judgment

"An intimate and intense narrative about losing oneself through losing other people…. One of this year's most memorable novels." —Sindre Hovdenakk, Verdens Gang

"In unobtrusive, elegant, and incisive prose, [Lindstrøm] has produced a drama of everyday life that insinuates itself under the reader's skin." —Turid Larsen, Dagsavisen

"Stylish and clever. Merethe Lindstrøm is not only an outstanding, but also an intelligent stylist…This novel is one of the best she has written to date." —Margunn Vikingstad, Dag Øg Tid

"The simplicity of the language and the domesticity of the surroundings make it an immersing read...[Days in the History of Silence] will stay with you long after you put the book down..." —Bookslut

"Merethe Lindstrøm provides a strong philosophical tale as she makes a profound argument that the past never fully vanishes since the ghosts of yesteryear haunt the present." —Genre Go Round Reviews

"A fascinating novel..." —Hudson Valley News

"A very powerful novel, impressively done." —Complete Review

"Remarkably beautiful...prose that lingers long after being read." —Calamus

"[A] searing work of imagination." —The Free Lance-Star

"Quietly mesmerizing." —We Love This Book

"[Days in the History of Silence] provides a great deal to think about and a great deal to admire." —A Life In Books

"[Q]uietly stunning." —Library Journal 

"[T]his is a powerful, emotional, and never-to-be-forgotten novel of pure honesty." —Seeing the World Through Books 

"Elegant and thought-provoking…a highly focused and intelligent read, brimful of humanity, wisdom and psychological insight. [Days in the History of Silence is] infused with a gentle melancholia and leaves one aching to be upfront and transparent with the ones you love." –Reading Matters

"A beautiful and strange book." —Journal of Imaginary People
Other Press, 9781590515952, 240pp.
Publication Date: August 27, 2013
About the Author
Merethe Lindstrøm has published several novels and collections of short stories, and a children's book. She was nominated for the Nordic Council Literature Prize and for the Norwegian Critics' Award in 2008 for her short-story collection The Guests. The same year, she received the Doubloug Prize for her entire literary work. Days in the History of Silence is her most recent novel, nominated for the Norwegian Channel 2 Listeners' Novel Prize, and winner of the Nordic Council Literature Prize and the Norwegian Critics' Prize. She lives in Oslo, Norway.
 
Anne Bruce has degrees in Norwegian and English from Glasgow University covering both Nynorsk and Bokmål, classic and modern texts, written and spoken Norwegian, as well as Old Norse, Icelandic, Swedish, and Danish. She has traveled extensively throughout Scandinavia on lecture and study visits, and undertaken translation and interpretation for visiting groups from Norway. She has translated Wencke Mühleisen's I Should Have Lifted You Carefully Over, Jørn Lier Horst's Dregs, and Anne Holt's Blessed Are Those Who Thirst.
The "intruder" who enters Eva and Simon's house in the beginning of the novel is at first an unsettling presence, but later in the book he comes to represent something else to Eva. Why does Lindstrøm open with this scene, and how does it relate to the rest of the book?
Despite Marija's hateful anti-Semitic remarks, Eva finds herself extremely affected by her absence after she and Simon dismiss her. What role does Marija play in Simon and Eva's relationship that becomes such a profound loss after she is gone?
Simon and Eva both decide at different times that it's best not to tell their daughters about their respective pasts. To what extent can hiding the past from the next generation be a selfish act or a benevolent one? Is keeping painful secrets from loved ones, as Simon and Eva do throughout this novel, ever justified?
How do you interpret Simon's descent into silence? Is it a kind of protest, a result of dementia, or perhaps something else? Do you think Simon is making a choice to be silent? If so, why do you think he chooses silence over telling?
What role does guilt play in Simon and Eva's relationship with each other and with their family?
Simon searches for his missing relatives and Eva begins to imagine her son's fate more and more as the book progresses. How are Simon's and Eva's "searches" for missing relatives different, and how might this account for their growing distance from each other?
At the end of the novel, it is implied that Eva has finally decided to share the truth with her daughters. What ultimately prompts this decision? Do you feel that it is for the best?