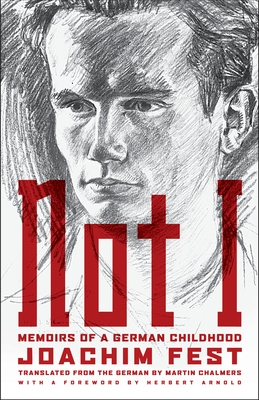 Not I
Memoirs of a German Childhood
Paperback

* Individual store prices may vary.
Description
One of the New York Times Books Review's 100 Notable Books of 2014!

A portrait of an intellectually rigorous German household opposed to the Nazis and how its members suffered for their political stance
Few writers have deepened our understanding of the Third Reich as much as German historian, biographer, journalist, and critic Joachim Fest. His biography of Adolf Hitler has reached millions of readers around the world. Born in 1926, Fest experienced firsthand the rise of the Nazis, the Second World War, and a catastrophically defeated Germany, thus becoming a vital witness to these difficult years.
In this memoir of his childhood and youth, Fest offers a far-reaching view of how he experienced the war and National Socialism. True to the German
Bildung
tradition, Fest grows up immersed in the works of Goethe, Schiller, Mörike, Rilke, Kleist, Mozart, and Beethoven. His father, a conservative Catholic teacher, opposes the Nazi regime and as a result loses his job and status. Fest is forced to move to a boarding school in the countryside that he despises, and in his effort to come to terms with his father's strong political convictions, he embarks on a tireless quest for knowledge and moral integrity that will shape the rest of his life and writing career.
Praise For Not I: Memoirs of a German Childhood…
A New York Times Book Review Notable Book of 2014

"Quietly compelling, elegantly expressed… Not I shrinks the Wagnerian scale of German history in the 1930s and 1940s to chamber music dimensions. It is intensely personal, cleareyed and absolutely riveting." —The New York Times 

"The socially conformist thing to do for a man of distinction—journalist, filmmaker, author of the best-selling first postwar German biography of Hitler, eventually co-editor of the Frankfurter Allgemeine Zeitung—would have been to recount the history of his own distinguished career. Instead Joachim Fest (1926-2006) chose to write Not I, a colorful and dramatic account of his childhood and youth in the nonconformist family that made him what he became." —The Wall Street Journal

"Exceptional…it tells in a modest, believable, quietly bitter, and totally proud way of a family's extraordinary decency…Strong and unique. Without it, the English language these days is short a very good book." —New York Times (Global Edition)

"Joachim Fest's fascinating memoir about what it was like to come of age during the years of the Third Reich is unusual because its central character is not the author but the author's remarkable father." —The New York Times Book Review

"Fest's portraits of his brothers, his mother, and his cousins—and of himself as a teenage soldier and POW—are equally vivid and full of pathos." —Lorin Stein, The Paris Review

"[An] extraordinary memoir, written in a polished style full of irony and wit." —New York Review of Books

"A stunning portrait of a strenuously anti-Nazi family in Berlin who managed to hang on to their moral convictions during the brutalizing Hitler years...A beautifully written and translated work that creates rare, subtle portraits of Germans." —Kirkus Reviews (Starred Review)

"[An] extraordinarily humane addition to our understanding of those who acted heroically not alone, but alongside a few intimates, together facing into the void." —America Magazine

"A heroic interrogation of Germany's past." —Sunday Telegraph

"I loved it, both as a story of great personal courage but also as a very moving witness to the fact that decent liberal values were not entirely lost during the Nazi period. It gives a fascinating and unusual slant on a time that has been so heavily worked over in more obvious ways. In its own manner, it stands alongside Victor Klemperer's extraordinary diaries of the same period." —Simon Mawer, best-selling author of Trapeze and The Glass Room

"Fest's accounts of being called up, of trying to avoid military service, fighting, seeing comrades die, and being caught and kept as a prisoner of war are engrossing." —Independent On Sunday

 "[Fest] makes it hard to think about those blighted years, and it should be hard. His book is a glory, but only if you dare." —The Scotsman
Other Press, 9781590516102, 458pp.
Publication Date: February 11, 2014
About the Author
Joachim Fest was one of the most important authors and historians of the Federal Republic of Germany. From 1963 he worked as chief editor of Norddeutscher Rundfunk (North German Broadcasting), and from 1973 to 1993 as editor of the Frankfurter Allgemeine Zeitung. His biography Hitler (1974) has been translated into more than twenty languages. His other works include Inside Hitler's Bunker (2005), Speer: The Final Verdict (2002), and Plotting Hitler's Death (1996).
 
Herbert A. Arnold holds a PhD from the University of Würzburg and is a professor emeritus of German and Letters at Wesleyan University.
 
Martin Chalmers's recent translations include Summer Resort by Esther Kinsky and Brussels, the Gentle Monster: or the Disenfranchisement of Europe by Hans Magnus Enzensberger. In 2004 he was awarded the Schlegel-Tieck Prize for The Lesser Evil, his translation of the post-1945 diaries of Victor Klemperer.
or
Not Currently Available for Direct Purchase