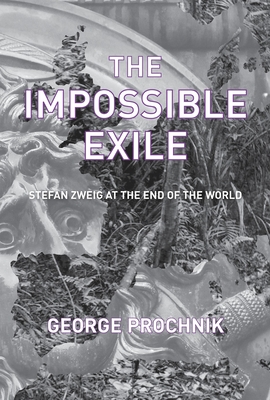 The Impossible Exile (Hardcover)
Stefan Zweig at the End of the World
Other Press, 9781590516126, 408pp.
Publication Date: May 6, 2014
Other Editions of This Title:
Paperback (8/25/2015)
* Individual store prices may vary.
Description
An original study of exile, told through the biography of Austrian writer Stefan Zweig, the man who inspired The Grand Budapest Hotel
 
By the 1930s, Stefan Zweig had become the most widely translated living author in the world. His novels, short stories, and biographies were so compelling that they became instant best sellers. Zweig was also an intellectual and a lover of all the arts, high and low. Yet after Hitler's rise to power, this celebrated writer who had dedicated so much energy to promoting international humanism plummeted, in a matter of a few years, into an increasingly isolated exile—from London to Bath to New York City, then Ossining, Rio, and finally Petrópolis—where, in 1942, in a cramped bungalow, he killed himself.
 
The Impossible Exile tells the tragic story of Zweig's extraordinary rise and fall while it also depicts, with great acumen, the gulf between the world of ideas in Europe and in America, and the consuming struggle of those forced to forsake one for the other. It also reveals how Zweig embodied, through his work, thoughts, and behavior, the end of an era—the implosion of Europe as an ideal of Western civilization.
About the Author
George Prochnik's essays, poetry, and fiction have appeared in numerous journals. He has taught English and American literature at Hebrew University in Jerusalem, is editor-at-large for Cabinet magazine, and is the author of In Pursuit of Silence: Listening for Meaning in a World of Noise and Putnam Camp: Sigmund Freud, James Jackson Putnam, and the Purpose of American Psychology. He lives in New York City.
Praise For The Impossible Exile: Stefan Zweig at the End of the World…
"[A] superbly lyrical study…The Impossible Exile is not really—or not just—a biography of Zweig's final years. It is a case study of dislocation, of people who had not only lost a home but who were no longer able to define the meaning of home…Mr. Prochnik gives a very rich sense of what so many exiles experienced during the war…[his] words could not be more resonant."  —Andre Aciman, The Wall Street Journal

"Poignant, insightful." —The New Yorker

"[A]n intriguing...meditation on Zweig's last years. ...an intellectual feast served as a series of canapes. " —The New York Times Book Review

"Subtle, prodigiously researched and enduringly human throughout, The Impossible Exile is a portrait of a man and of his endless flight." —The Economist

"The Impossible Exile [is] a gripping, unusually subtle, poignant, and honest study. Prochnik attempts, on the basis of an uncompromising investigation, to clarify the motives that might have driven to suicide an author who still enjoyed a rare popularity." —Anka Muhlstein, New York Review of Books 

 "[Wes] Anderson told Fresh Air's Terry Gross that until a few years ago, he had never heard of Zweig — and he's not alone. Many moviegoers share Anderson's past ignorance of the man who was once one of the world's most famous and most translated authors.  George Prochnik is out to change that." —NPR, "All Things Considered"

"Richly rewarding...a major work of historical and cultural criticism of Europe's darkest times...Zweig's haunted talent has never been better explored than in this exemplary study." —The Times

"A terrific book...Prochnik focuses on Zweig's later years, discussing in detail his wanderings in the nineteen-thirties and forties—to Great Britain, the United States, and his last stop, Brazil. Zweig lived in New York for a while, and Prochnik movingly documents the toll that the author's peculiar prominence among the Jewish émigré community took on him, especially at a time when millions of Jews who remained in Europe were dying." —NewYorker.com

"[A] fascinating study of the author who escaped the Nazis only to take his own life in a Brazilian city in 1942, his second wife, Lotte, by his side…Zweig resists intimacy, but Prochnik's perceptiveness and gentle humor slip us inside the meticulously cultivated persona." —Vogue.com

"It's hard to imagine a better book about Zweig, or one more worthy of so complex and multi-faceted a personage. " —LA Review of Books

"Prochnik's brilliantly accomplished and genre-bending book allows access to Zweig in a way that until now seemed impossible." —New Statesman

"[The Impossible Exile]has the essayistic virtues of brevity, personality and a relaxed gait...By breaking away from the cradle-to-grave narrative groove of traditional biography, Prochnik gives his thought, and his prose, free rein." —The Telegraph

"The Impossible Exile captures the intractable, persistent violence wrought upon those who escaped the physical trap of Nazism, but were nonetheless held captive by fear, and displacement from self and home." —Bookslut

"Prochnik evocatively portrays the [New York] city Zweig knew [and] shows us what it meant for Zweig to be there—how hard it was to be one of the 'lucky' ones....[Prochnik] is particularly empathetic in writing about this dilemma." —Bookforum

"Well researched, empathic, energetic, The Impossible Exile is a pleasure to read."  —Literary Review

"A winning mix of travelogue and family memoir." —Jewish Review of Books

"Enlightening and enjoyable." —American Jewish World 

"One of the finest literary biographies of the year." —Flavorwire

"Sensitive and enthralling...A joy to read...takes you into the world from which [Zweig's] writing sprang." —The Sunday Times

"Accessible, compelling, and thorough without being pedantic, this literary and cultural biography offers keen insight into Zweig's life, particularly his final years." —Library Journal

"Stefan Zweig stands in for Europe's uprooted intellectuals in this elegiac portrait by Prochnik….[An] intelligent, reflective and deeply sad portrait of a man tragically cut adrift by history." —Kirkus Reviews

"George Prochnik's portrait could hardly be bettered… As he follows in Zweig's footsteps, Prochnik sheds light on the darkness that consumed him in his final years. And Lotte, too, emerges as a much more fully rounded figure. News of their suicide came as a terrible shock to Zweig's admirers and friends. The Impossible Exile makes that final act seem much more comprehensible." —The Independent

"[The Impossible Exile] both traces Zweig's meteoric rise and fall, and reveals a changing international climate where European and American ideas were frequently at odds." —New Criterion

"Prochnik interprets Zweig with a fluidity few have achieved. Through a sympathetic melding of the writer's irreconcilable dichotomies—his philandering and selfishness, alongside his extravagant generosity even to those who abused him—Prochnik has created a baffling, loveable, wounded man who charmed the world, briefly, but could not protect himself even with the shields of money and prestige." —The Sydney Morning Herald

"Prochnik is so empathically attuned and committed to the full sweep of Zweig's by turns glimmering and sorrowful story that nothing goes unexamined or unfelt in this brilliant and haunting biography." —Booklist 

"An indelible meditation on exile and its impact on future generations." —Shelf Awareness

"Subtle-minded and unsentimental, Prochnik makes some sense out of the enigmatic Zweig...The biography is nestled in excellent mini-essays on Zweig's world: journalism, the coffee-house culture, Viennese snobbery, Jewish snobbery. In turn, that story is embraced by Prochnik's own: growing up in America in a family that had escaped Austria after the Anschluss.  The book is in the bloodline of W.G. Sebald."  —Joan Acocella of The New Yorker

"[A] very sensitive and accurate account of Zweig's uprooting." —Tablet

"A superb new biography." —Haaretz

"[A] majestic meditation on the trauma of Jewish exile, the nature of fame and the challenges of irrevocable loss." —The London Magazine

"This books is critical to understanding Zweig." —CHOICE

"It is not just Zweig in exile whose plight he analyses but the condition of flight from Hitler's Europe altogether." —The Jewish Chronicle Online

"In his sensitive, emotionally astute and strikingly stylish account of Stefan Zweig's exile, George Prochnik manages to convey, better than virtually any other book I've read on the subject, the awful intellectual and emotional costs of wartime displacement.… A remarkable work of biographical empathy and imagination." —Daniel Mendelsohn, author of The Lost: A Search for Six of Six Million

"Part literary biography, part cultural history, part meditation on war, art and death, The Impossible Exile gives us the pulse and fever of Zweig's desperate and fascinating days." —David Laskin, author of The Family: Three Journeys into the Heart of the 20th Century

"A deeply moving study of one writer's struggle to adapt to a life outside the European culture whose values he helped create….A remarkably rich, multi-dimensional portrait of loss, longing, and despair." —Sherill Tippins, critically acclaimed author of February House and Inside the Dream Palace

"A thrilling blend of literature, cultural history, and biography, The Impossible Exile casts a compassionate and slyly contemporary light on what it means to be torn from one's life and home. Prochnik is especially insightful on the psychological cost of exile, the loss of self, of fame, of relevance, that beset Zweig and his brilliant coterie of displaced Viennese and German artists, composers, and writers." —Michael Greenberg, author of Hurry Down Sunshine and Beg, Borrow, Steal: A Writer's Life

"The Impossible Exile is not only a riveting study of one of the major literary émigrés of the Nazi era, but also a profound meditation on the nature of fame, the intersection of politics and art, and the condition of exile itself. … Prochnik brings a sympathetic but unsparing eye to his subject and in the process makes the best case I've read for the continued importance of this cultured, humane, yet fascinatingly complicated figure." —James Lasdun, author of Give Me Everything You Have

"This is a beautifully written, deeply felt and ultimately tragic love story about a deracinated Jewish writer wildly in love with European culture, who discovers, too late, that European culture does not love him back. What makes The Impossible Exile doubly tragic is the way that Zweig mistook his best self for Europe, just as Europe was mistaking its worst self for Zweig. The double suicide that resulted is, in Prochnik's expert hands, as fascinating as it is unsettling." —Jonathan Rosen, author of The Life of the Skies

"The Impossible Exile, a brilliant biographical meditation, operates with the hypnotic force of a mystery novel, suspensefully reconstructing an already committed crime. George Prochnik's style is at once speedy and ruminative: he combines the risk-loving élan of a beatnik genius, and the majestic hauntedness of Walter Benjamin. I am wonderstruck by the erudition and tender feeling that underlie Prochnik's masterful account of perpetual, tragic wandering." —Wayne Koestenbaum, poet and critic

"George Prochnik has taken the conventions of literary biography—usually, in fact, the last word in conventionality—and turned them inside out to create a fast-paced, tension-filled, almost novel-like exploration of a writer's personality." —Lawrence Osborne, author of The Forgiven

"When the Nazis invaded Austria, Zweig was exiled from his native country. In the course of the last century, he has been exiled from his rightful place in world literature. In this enthralling and meticulous biography, George Prochnik brings the exile home." —Judith Thurman, author of Isak Dinesen: The Life of a Storyteller, winner of the National Book Award for Non-Fiction

"An immensely dramatic book….Prochnik is always shrewd, always lyrical, but he outdoes himself in the book's last pages. There is a final photo that could break your heart, but it is accompanied by even more stirring prose, evidence that words can still convey more than images, and that the childless Zweig has at last found a son." —Anthony Heilbut, author of Exiled in Paradise, Thomas Mann: Eros and Literature, and The Fan Who Knew Too Much

"Deeply researched and beautifully written…a work that is as sensitive and exquisite as Zweig's novellas." —Ruth Franklin, contributing editor at The New Republic

"Pitch perfect… [Prochnik's] research is far-ranging, his occasional meditations on his own family's history, to the point. Though it is a dirge he composes, he writes with the élan that distinguished Zweig's own work. Absorbing." —Flora Fraser, author of Pauline Bonaparte: Venus of Empire

"An excellent intellectual and personal account which also serves as a convincing portrait of modern Europe's darkest days." —Patrice Higonnet, Goelet Professor of French History at Harvard University and author of the forthcoming The Four Centuries' History of a French Protestant Village in Southern France
Coverage from NPR