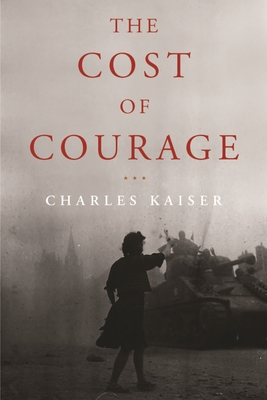 The Cost of Courage (Hardcover)
Other Press, 9781590516140, 288pp.
Publication Date: June 16, 2015
Other Editions of This Title:
MP3 CD (9/16/2015)
Compact Disc (9/16/2015)
* Individual store prices may vary.
Description
"The result is a mix of history, biography and memoir which reads like a nerve-racking thriller." —The Guardian (US)

This heroic true story of the three youngest children of a bourgeois Catholic family who worked together in the French Resistance is told by an American writer who has known and admired the family for five decades  

In the autumn of 1943, André Boulloche became de Gaulle's military delegate in Paris, coordinating all the Resistance movements in the nine northern regions of France only to be betrayed by one of his associates, arrested, wounded by the Gestapo, and taken prisoner. His sisters carried on the fight without him until the end of the war. André survived three concentration camps and later became a prominent French politician who devoted the rest of his life to reconciliation of France and Germany. His parents and oldest brother were arrested and shipped off on the last train from Paris to Germany before the liberation, and died in the camps. Since then, silence has been the Boulloches's answer to dealing with the unbearable. This is the first time the family has cooperated with an author to recount their extraordinary ordeal.
About the Author
Charles Kaiser is the author of 1968 in America (Grove/Atlantic), one of the most admired popular histories of the music, politics, and culture of the 1960s, and The Gay Metropolis (Houghton Mifflin and Grove), the landmark history of gay life in America, which was a New York Times Notable Book of the Year and a Lambda Literary Award winner.  He is  is a former reporter for the New York Times and Wall Street Journal and a former press critic for Newsweek. His articles and reviews have also appeared in the Washington Post, Los Angeles Times, Rolling Stone, New York, Vogue, Vanity Fair, The Guardian (UK), and New Republic, among other publications.  He grew up in Washington, D.C., Dakar, Senegal, London, England, and Windsor, Connecticut.  Since 1968 he has always lived on the Upper West Side of Manhattan, except for two and a half years he spent in France to research this book.
Praise For The Cost of Courage…
"Charles Kaiser's The Cost of Courage combines a thorough and quite accessible history of Europe's six-year murderous paroxysm with a deftly told story…[a] stimulating book…[It] documents, through the life of an extraordinary family, one of the 20th century's most fascinating events—the German occupation of the City of Light. But it is also a subtle history of the complexity of the French Resistance and its legacies." —The Wall Street Journal

"In the same manner a young girl's diary once vivified the Holocaust and the fate of 6 million for a postwar audience, Kaiser tells, through the Boulloche family, the story of lives turned complicated by the bizarre realities of Vichy France. At once heroic and heartbreaking, this story leaves an indelible mark." —Kirkus Reviews (Starred Review)

"[The Cost of Courage] is a mix of history, biography and memoir which reads like a nerve-racking thriller." —The Guardian (US)

"Kaiser reveals the moral ambiguity of resistance when one's enemy is as ruthless as Nazi Germany...[He] makes the most of the inherent drama in the story he tells, but his touchstone is his relentless search for truth amid the fog of war...brilliant. " —The Washington Post

"Moving...Compelling...a story with the detailed intimacy of a journal and the powerful immediacy of a novel."—The Christian Science Monitor

"Dramatic...The Cost of Courage admirably explores the dynamics of a painful reckoning." —Newsday

"[A]  vivid family portrait that examines four siblings' heroic contribution to the French resistance of WWII...a riveting paean to unsung war heroes in occupied France." —Publisher's Weekly

"[R]emarkable...a story of recovery and resilience...The Cost of Courage is a poignant reminder that there are many untold stories of World War II, but that those who lived them will soon be gone." —BookPage

"Kaiser has expertly interwoven historical facts about World War II--particularly what the British, Americans and French were doing to fight the Germans--with the personal narratives of the Boulloche family and of some of their closest friends to create a well-rounded, behind-the-scenes portrayal of their wartime lives." —Shelf Awareness

"[Charles Kaiser's] effort has produced a wonderful history, reading like a spy novel while serving as a testament to the efforts of many French men and women in their fight for freedom. The Cost of Courage vividly and eloquently recreates the heroism of many through the eyes of one French family." —Bookreporter.com

"[R]iveting... Charles Kaiser captures the devotion the brother and two sisters have for one another and their extended family." —The Missourian

"The Cost of Courage is both a history and a morality tale, the story on one level of the Boulloche family and the risks they both took and did not take to preserve their lives and their integrity. It is also a key chapter in the history of France under German occupation, when some citizens, fired by patriotism, risked all to resist the Nazis—as the nation split between occupied and Vichy, southern France—while others survived by sitting on their hands. Both, in tragic ways, paid the cost of their decisions." —America Magazine

"The Cost of Courage is good history, loving biography, excellent reporting. It turns out the cost of courage is beyond the means of most of us." —Edmund White, author of Inside a Pearl

"Even now, almost three quarters of a century after the second world war, the role played by the French resistance in German occupied and Vichy France is often overlooked. Charles Kaiser has not only unearthed the story of an extraordinary family, but set it against a world in which courage, selflessness and resilience were of greater importance than personal survival and collaboration, however trivial. It makes for a fascinating book." —Caroline Moorehead, author of A Train In Winter: An Extraordinary Story of Women, Friendship, and Resistance In Occupied France

"In this poignant personal tale, Kaiser explores the emotions and breaks through the silences that haunted an amazing family after their experiences in the French resistance to Nazi occupation. The result is a compelling and heart-wrenching book about courage, love, and the complex shadings of heroism." —Walter Isaacson, author of Steve Jobs

"One legacy of the Nazi occupation of France was secrecy, a shield that long hid the heroism of resisters no less than the shame of collaborators. In this gripping true-life drama, Charles Kaiser reveals the long-buried story of one prosperous Parisian family that paid a high price for the bravery of its children. Until now, only through silence could they live with the painful cost of their courage." —Alan Riding, author of And The Show Went On: Cultural Life in Nazi-Occupied Paris

"A very compelling story." —Robert O. Paxton, author of Vichy France

"Charles Kaiser deserves a Legion of Honor red ribbon for bringing to vibrant life the suspenseful, never-before-told true story of a family's courage, suffering and ultimate triumph amid the existential dangers and challenges of the French Resistance.  Chapeau!" —Hendrik Hertzberg, author of Politics: Observations & Arguments, 1966-2004

Praise for The Gay Metropolis:

"A dramatic, often affecting account of the emergence of gay people from fear and self-hatred into uncloseted, self-confident participation in society." —The Washington Post

"Truly sensational...This book should be read by thousands of young men and women who think they are alone. Charles Kaiser's sensational book will give them heart and pride." —Ed Koch
or
Not Currently Available for Direct Purchase