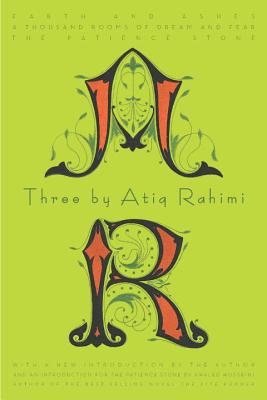 Three by Atiq Rahimi (Paperback)
Earth and Ashes, A Thousand Rooms of Dream and Fear, The Patience Stone
Other Press, 9781590516300, 432pp.
Publication Date: June 11, 2013
* Individual store prices may vary.
Description
Three short novels—including Prix Goncourt–winning The Patience Stone—that convey years of Afghan history, heartache, and hope. Never before in paperback.

   Atiq Rahimi's reputation for writing war stories of immense drama and intimacy began with his first novel, Earth and Ashes, about fathers and sons and the terrible strain inflicted on families, when an Afghan village is destroyed by the Russian army. 
   A Thousand Rooms of Dream and Fear takes place in 1979, during a period of social and political upheaval in Kabul. On the way home from a night of drinking, a university student named Farhad is arrested and brutally beaten. A few hours later, broken and confused, he slowly regains consciousness, only to find himself in the care of a beautiful woman who has dragged him into her home to protect him. 
   Winner of the Prix Goncourt, The Patience Stone is the tale of a woman caring for her brain-damaged husband, who was shot in the neck during a petty conflict. After years of living in a society of islamic fundamentalism, she finds herself strangely liberated by her husband's condition. She tells him her innermost thoughts and secrets, many of them dark and deeply repressed, never knowing whether he's able to hear her or not.
About the Author
Atiq Rahimi was born in Afghanistan in 1962, and fled to France in 1984. There he has become renowned as a maker of documentary and feature films, and as a writer. The film of his novel Earth and Ashes was in the Official Selection at Cannes in 2004 and has won a number of prizes. A Thousand Rooms of Dream and Fear has also been adapted for the screen. His adaptation of The Patience Stone, which he co-wrote and directed, was also recently made into a feature film. Since 2001 Rahimi has returned to Afghanistan to set up a Writers' House in Kabul and to offer support and training to young Afghan writers and filmmakers. His new novel, A Curse on Dostoevsky is forthcoming from Other Press. He lives in Paris.

Erdag Göknar, a scholar and literary translator, is Assistant Professor of Turkish Studies at Duke University and is the award-winning translator of Orhan Pamuk's best-selling novel, My Name is Red.
Sarah Maguire is an award-winning poet as well as translator and founder of the Poetry Translation Centre based in the UK.
Yama Yari co-translated A Thousand Rooms with Maguire at the Poetry Translation Center.
Polly McLean is a freelance translator in Oxford, UK. She has translated titles by Catherine Deneuve and Sylvia Kristel (star of the Emmanuelle films) as well as the award-winning Secret by Philippe Grimbert.
or
Not Currently Available for Direct Purchase