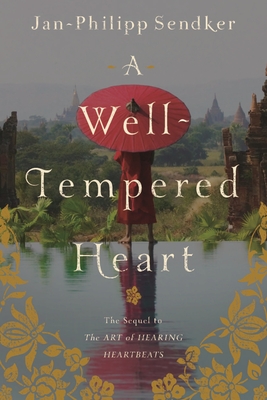 A Well-tempered Heart
A Novel (Art of Hearing Heartbeats)
Paperback

* Individual store prices may vary.
Description
The sequel to the international best-selling novel The Art of Hearing Heartbeats.
 
Almost ten years have passed since Julia Win came back from Burma, her father's native country. Though she is a successful Manhattan lawyer, her private life is at a crossroads; her boyfriend has recently left her and she is, despite her wealth, unhappy with her professional life. Julia is lost and exhausted.
 
One day, in the middle of an important business meeting, she hears a stranger's voice in her head that causes her to leave the office without explanation. In the following days, her crisis only deepens. Not only does the female voice refuse to disappear, but it starts to ask questions Julia has been trying to avoid. Why do you live alone? To whom do you feel close? What do you want in life?
 
Interwoven with Julia's story is that of a Burmese woman named Nu Nu who finds her world turned upside down when Burma goes to war and calls on her two young sons to be child soldiers. This spirited sequel, like The Art of Hearing Heartbeats, explores the most inspiring and passionate terrain: the human heart.
Praise For A Well-tempered Heart: A Novel (Art of Hearing Heartbeats)…
"An absolutely transcendent novel that doesn't just dare to understand the human heart, it inhabits it. About love, unspeakable loss, and coming to know what really saves us in life, this is the kind of stunningly perfect novel that changes lives. I know it did mine. To say I loved it is pure understatement." —Caroline Leavitt, New York Times bestselling author of Pictures of You and Is This Tomorrow

"Sendker's follow-up to The Art of Hearing Heartbeats…opens readers' eyes to a history of buried atrocities…[and] takes pains to develop a realistic world…"  —Publishers Weekly 

"An absorbing, moving sequel." —Booklist

"In…Sendker's sequel to The Art of Hearing Heartbeats…[Julia] returns to Burma…for further lessons in love.  Sendker [is] a mesmerizing storyteller." —Kirkus

"Very literary, it is a story of emotion, of magic, of belief, of many kinds of love and of hope. Like the previous book, The Art of Hearing Heartbeats, the sequel is beautifully written…in this series, the mystical elements are as important as the mundane…Many readers will find A Well-Tempered Heart incredibly beautiful and moving." —RT Book Reviews

"Earnest and endearing, this just-arriving-in-translation sequel to the international mega-bestseller, The Art of Hearing Heartbeats, is a through-the-night read that will leave you sighing and swooning…German journalist Jan-Philipp Sendker's novels somehow manage to provide a rare, cleansing catharsis…Just as her father followed his heart home, Julia is called back by a desperate stranger with impossible questions from the other side of the world…But before Julia can answer, she must learn in her own heart "what is important"… might I add, surely a life lesson for us all."—BookDragon 

"Sendker evokes Burma and the juxtaposition of simple rural lives against a threatening military that demands the lives of their sons—not even as soldiers but as human land mine sweepers—with prose that is lush and as mystical as the villagers' beliefs." —Gilmore Guide to Books

"Jan-Philipp Sendker delivers another intriguing tale with A Well-Tempered Heart." —RT Books

"When Jan-Philipp Sendker penned the sequel to his international bestseller The Art of Hearing Heartbeats, romantics worldwide breathed a sigh of relief. In this book readers have the chance to follow Julia Win, a Manhattan lawyer who stumbles upon a journey of self-reflection while picking up the pieces of her personal life. This story of love, loss, and understanding is sure to leave an impression on your heart." —Ladies Home Journal
 
"What begins as a problem-solving quest becomes a journey of self-discovery, sure to resonate with anyone who has ever sought to reinvent oneself." —Shelf Awareness

"...[L]ike poetry.  A story within a story, where the main characters are entwined...[A Well-Tempered Heart] will transport you to the spot where everything happens, then leave you breathless wanting more." —Serendipitous Readings
 
"A winning locale and a lost soul seeking something she is unsure of what make for a delightful sequel." —Genre Go Round Books
 
"[A] hauntingly beautiful sequel to The Art of Hearing Heartbeats... A Well-Tempered Heart touches the reader on many levels. It is a love story: love of a mother for her sons, love between a sister and brother, and love between a man and a woman." —The Freelance-Star

"Once again, author and translator alike, have magically strung a beautiful piece of writing together. This book, like it's prequel is a beautifully written story with a lyrical style that leaves you wanting more." —Good Book Fairy

"[T]ruly an original, the author's prose flawless and evocative." —Historical Novels Review

"Engagingly drawn." —BookPage
Other Press, 9781590516409, 400pp.
Publication Date: January 21, 2014
About the Author
Jan-Philipp Sendker, born in Hamburg in 1960, was the American correspondent for Stern from 1990 to 1995, and its Asian correspondent from 1995 to 1999. In 2000 he published Cracks in the Wall, a nonfiction book about China. The Art of Hearing Heartbeats, his first novel, is an international best seller. He lives in Berlin with his family.
 
Kevin Wiliarty has a BA in German from Harvard and a PhD from the University of California, Berkeley. A native of the United States, he has also lived in Germany and Japan. He is currently an academic technician at Wesleyan University in Middletown, Connecticut, where he lives with his wife and two children.