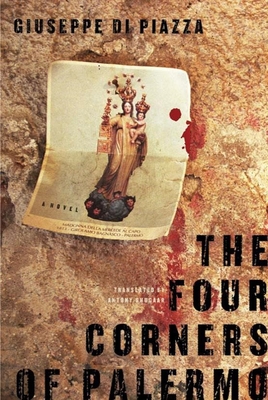 The Four Corners of Palermo
A Novel
Paperback

* Individual store prices may vary.
Description
A noir and sensual page-turner that cracks open the Mafia's secret world through the stories of four lives

Palermo in the 1980s is a perfect place for a young crime reporter to get his start. The Sicilian Mafia is at work, threatening, wounding, and killing anyone who dares to defy their orders. Our protagonist is himself no angel, hardly compassionate, a bit macho and egocentric, but candid in his recounting of what has unfolded in front of his eyes both on the job and in his private life.

Di Piazza, who is also a Sicilian journalist, tells his stories as if he were reporting actual events. His description of the tense bravado of a youth growing up in the midst of Mafia terror is strikingly acute.
Praise For The Four Corners of Palermo: A Novel…
"Lyrical, philosophical writing." —Booklist (starred review)

"Amusing and tragic...[Di Piazza's] first foray into fiction is compelling and raw." —Publishers Weekly

"Di Piazza gives us a terrific portrayal of the brutality of the Mafia." —NPR.org

"Like its namesake the Quattro Canti, The Four Corners of Palermo shows us the many faces of a city plagued by drugs, death and the Mafia. Facing violence on a daily basis and finding escape through friends and lovers, a twenty-three year-old crime reporter tries to make sense of the dark underbelly of a city of rare beauty. As Di Piazza observes, a canto is a corner in Palermo, but 'it is also a song.'" —Ben Pastor, author of Lumen and A Dark Song of Blood

"Thrilling, terrifying, heartbreaking. A chronicle of youth, and love, in the shadow of the Palermo Mafia. Di Piazza bravely brings to life a world that most of us close our eyes to, and in the act, draws a portrait of the city as it truly is. A breathtaking book." —Andrew Sean Greer, award-winning author of The Impossible Lives of Greta Wells and The Story of a Marriage

"I read to be transported, and Giuseppe di Piazza's The Four Corners of Palermo did just that, to 1980s Sicily, in the middle of a gruesome Mafia war. What I didn't expect was the sensuality of the writing, the lush descriptions of landscape, food, the young journalist's loves and lusts, the ocean salt and the stark blue sky, juxtaposed against a dark carnival of violence and revenge." —Lisa Brackmann, bestselling author of Hour of the Rat, Rock Paper Tiger, and Getaway

"Di Piazza recounts the people and the lives destroyed by violence with felicitous accuracy in his selection of details and psychological motivations, but he also gives us a vivid portrait of Palermo, lovely at times, like a postcard, with that climate, that light, that blue sea, and at other times a monstrous, alien city." —Corriere della Sera

"A book written in two registers: on the one hand, pure noir, dramatically bound up with the story of Palermo, the city of a Mafia bloodbath in the 1980s, and on the other hand, a generational tale, young people chasing after their utopian dreams to the notes of Pink Floyd, King Crimson, and Emerson, Lake & Palmer." —Giornale di Sicilia

"Four nested stories, like four movements of a symphony, where the allegro, the adagio, the grave, and the scherzo continually intermingle." —Il Messaggero

"Written with...humor and sensitivity." —L'Espresso
 
"Pure adrenaline." —Il Tempo
 
"In a bloody Palermo, the sexual revolution is threatened by mafia violence." —Il Sole 24 ore
 
"A generational portrait in four movements full of real people and strong sentiments." —Panorama

"DiPiazza counts a war looked with disinterest by the rest of Italy." —Nuova Sardegna
 
"In these stories marked by blood and love, the double soul of Sicily emerges with grace and passion." —Corriere Fiorentino
 
"DiPiazza is to the novel as a velvet glove is to a Jaguar steering wheel." —Gioia


 
Other Press, 9781590516652, 240pp.
Publication Date: October 21, 2014
About the Author
Guiseppe Di Piazza began his career in journalism in 1979 with the newspaper L'Ora. He has worked for such Italian publications as Sette, where he was Director, and for Max as Editor-in-Chief. He teaches a Masters course in journalism at the IULM University of Milan and is currently an editorial director at Correire della Sera. THE FOUR CORNERS OF PALERMO is his first novel and his English debut.

Antony Shugaar is an author and translator. His most recent translations include AS IT IS ON EARTH by Davide Enia, A Pimp's Notes by Giorgio Faletti, Swimming to Elba by Silvia Avallone, Romanzo Criminale by Giancarlo De Cataldo, and Story of My People by Edoardo Nesi (Other Press). The author lives in Milan, Italy.