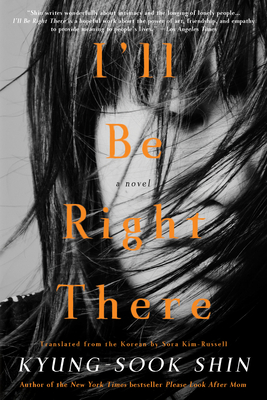 I'll Be Right There (Paperback)
A Novel
Other Press, 9781590516737, 336pp.
Publication Date: June 3, 2014
Other Editions of This Title:
MP3 CD (5/10/2016)
* Individual store prices may vary.
Description
How friendship, European literature, and a charismatic professor defy war, oppression, and the absurd
 
Set in 1980s South Korea amid the tremors of political revolution, I'll Be Right There follows Jung Yoon, a highly literate, twenty-something woman, as she recounts her tragic personal history as well as those of her three intimate college friends. When Yoon receives a distressing phone call from her ex-boyfriend after eight years of separation, memories of a tumultuous youth begin to resurface, forcing her to re-live the most intense period of her life. With profound intellectual and emotional insight, she revisits the death of her beloved mother, the strong bond with her now-dying former college professor, the excitement of her first love, and the friendships forged out of a shared sense of isolation and grief.
 
Yoon's formative experiences, which highlight both the fragility and force of personal connection in an era of absolute uncertainty, become immediately palpable. Shin makes the foreign and esoteric utterly familiar: her use of European literature as an interpreter of emotion and experience bridges any gaps between East and West. Love, friendship, and solitude are the same everywhere, as this book makes poignantly clear.
About the Author
Kyung-sook Shin, the author of seventeen works of is one of South Korea's most widely read and acclaimed novelists. Her best seller Please Look After Mom has been translated into more than thirty languages. She has been honored with the Man Asian Literary Prize, the Manhae Prize, the Dong-in Literary Award, the Yi Sang Literary Prize, and France's Prix de l'Inaperçu, as well as the Ho-Am Prize in the Arts, awarded for her body of work for general achievement in Korean culture and the arts.
 
Sora kim-Russell is a poet and translator originally from California and now living in Seoul, South Korea. Her work has appeared in Words Without Borders, Azalea: A Journal of Korean Literature and Culture, Drunken Boat, Pebble Lake Review, The Diagram, and other publications. She teaches at Ewha Womans University.
Praise For I'll Be Right There: A Novel…
"[I'll Be Right There is] a page-turner, such is Shin's gift for storytelling, as well as her careful cultivation of motifs." —New York Times Book Review

"Shin writes wonderfully about intimacy and the longing of lonely people. ...I'll Be Right There is a hopeful work about the power of art, friendship and empathy to provide meaning to people's lives." —LA Times

"Tender and mournful, the latest novel from best-selling South Korean novelist Shin (Please Look after Mom, 2011) considers young love and loss in an era of political ferment...Shin's uncomplicated yet allusive narrative voice delivers another calmly affecting story, simultaneously foreign and familiar." —Kirkus

"Shin can suggest profound implications in restrained detail, and though the story ends in tragedy, her frequent references to both Eastern and Western literature testify to the duty to hope and stay alive." —Publishers Weekly

"[I'll Be Right There] is full of beautiful and tragic moments between friends, a tender, complex exploration of shared stories, and, perhaps more important, the weight of a collective history on individual relationships." —SF Gate

"I'll Be Right There is as much about tender friendships as it is about the tragedies of a political uprising." —The Huffington Post

"Through one tender scene after another, Shin shows us the comfort human connection offers." —Bookslut

"Quivering, hopeful, and heartfelt." —Bustle

"In this inspiring novel, Kyung-sook Shin argues that, faced with treachery, the moral person can be carrier and Christ to others." —Minneapolis Star Tribune

"I'll Be Right There is a haunting story of adolescent entanglements that will speak to readers everywhere." —The Independent

"The shimmering, lucid tones and silver melancholy of I'll Be Right There give readers a South Korea peopled with citizens fighting for honor and intellectual freedom, and longing for love and solace. Kyung-Sook Shin's characters have unforgettable voices—it's no wonder she has so many fans." —Susan Straight, author of Between Heaven and Here and National Book Award Finalist

"The novel brilliantly uses European literature to familiarize Western readers with Eastern turmoil. " —Flavorwire

"Shin's skill lies in her ability to transmute the specific into the universal." —Shelf Awareness

"A wonderful, heartbreaking story that lingered with me long after the last page was turned. As the powerful story unfolded, I enjoyed peeling away the complicated, dark layers of every character. Kyung-sook Shin's beautiful depictions of love and sweet adolescent confessions will take you back in time to your first heartbreak." —PP Wong, Editor-in-Chief, Banana Writers

"Known for her beautiful imagery and lyrical prose…in I'll Be Right There, Shin utilizes vivid, searing imagery…balanc[ing] the gentle beauty of language with bold images throughout her writing…Shin's passages are carefully crafted, as if they were from a book of poetry…Ultimately, I'll Be Right There is a story of hope." —Korean Quarterly

"An astounding meditation on living in time, both time lost and time gained, as well as...an expression of a philosophy of a way to live...I'll Be Right There immediately stands out as a book that supports, perhaps even needs, multiple readings." —Korean Literature in Translation

"Shin's perspective on relationships is nuanced; she doesn't shy away from what is complex, complicated or painful in everyday human connections...There is also vibrancy and richness in the lives of her characters, and an understanding of love and solitude that is universal." —Electric Literature

"Spectacular...Shin's searing, immediate prose will remind readers of Nadeem Aslam's The Blind Man's Garden, Edwidge Danticat's The Dew Breaker, and Aminatta Forna's The Memory of Love, and their stories of ordinary lives trapped in extraordinary sociopolitical circumstances." —BookDragon 

"A searing, literate portrayal of the cost of survival in a time of chaos, Shin nevertheless evokes a surprising amount of hope."  —Philadelphia Weekly

"Shin suggests that literature's most valuable task may be to refresh principles so basic as to seem banal, to render them graspable even in the harshest rapids of modernization and development." —Public Books

"Shin's contemplative narrative...captures both the preciousness of life and a constant intermingling sorrow." —Bookreporter

"I'll Be Right There is a gem of a novel, a quiet, masterful rendering of the emotional life of a young woman looking back on the formative years of her early twenties." —Rosemary & Reading Glasses