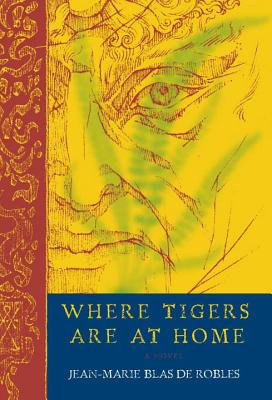 Where Tigers are at Home
A Novel
Paperback

* Individual store prices may vary.
Other Editions of This Title:
Hardcover (3/5/2013)
Description
Winner of the Prix Médicis, this multifaceted literary novel follows the Jesuit scholar Athanasius Kircher across 17th century Europe and Eleazard von Wogau, a retired French correspondent, through modern Brazil.
 
When Eleazard begins editing a strange, unpublished biography of Kircher, the rest of his life seems to begin unraveling—his ex-wife goes on a dangerous geological expedition to Mato Grosso; his daughter abandons school to travel with her young professor and her lesbian lover to an indigenous beach town, where the trio use drugs and form interdependent sexual relationships; and Eleazard himself starts losing his sanity, escalated by loneliness, and his work on the biography. Patterns begin to emerge from these interwoven narratives, which develop toward a mesmerizing climax.
 
Shortlisted for the Goncourt Prize and the European Book Award, and already translated into 14 languages, Where Tigers Are At Home is large-scale epic, at once literary and entertaining, that belongs in the company of Umberto Eco and Haruki Murakami.
Praise For Where Tigers are at Home: A Novel…
"Late in de Roblès' remarkable novel, a tribal shaman chants, "Soon the Messenger will guide us to that mountain where visions cascade down uninterruptedly." This dazzling book is itself such a mountain, overflowing with visions that dramatically enlarge the reader's imaginative horizons." —Booklist (starred review)

"Psychodrama meets history meets mystery—vintage Umberto Eco territory, as practiced by French philosophy professor turned novelist Blas de Roblès." —Kirkus

"This encyclopedic and mystifying novel, full of picaresque adventures, delights and fascinates…Umberto Eco revised by Malcolm Lowry for Indiana Jones, with a bit of 'The African Queen' and Claude Levi-Strauss in Amazonia…An 800 page chameleon. A marvelous, dizzying galaxy, spiraling to the end of the novel." —Patrick Grainville, Le Figaro littéraire

"Where Tigers are at Home repeatedly surprises- and, despite its occasional violence...is far from a depressing take on the human condition. A very good adventure tale- of both the intellectual and traditional kind-, Where Tigers are at Home is creative fiction of a very high order." —Complete Review

"Already translated into 14 languages, this is a novel that will stay with you longer than others." —Advocate

"Jean-Marie Blas de Robles toys with illustrious references and manhandles magical realism with bookish irreverence. Where Tigers Are At Home is a work of raucous erudition, and an enormously ambitious and amusing palimpsest." —Clara Dupont-Monod, Marianne

"[A] freewheeling narrative that mixes adventure yarn, magic realism, social comment, political satire, high ideas, popular culture and a standard injection of sadism and sex...Long in the making, this clever, exuberant philosophical novel [shows] that we do not live in a protected Eden but in a land where power is king and tigers are more at home than we are." —David Coward, Times Literary Supplement

"Those of you who stay with Blas de Robles' ultimately quite satisfying novel will find yourselves with a new European literary star to steer by." —Tri States Radio

"Blas de Roblès simultaneously channels Umberto Eco, Indiana Jones, and Jorge Amado...what begins as a faux metabiography turns to picaresque adventure with erotic escapades, scams, and unexpected changes of fortune...this sprawling novel depicts 'the absurdity beneath which the criminal stupidity of men generally hides.'" —Publishers Weekly

"A massive tale of intrigue spanning centuries, with 17th century scholar and man of dubious science Athanasius Kircher at its heart." —Three Percent

"This novel is a quite satisfying read, one of best novels I suspect that will appear in English, in the original or translation, in 2013." —Three Percent

"Modern stories alternate between the characters with cliffhanger endings, not to be resolved until several chapters later...Each thread of the story becomes increasingly interesting as they all move toward a connection...Highly recommended." —Historical Novel Society

"...Where Tigers Are at Home is a great enough work that I would gladly travel through its treacherous pages again."—Rain Taxi Review of Books
Other Press, 9781590516768, 830pp.
Publication Date: February 18, 2014
About the Author
Born in 1954, Jean-Marie Blas de Roblès was a lecturer in philosophy at universities in Brazil, China, and Italy and, finally, for the Alliance Française in Taiwan. His first literary publication was a volume of short stories in 1982, followed by two novels, after which he turned to writing full time. An avid traveller, Blas de Roblès also edits a series of books on archaeology, and is a member of the French Archaeological Mission.

Mike Mitchell has translated over fifty titles including works by Goethe, Meyrink, Adolf Loos, and Oskar Kokoschka. Several of his translations have been shortlisted for awards, including three short listings for The Oxford Weidenfeld Translation Prize. Most recently Mitchell has been shortlisted for the Kurt Wolff Prize for his translation of Thomas Bernhard's Over All the Mountain Tops. In 1998, he was awarded the Schlegel-Tieck Prize for best German translation for Herbert Rosendorfer's Letters Back to Ancient China.