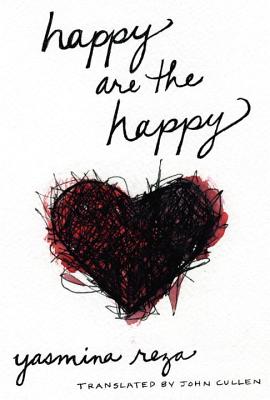 Happy are the Happy (Hardcover)
A Novel
Other Press, 9781590516928, 160pp.
Publication Date: January 27, 2015
* Individual store prices may vary.
Description
The internationally acclaimed playwright and novelist Yasmina Reza stages a band of eighteen characters at war with their lives, with only humor to sustain them        
                                  
Happy are the loved ones and the lovers and those who can do without love. Happy are the happy. —Jorge Luis Borges

Schnitzler's La Ronde gives these twenty short chapters their shape while Borges's poem gives them their content. As we move from story to story, thrilled to reconnect with an old acquaintance from an earlier scene, we can't help but admit that we are very much at home in this human comedy that understands all too well the passing thoughts, desires, actions, fears, and mistakes that we have and make day after day, but that we would be incapable of rendering with such acuity and compassion.
About the Author
Yasmina Reza is a playwright and novelist whose plays have all been multi-award-winning critical and popular successes and have been translated into more than thirty languages. She has written six books, including Dawn Dusk or Night: A Year with Nicolas Sarkozy (Knopf 2008). She lives in Paris.

John Cullen is the translator of many books from Spanish, French, German, and Italian, including Yasmina Khadra's Middle East Trilogy (The Swallows of Kabul, The Attack, and The Sirens of Baghdad), Eduardo Sacheri's The Secret in Their Eyes (Other Press), Carlos Zanón's The Barcelona Brothers (Other Press) and Rithy Panh's The Elimination (Other Press). He lives in upstate New York. The author lives in Paris, France.
Praise For Happy are the Happy: A Novel…
"Like a handful of the 18 people who populate her latest novel, Happy Are the Happy, Yasmina Reza is formidably accomplished…Happy are the Happy is another coup, a quick and delicate book that's as funny as it is humane….Characters chime with one another in ways they never realize, a conviviality that is bittersweet.  Their voices are self-aware, a little jaundiced, vulnerable, sometimes plaintive, and entirely authentic…Reza is attuned to intensity and banality in equal measure... 'Even if you demolish me,' Nicolas Sarkozy supposedly told Reza, … 'you will elevate me': a ventriloquism that encapsulates her method and her gift." —The New York Times Book Review 

"The characters in these 21 brief, bittersweet and playfully interconnected stories by the French playwright Yasmina Reza ("God of Carnage") hold tight to philosophies about love…[Reza] fills the stories, most of them six to eight pages long, with efficient detail, making them feel, perhaps unsurprisingly, like a series of vibrant one-acts." —The New York Times 

"[Reza] is a caustic and witty observer of social behavior...[Happy Are the Happy] is a collection of first-person monologues by eighteen French people whose lives intersect with friendships and rivalries, a ronde, funny but sad, saturated with the longings and competitiveness implied by the broad term "jealousy," and just enough tantalizing whiffs of the roman à clef, involving French political figures, to remind us of the potency of this emotion in real life all the time." —The New York Review of Books

"The twenty-one interconnected monologues in this meditation on parenting, death, and relations between the sexes manage to make domestic trifles seem electrifying. With implacable wit and a dramatist's sense of timing, Reza offers snapshots from the psyches of eighteen characters, including a couple who squabble over Morbier cheese and stuffed hamsters, and a retired financier and statesman who taunts his exasperated wife with instructions for his funeral. The tone is wry, warm, and accepting." —The New Yorker

"[A] spirited novel...To read Happy Are the Happy is to feel happier after closing the book than one was before opening it. Ms. Reza...writes in an assured, economical manner. She can lead her lifelike, not always likable, characters from the need for enslavement to the desire for freedom in a few deft strokes." —The Wall Street Journal

"Reza is a terrific observer of the rhythms of people and relationships. Her writing is amusing and insightful. With Happy are the Happy, Reza has pulled off something both unexpected and magical in a very small book that packs a real punch." —NPR.org

"A galère of marital bad behavior—infidelity, a brawl at a cheese counter—can be found in Yasmina Reza's blisteringly funny Happy are the Happy." —Vogue

"[Reza's] new novel may mark a sea change, in part due to the risky intimacy of its subject: love…Bookended by Odile and Robert's story, which moves from their children's bedroom to the bridge from which they scatter the ashes of Odile's father, these delicate, odd-cornered miniatures of human isolation and connection take on a cumulative power…the real discovery here is how the novel's interiority showcases her aphoristic style. The novel is filled with zingers." —Vogue.com

"Yasmina Reza's specialty specialty is the excavation of long-simmering violence from underneath placid bourgeois surfaces. [Happy are the Happy] is at once touching and prickly, coldly elegant and exuberantly warm." —The Jewish Daily Forward

"Compelling." —Kirkus Reviews

"With sharp insight, Reza quickly penetrates the thoughts and actions of [her] characters to reveal just how happy (or not) they really are...Charming...delightful, witty." —Library Journal (starred review)

"Reza's stories build and build, creating a complicated, multifaceted world." —Publishers Weekly

"Reza [is] ever the sharp observer of human interaction." —Christian Science Monitor Online

"Yasmina Reza's achievements in Happy Are the Happy are considerable. Happy Are the Happy is an evocative little book, one that spears the narcissistic vicissitudes that dominate the minds of an educated, professional class. It will seduce you with its wit, and it will require you to think hard with it about language, that damning and defining material of our lives." —Bookslut

"[E]ntertaining...Reza, through her characters, offers insightful comments on the nature of romantic entanglements." —Bookreporter.com

"A title such as this cries out for an ironic exegesis—and in her latest novel, Yasmina Reza delivers this magnificently. This is a deft, shrewd, frequently anguished, occasionally hilarious investigation into the endless way in which we make ourselves miserable." —The Times Literary Supplement

"[Happy are the Happy] confirms Reza as a sharply observant wit." —The Independent

"Reza...creates moments of intense drama, exhibiting the tensions and conflicts crackling through lives. The author skilfully peels away the veneer of life to reveal the secrets seething within." —The Guardian

"[Reza] has a superpower for zeroing in on each beat of an argument, each buried emotion." —The Times (UK)

"Yasmina Reza has set herself a challenge in her latest novel, and she rises to it beautifully." —The Economist

"Happy are the Happy is a spiky, brilliantly observed novel about marriage, infidelity, dreams and disillusion." —The Telegraph

"Reza has form for nailing relationships in all their joy and ugliness. But she does so with the lightest, sharpest skewer imaginable." —HarpersBazaar.co.uk

"Bittersweet, yet beautiful to read." —Daily Mail (UK)

"Reza's question...is whether conformity, in the end, brings happiness." —Financial Times

"[Yasmina Reza's] power lies in acute observation, in her ability to weave together short, decisive tales that infiltrate our outer defenses to reveal the fragility we keep hidden underneath, safely tucked away, just out of view from those around us." —Typographical Era

"Few playwrights succeed at fiction, with the notable exception of Chekov, and in this novel, Yasmina Reza resembles him. Her prose strikes the same balance between tenderness and acuity, irony and sorrow, worldliness and the courage to feel deeply. Everyone's domestic life, she suggests, is a tragicomic shipwreck—but this beautiful book consoles you for your own." —Judith Thurman, author of Cleopatra's Nose: 39 Varieties of Desire 

"I'm told that it's common to dream about discovering in one's own apartment hitherto unknown rooms, that it's a way of imagining a solution to a situation that feels impossible. This collection of short fictions by the brilliant Yasmina Reza reminds me of those dreamed of rooms, hidden away somewhere within our own ordinary houses, giving us space to understand what feels too forbidden, or too sad, or too weird. This is a funny and wonderful and wise book." —Rivka Galchen, author of Atmospheric Disturbances and American Innovations

"If I could do exactly what I want to do, I'd read [Happy are the Happy] again. The structure alone is a marvel, the way the author weaves people and connections into the monologues so that relationships and ironies and tensions slowly become apparent. The resonance increases from page to page. The prose is full of memorable, incisive passages, little observations that ring true, fleeting moments of quiet desperation. And the recourse to laughter, because what else is there, informs the whole. The best literature makes you feel bad and good at the same time, and that's what happens here. It's really an accomplished piece of work." —John Cullen

"With penetrating wit, Yasmina Reza tells a tale of how the harmony of human relationships is constantly under threat." —Romain Leick, Der Spiegel

"In Happy Are the Happy, Yasmina Reza tackles existential questions with a light, sparkling touch." —Het Parool

"In the confrontation with life and whatever comes after it, only comedy offers freedom. This truth provides the framework of Reza's oeuvre, and she experiments with it better than anyone else, in language of immense tact and shattering sensitivity. Happy Are the Happy is her most beautiful text, her great novel of human consternation." —Jean Birnbaum, Le Monde des Livres

"At once funny and tragic, Happy Are the Happy scans the spectrum of contemporary neurosis and exposes where it truly hurts." —Thierry Gandillot, Les Échos

"Reza describes her toxic couples with detachment and surgical precision, and with an infallible sense of dialogue." —Fabrizio Coscia, Il Mattino
or
Not Currently Available for Direct Purchase