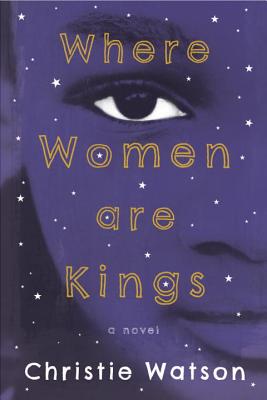 Where Women Are Kings (Paperback)
A Novel
Other Press, 9781590517093, 256pp.
Publication Date: April 28, 2015
* Individual store prices may vary.
Description
 From the award-winning author of Tiny Sunbirds, Far Away, the story of a young boy who believes two things: that his Nigerian birth mother loves him like the world has never known love, and that he is a wizard
 
Elijah, seven years old, is covered in scars and has a history of disruptive behavior. Taken away from his birth mother, a Nigerian immigrant in England, Elijah is moved from one foster parent to the next before finding a home with Nikki and her husband, Obi.
 
Nikki believes that she and Obi are strong enough to accept Elijah's difficulties—and that being white will not affect her ability to raise a black son. They care deeply for Elijah and, in spite of his demons, he begins to settle into this loving family. But as Nikki and Obi learn more about their child's tragic past, they face challenges that threaten to rock the fragile peace they've established, challenges that could prove disastrous.
About the Author
Christie Watson is a British novelist and pediatric nurse. She holds an MA in Creative Writing from the University of East Anglia, where she won the Malcolm Bradbury Memorial Bursary, and has since published short fiction and other writings in numerous publications including Wasafiri, Mslexia, Index on Censorship, The Guardian, and The Telegraph. Watson teaches creative writing at various institutions including Birkbeck University, the Groucho Club, and Cambridge University. She has won the Costa First Novel Award and Waverton Good Read Award for her first novel, Tiny Sunbirds, Far Away, and was named one of Red's Hot Women of the Year in 2012. She lives in London.
 
Praise For Where Women Are Kings: A Novel…
"Watson paints a portrait of a world torn by issues of class, race, and belief…[T]he book becomes progressively more convincing, darker and unexpectedly comic as a lively cast of characters inject humor and a believable awkwardness into an often painful drama…[A] moving and complex picture.  Watson is especially good at describing Elijah's pleasure in the odd beauties of nature, as well as the wants and needs of domestic life.  Elijah is never more heartbreaking than when he's imagining all the people he loves brought together in one place." —New York Times Book Review

"[Christie] Watson gracefully creates the delicate workings of a small household with an adopted Nigerian son at the center...Watson's writing, with its gorgeous detail, is well suited to portraying the complexities involved in creating familial bonds, particularly the painstaking adoption process, and the daily life of a newly formed household. She has constructed a wonderful set of characters and a remarkable story of family love amid cultural and emotional tension." —Booklist

"A multilayered, sophisticated book that gets to the heart of what family is and what we will do to love them." —Kirkus Reviews

"[Christie] Watson...approaches the topic with expert knowledge of what a child like Elijah would have gone through, as well as tremendous empathy for her cast of characters. Where Women Are Kings is undeniably powerful." —Publishers Weekly

"[A]n intense cross-cultural story of love...Watson's portrayal of these characters is forceful and potent...the love that pervades the story is liberating." —Shelf Awareness

"At times hauntingly heartbreaking, Christie Watson's second novel explores race, family and the complexities of the Western foster system...Watson shows us the politics of adoption, the complexities of calling a stranger your son, and the capacity of love." —The Riveter

"Where Women are Kings does not coddle its readers, nor does it cling to the hysteria of melodrama. Watson's controlled prose transforms Elijah into a boy as real and memory-soaked as a scar." —The Toast

"Equally heartwarming and heartbreaking." —The Jersey Journal

"Watson's writing is magical and beguiling. Elijah, the protagonist of this novel, joins a distinguished list of fictional wunderkinder that stretches from Peter Pan to Oskar Matzerath of The Tin Drum to Azaro of The Famished Road. Watson is a fluent story teller." —E. C. Osondu, winner of the Caine Prize

"In this very moving story, Watson confronts us with pain and loss. And yet, despite all of that, love ultimately wins." —Chika Unigwe, author of On Black Sisters Street

"Christie Watson reeled me into this wise and moving portrayal of one family's struggle to love fiercely to the haunting end. Young Elijah stayed with me long after the last page." —Shilpi Somaya Gowda, best-selling author of Secret Daughter

"Christie Watson writes with compassion, insight, and a delicate beauty about a difficult and often overlooked subject—the intersections of race, family, fostering and the unexpected power of love." —Chris Abani, author of GraceLand and The Secret History of Las Vegas

"Christie Watson writes with incredible commitment and understanding of her subject. Where Women Are Kings is a great follow up to her first novel, Tiny Sunbirds, Far Away, and I hope it finds the readers it deserves." —Helon Habila, author of Oil on Water

"A beautifully sad novel… Watson's words are beautifully lyrical…Watson leaves us with an unforgettable story that will make your chest tighten, your eyes leak and your heart lurch." —In Style 

"A sensitive portrayal of the complex realities of adoption and mental illness." —Daily Telegraph

"Staggeringly authentic, staggeringly moving and profound…and at times hysterically funny. It's a gem." —Lesley Lokko, author of A Private Affair

"Watson's second offering is deeply moving and disturbing, with a rich narrative that keeps the reader keen — yet fearful — of what happens next." —Independent Press Association  

"One of those stories that goes straight to the heart." —Litteratursiden

"Expertly handles delicate, culturally sensitive issues . . . Elijah's voice shines through the pages, making him a character who is memorable long after the story ends." —We Love This Book 

"A stunningly haunting novel… impossible to put down." —Image 

"Kept us gripped throughout . . . stayed with us long after we'd finished the final page." —Stylist  

"Uplifting, heartwarming..." —Pride Magazine







 
or
Not Currently Available for Direct Purchase