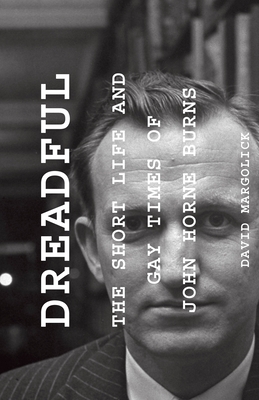 Dreadful
The Short Life and Gay Times of John Horne Burns
Paperback

* Individual store prices may vary.
Other Editions of This Title:
MP3 CD (6/28/2016)
Hardcover (6/4/2013)
Description
American author John Horne Burns (1916–1953) led a brief and controversial life, and as a writer, transformed many of his darkest experiences into literature. Burns was born in Massachusetts, graduated from Andover and Harvard, and went on to teach English at the Loomis School, a boarding school for boys in Windsor, Connecticut. During World War II, he was stationed in Africa and Italy, and worked mainly in military intelligence. His first novel, The Gallery (1947), based on his wartime experiences, is a critically acclaimed novel and one of the first to unflinchingly depict gay life in the military. The Gallery sold half a million copies upon publication, but never again would Burns receive that kind of critical or popular attention.
 
Dreadful follows Burns, from his education at the best schools to his final years of drinking and depression in Italy. With intelligence and insight, David Margolick examines Burns's moral ambivalence toward the behavior of American soldiers stationed with him in Naples, and the scandal surrounding his second novel, Lucifer with a Book, an unflattering portrayal of his experiences at Loomis.
Praise For Dreadful: The Short Life and Gay Times of John Horne Burns…
"[An] evocative, strangely moving new biography of a largely forgotten novelist with a poisonous character…Cleanly written, with a measure of sympathy and perhaps a little understandable mystification beneath the sober writing, Dreadful inspires a curious combination of fascination, pity and revulsion."—The New York Times

"[A] vivid biography...Margolick reveals a fascinating, troubling character: Catholic, closeted, and alcoholic, charming and cruel, Burns inspired admiration and confusion...By placing Burns's witty, elastic prose front and center, Margolick's account makes a case for him as one of the best writers of his generation."—The New Yorker

"Despite the decades that have gone by, the lack of living witnesses, and the obscurity of the subject, Margolick has done a superb job researching this sad life."—Edmund White, The New York Review of Books

"Admirable . . . If Burns comes alive in this biography, it is due not just to the enjoyable prose of Margolick—a contributing editor of Vanity Fair—but to the use he makes of Burns's voluminous, lively, vivid, and evocative correspondence . . . He restores Burns to us without condescension and with enormous sensitivity and sympathy. Dreadful: The Short Life and Gay Times of John Horne Burns is a fine piece of work that I heartily recommend without the slightest reservation." —Doug Ireland, History News Network 

"A fascinating portrait of an heroically difficult character on a collision course with an indifferent world." —Jonathan Galassi, President of Farrar, Straus and Giroux

"Dreadful is a poignant biography of a forgotten man who drank himself to death. It's a brilliant evocation of a self-hating gay novelist in the 1940s whom Gore Vidal once considered a rival."—Edmund White 

"Brilliantly explores and exposes the glories and tragedies of a now-forgotten great American writer. In carefully reconstructing Burns's life and career, Margolick has uncovered the glamorous and often dark underbelly of post-war American literary and intellectual culture. Burns's story is not so much about homophobia as it is about what it means to be an American artist and intellectual in the years after World War II. Beautifully written and filled with insight and empathy, Dreadful forces us to rethink not only American literary culture, but America itself."—Michael Bronski, Harvard University 

"Extraordinary. David Margolick takes a once-famous novelist who's become a mysterious footnote in postwar American literature and brings him fully back to life. We see a young, smart, cynical gay man being humanized by World War II and finding a soul—the war chapters are as vivid as My Queer War by James Lord or Naples '44 by Norman Lewis—only to have that soul destroyed by alcohol, homophobia, and his own crazy, vindictive pride. It's a powerful story, and Margolick tells it with great energy, humor and understanding." —Christopher Bram, author of Gods and Monsters andEminent Outlaws: The Gay Writers Who Changed America

"The subject of Dreadful is a gifted writer of ultimately dissipated gifts, an unconventional intellectual in an age obsessed with conformity, and one of the great caustic, comic letter-writers of his time—a man to make Gore Vidal or Christopher Hitchens look judicious and mild-mannered. But David Margolick explores a raft of larger subjects as well in this engrossing book: what it meant to be gay in mid-twentieth-century America, the cost of sudden fame in a celebrity culture, the allure of postwar Italy, and the tragedy of the uncompromising loner. Likable, Burns wasn't—vivid and memorable, he is." —John Loughery, author of The Other Side of Silence: Men's Lives and Gay Identities, a Twentieth-Century History

"In his biography of John Horne Burns, the author of The Gallery, one of the great World War II novels, David Margolick has told a fascinating and uniquely American story: the destruction of a writer of first-rate talent by liquor and relentless social pressures arrayed against gay men at mid-century." —Louis Begley, author of Schmidt Steps Back

"...Mr. Margolick is a stylish, insightful writer, particularly good at evoking the ethos of gay midcentury America."—The Wall Street Journal

"...the book largely hits its mark, and an oft-forgotten literary figure receives overdue attention."—Publishers Weekly

"A revealing biography of the brilliant, arrogant author of The Gallery (1947), a celebrated World War II novel...a wonderfully crafted portrait of a tormented homosexual writer."—Kirkus (Starred Review)

"[A] fine biography...Dreadful is the story of a man whose talent is obvious and prodigious, who is widely heralded for his ability and promise, and whose subsequent fall from grace is sharp and dizzying. A cruel man, but a good book." —Bookforum

"Margolick's bio offers high drama, a window into pre-Stonewall gayliterary life, and a cautionary tale about success, the war, and the closet."—The Village Voice

"This book is a well-rounded portrait of an enigmatic man..."—The New York Observer

"[R]eaders of David Margolick's new biography, Dreadful: The Short Life and Gay Times of John Horne Burns...come away respecting his account of this troubled man for its own sake, but also grateful that an important, if brief, literary life is now saved from oblivion." —Boston Spirit Magazine

"David Margolick rescues [Burns's] sad, revealing life from the shadows of war, drink, and prejudice."—The Daily Beast

"An admirable new biography...[Margolick] restores Burns to us without condescension and with enormous sensitivity and sympathy. Dreadful: The Short Life and Gay Times of John Horne Burns is a fine piece of work that I heartily recommend without the slightest reservation." —Gay City News

"...fluidly written and highly readable..."—Minneapolis Star Tribune

"In his excellent new biography, Dreadful: The Short Life and Gay Times of John Horne Burns, David Margolick has plunged his hands into the messy annals of American literary history and rescued a singular author from obscurity. His book paints a nuanced, engrossing and less-than-flattering picture of Burns...The broken man Margolick gives us, across 382 pages of sensitive and meticulous reportage, is a heartbreaking product of his time and circumstances."—The Buffalo News

"An insightful, gritty biography..."—DenverPost.com

"Margolick follows his promise to desentimentalize World War II. His product is a narrative that, without polemic rants, tears gloss from the battlefield. At the very least, he inspires readers to question historical convention. At most, he begs Americans to venerate soldiers without holding false impressions of them."—Open Salon

"Margolick has crafted a fascinating portrait of Burns in Dreadful (Other Press), which excavates the "short life and gay times" of this man who deserves recognition for writing one of the first and best novels about gay life in the military."—Out Magazine

"David Margolick's elegantly written biography should bring Burns and The Gallery out of the shadows."—Lambda Literary

"[Margolick] depicts with sympathy but not sentimentality the destruction of soul, and ultimately of life itself, caused by the repression of homosexuality during the first half of the last century...An important reclamation for gay and American literature, David Margolick's life of John Horne Burns is fascinating, poignant, tragic."—Bay Area Reporter

"With intelligence and insight, David Margolick examines Burns's moral ambivalence toward the behavior of American soldiers stationed with him in Naples."—East End Beacon

"...Margolick has brought to light what it meant to be an American artist and intellectual in the years after World War II...and shows how Burns paved the way for gay writers to come. Brilliantly written, and a cracking good read."—The Hudson Valley News

"[Dreadful] does illuminate what it was like to be gay at a particular moment in time. And as society moves toward eliminating what some consider to be the last acceptable prejudice, that is a worthy contribution."—The East Hampton Star

"Margolick tells the story of this forgotten writer and his work very well — it's a powerful combination of history and literary excavation."—CTNews.com

"...David Margolick carves out a breathtaking picture of the brilliant prodigy...This book, centering on the author that Gore Vidal considered a rival and whose work Ernest Hemingway praised as "wonderfully written," is less a biography than a portrait, completing a picture of Burns to the fullest extent with each new word."—Advocate.com

"Surprised you've never heard of [Burns]? That's exactly Margolick's masterful point in resurrecting through meticulous yet utterly readable facts and research the sad story of a not particularly sympathetic author with such promise, who sunk into oblivion and died at an early age....there's nothing dreadful about Margolick's terrifically crafted biography that places Burns back into the public consciousness as a breakthrough gay writer who deserves our respect—and recognition."—Poptimistic

"... a fascinating exploration of Burns' brief and controversial life coupled with a look at the pressures of being gay in mid-twentieth-century America."—Contra Costa Times

"Margolick's work is a raw read, dimensional and dynamic, sympathetic without being sentimental, and lifts the veil on a little-known life who, in his own way, paved a literary path for gay writers to come."—Biographile

"[Dreadful] sheds light on a man who was born gay, knew he was special, and died tragically, probably at his own hand. Helping readers understand the importance of sexuality and the impact it can have on one's life is a powerful statement." —City Book Review

"Margolick not only highlights glimpses of literary brilliance from a cultured writer but also unearths his more complicated and sometimes not-so-likable characteristics." —San Francisco Chronicle

"[An] excellent and highly readable biography... [A] portrait of extremes of the sort that tantalized Burns himself." —Times Literary Supplement

"From Burns' time as a prep school teacher, to his years serving in WWII, to his rise as a celebrated author, to his inevitable and untimely demise, Dreadful makes for a fascinating read about an all but forgotten American author." —Queerty
Other Press, 9781590517130, 480pp.
Publication Date: November 11, 2014
About the Author
David Margolick is the author of five books, including Strange Fruit: The Biography of a Song (Harper Perennial, 2001), Beyond Glory: Joe Louis vs. Max Schmeling and a World on the Brink (Vintage, 2006), and Elizabeth and Hazel: Two Women of Little Rock (Yale University Press, 2011). He is a contributing editor at Vanity Fair and a Loomis School alum.
or
Not Currently Available for Direct Purchase