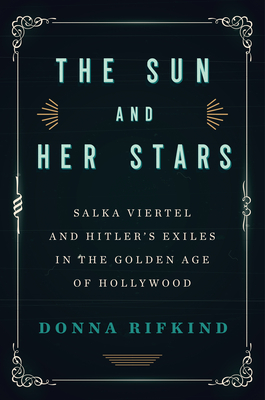 The Sun and Her Stars
Salka Viertel and Hitler's Exiles in the Golden Age of Hollywood
Hardcover

* Individual store prices may vary.
Other Editions of This Title:
Paperback (2/2/2021)
Description
National Jewish Book Award Finalist

The little-known story of screenwriter Salka Viertel, whose salons in 1930s and 40s Hollywood created a refuge for a multitude of famous figures who had escaped the horrors of World War ll.

Hollywood was created by its "others"; that is, by women, Jews, and immigrants. Salka Viertel was all three and so much more. She was the screenwriter for five of Greta Garbo's movies and also her most intimate friend. At one point during the Irving Thalberg years, Viertel was the highest-paid writer on the MGM lot. Meanwhile, at her house in Santa Monica she opened her door on Sunday afternoons to scores of European émigrés who had fled from Hitler—such as Thomas Mann, Bertolt Brecht, and Arnold Schoenberg—along with every kind of Hollywood star, from Charlie Chaplin to Shelley Winters. In Viertel's living room (the only one in town with comfortable armchairs, said one Hollywood insider), countless cinematic, theatrical, and musical partnerships were born.

Viertel combined a modern-before-her-time sensibility with the Old-World advantages of a classical European education and fluency in eight languages. She combined great worldliness with great warmth. She was a true bohemian with a complicated erotic life, and at the same time a universal mother figure. A vital presence in the golden age of Hollywood, Salka Viertel is long overdue for her own moment in the spotlight.
Praise For The Sun and Her Stars: Salka Viertel and Hitler's Exiles in the Golden Age of Hollywood…
"Rifkind sees the worldly yet unassuming Viertel as at once an extraordinary character and a telling representative of something larger than herself. She's right to…A labor of love and careful research…startling and powerful…[Rifkind's] generosity of spirit and attention to detail suit a book about this 'mother of exiles,' who was always welcoming outsiders in." —New York Times Book Review
 
"Moving…brilliant…[Rifkind] performs an act of spiritual as well as cultural resurrection…Like the multitudes who came to 165 Mabery Road, you'll be glad you met [Salka Viertel]." —Wall Street Journal

"Rifkind regularly takes issue with previous cultural historians who have denigrated Salka's importance as a screenwriter…Rifkind writes engagingly and often passionately…[Salka's] had been a remarkable life and she had been blessed with extraordinary friends, as Donna Rifkind again shows us." —Washington Post

"Rifkind makes a passionate case for rescuing her subject from anonymity…[She] has done an enormous service in spotlighting the life of Salka Viertel: not only by telling a story that deserves to be better known, but also by implicitly making the case for more such books." —Harper's

"Among mid-twentieth-century America's most influential women, Salka Viertel finally gets her due in Donna Rifkind's marvelous, knowledgeable The Sun and Her Stars." —Boston Herald

"An immersive biography…Chock-full of scandalous affairs and wartime atmosphere, this sparkling account brings overdue attention to a woman who helped make Hollywood's golden age possible." —Publishers Weekly

"Impressive…Rifkind chronicles in meticulous detail Salka's substantial career in a hostile Hollywood studio system that regularly ignored the contributions of women…An impassioned and revelatory biography." —Kirkus Reviews

"A study of a complex, openhearted woman who had a key role in saving the displaced while shaping mid-20th-century Hollywood. Rifkind has penned a perceptive, exhaustively researched contribution to social and film history." —Library Journal

"[Rifkind is] a superlative chronicler of Old Hollywood…This tour de force of a biography tells the story of an overlooked hero who helped make Hollywood's golden age gleam." —Shelf Awareness

"In The Sun and Her Stars, Donna Rifkind delves into the fascinating, complex life and work of one of Hollywood's unsung screenwriting legends and emerges with a rich and illuminating biography, one that Salka Viertel herself would have undoubtedly adored." —Sarah Weinman, author of The Real Lolita: A Lost Girl, an Unthinkable Crime, and a Scandalous Masterpiece

"This book elegantly captures a splendid life and career worth remembering, its moving central portrait set like a brave feminist jewel amidst treacherous crosscurrents of history, in Europe and Hollywood, which echo eerily today." —Patrick McGilligan, coauthor of Tender Comrades: A Backstory of the Hollywood Blacklist

"The best biographies tell the story not only of the individual but of the entire milieu in which they lived. Donna Rifkind does exactly this in her examination of Salka Viertel, a figure mostly unknown to the general public but whose life is a winding line from prewar Vienna to the coast of California at the dawn of Hollywood. This book is smart, questioning, insightful, and ultimately impossible to put down." —Christian Kiefer, author of Phantoms: A Novel

"The unjustly forgotten Salka Viertel, premier memoirist of Hollywood's Golden Age and so much more, gets a vital, comprehensive biography to call her own in Donna Rifkind's lively and engaging The Sun and Her Stars." —Kenneth Turan, Los Angeles Times Film Critic
Other Press, 9781590517215, 560pp.
Publication Date: January 28, 2020
About the Author
Donna Rifkind's reviews appear frequently in the Wall Street Journal and New York Times Book Review. She has also been a contributor to the Los Angeles Times, Washington Post, Times Literary Supplement, American Scholar, and other publications. In 2006 she was a finalist for the Nona Balakian Citation for Excellence in Reviewing from the National Book Critics Circle.