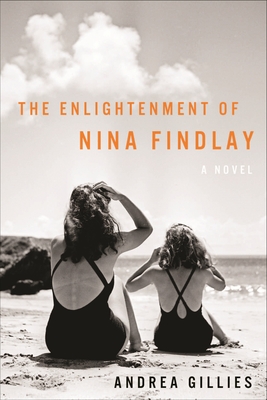 The Enlightenment of Nina Findlay
A Novel
Paperback

* Individual store prices may vary.
Description
What happens when you can't see that the man you married is actually the one you love?

For her whole life Nina Findlay has been in a love triangle with two Italian brothers, Paolo, whom she married, and Luca, with whom she was always in love and who remained her best friend throughout her marriage. Now Nina faces the future alone—estranged from Luca and separated from Paolo, she escapes to the tiny Greek island where she honeymooned twenty-five years earlier. After an accident she finds herself in the hospital telling her life story to an eagerly attentive doctor. As their conversations unfold she comes to understand the twists and turns of her romantic life and the unconscious influence of her parents' marriage on her own.
Praise For The Enlightenment of Nina Findlay: A Novel…
"In her disturbing and...tantalizing second novel, Andrea Gillies...plumbs the heart of marital infidelity. In the world of this novel, we betray our spouses simply by withholding the best of ourselves, by saving it for another."  —The New York Times Book Review

"Elegantly told in flashbacks and up-close observations, Nina's story of adult romance is illuminating, redemptive, and hot as all get-out." —The Oprah Magazine

"Gillies's brisk, confident style deftly manages convoluted jumps in time, and small gems of insight glitter among her clean, precise prose...This sure-handed, lovely exploration of the human heart is certain to build Gillies's audience." —Publishers Weekly

"In her second novel, Gillies explores...the fallibility of memory and the often heartbreaking half-truths we tell ourselves by way of compensation." —Kirkus Reviews

"Gillies is a skilled writer, painting the scene of Nina's Greek getaway with cleanly evocative prose." —The Huffington Post

"Gillies offers a lot of food for thought about love, memory, and the lies we tell ourselves." —Booklist

"Riveting." —Library Journal

"A rich, intricate, utterly convincing portrait of one woman's midlife meltdown." —Lisa Zeidner, author of Layover and Love Bomb

"This mesmerizing, intelligent work overturns traditional assumptions about love, family, and loss and delivers a series of twists that are as unexpected as they are richly satisfying." —Diana Abu-Jaber, author of Birds of Paradise

"The Enlightenment of Nina Findlay is at once lyrical and riveting. Unfolding on a radiant Greek Island, with darker echoes of Scotland and Norway, this lushly transporting, thoughtful novel moves through overlapping time periods in an intricate series of themes and variations. Despite its graceful cadence, it courses with suspense; Andrea Gillies has given us something rare, an exquisite page-turner." —Hilary Reyl, author of Lessons in French

"The Enlightenment of Nina Findlay is a sure, poised, relentlessly honest novel that carries the reader through multiple layers of deception and revelation, showing us the hidden heartbreak in families and marriage." —Fernanda Eberstadt, author of Rat and The Furies

"Gillies writes magnificently on everything she touches."  —Sunday Times (UK)

"[The Enlightenment of Nina Findlay] moves backward and forward across several decades, uncovering intergenerational secrets and the holes in the stories people tell themselves." —The Guardian (UK)

"Funny and wise . . . not to be missed." —Good Housekeeping (UK)

"An intelligent, thoughtful, grown-up romance about second chances and the complications of relationships." —The Herald (Scotland)

"Winner of the Orwell and Wellcome prizes for her first book, Keeper, Gillies combines a wonderfully unreliable narrator with a deeply layered love story." —Scottish Book Trust

"Romance is everywhere, there is love—filial, parental, platonic, amorous—and flirting and coupling and unraveling. But The Enlightenment of Nina Findlay is not chick lit. There's a provocative intelligence in Gillies's tale that challenges perceptions and beliefs about love, honesty, and betrayal." —Bookanista
Other Press, 9781590517291, 416pp.
Publication Date: May 5, 2015
About the Author
Andrea Gillies lives in Edinburgh, Scotland. Her debut book was the memoir Keeper: One House, Three Generations, and a Journey into Alzheimer's (Broadway, 2010), which won the Wellcome Book Prize and the Orwell Prize. Her first novel, The White Lie (Houghton Mifflin Harcourt/Mariner), was published to critical acclaim in 2012. The Enlightenment of Nina Findlay is her second novel.
or
Not Currently Available for Direct Purchase