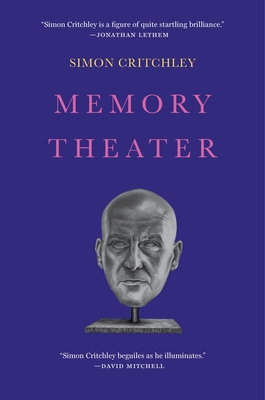 Memory Theater
A Novel
Hardcover

* Individual store prices may vary.
Description
From this renowned philosopher comes a debut work of fiction, at once a brilliant précis of the history of philosophy, a semiautobiographical meditation on the absurd relationship between knowledge and memory, and a very funny story

A French philosopher dies during a savage summer heat wave. Boxes carrying his unpublished papers mysteriously appear in Simon Critchley's office. Rooting through them, Critchley discovers a brilliant text on the ancient art of memory and a cache of astrological charts predicting the deaths of various philosophers. Among them is a chart for Critchley himself, laying out in great detail the course of his life and eventual demise. While waiting for his friend's prediction to come through, Critchley receives the missing, final box, which contains a maquette of Giulio Camillo's sixteenth-century Venetian memory theater, a space supposed to contain the sum of all knowledge. With nothing left to hope for, Critchley devotes himself to one final project before his death—the building of a structure to house his collective memories and document the remnants of his entire life.
Praise For Memory Theater: A Novel…
A Publishers Weekly Best Books of 2015 
A Library Journal Best Fall Debut Novel 2015

"Critchley's writing is uncommonly vital. He has a keen appreciation of literature and pop culture, and his analysis can skip nimbly from Heidegger to Wallace Stevens to Johnny Rotten...Charming...a brilliant parable." —The Wall Street Journal

"This strange, mesmerizing novel is hard to shake, evoking lucidity, mortality, and weirdness in equally memorable measures." —Kirkus Reviews

"Utterly readable, swiftly entertaining, and at moments blackly funny, though overall there's great poignancy in the character's cock-eyed determination to reach his goal; not a standard narrative but within any reader's reach." —Library Journal

"A winding dive into the nature of memory—the powers we ascribe to it, and the devices we use to bulwark it . . . fascinating . . . well worth the afternoon it'll take to read—and the lingering questions it'll leave with you long afterward." —Colin Dwyer, NPR

"Critchley's prose is charming, funny, and clear; his voice is strong and honest...Memory Theater is entirely readable, even for someone who is new to the philosophers, poets, and poet-philosophers Critchley invokes...[R]efreshing...Memory Theater offers an author's idiosyncratic version of the truth." —Bookforum

"Profoundly intriguing . . .  a gripping tale . . . a fascinating mystery . . .  It's light on pages and extremely heavy on content. Critchley has carefully chosen each and every word, crafting one of the most compelling stories I've ever experienced."—The News-Gazette

"[O]riginal, observant, and unexpectedly moving...The novel is short enough to be absorbed in a single sitting, but the questions posed by author/character Simon regarding the full ramifications of the soul's saturation in history will linger indefinitely." —Publishers Weekly (Starred Review)

"Tacks from abstract meditations on memory and thought to surreal, hilarious anecdotes involving Critchley's bizarre life. Sample confession: 'I couldn't think of anything apart from death and the vague prospect of breakfast cereal.'" —Slate

"Cleverly and admirably lays bare the fact that our memories are being gentrified."—Flavorwire

"Simon Critchley is a figure of quite startling brilliance, and I can never begin to guess what he'll do next, only that it is sure to sustain and nourish my appetite for his voice. His overall project may be that of returning philosophical inquiry, and "theory," to a home in literature, yet without surrendering any of its incisive power, or ethical urgency. . . . I read Memory Theater and loved it."  —Jonathan Lethem, author of Dissident Gardens

"Memory Theater is a brilliant one-of-a-kind mind game occupying a strange frontier between philosophy, memoir, and fiction. Simon Critchley beguiles as he illuminates." —David Mitchell, author of Cloud Atlas

"Novella or essay, science fiction or memoir? Who cares. Chris Marker, Adolfo Bioy Casares, and Frances Yates would all have been proud to have written Memory Theater." —Tom McCarthy, author of C

"Remarkable…suffused with an enthusiasm for its subject, and a humor that carries the text lightly along as Critchley's frantic prose descends toward its conclusion." —Los Angeles Review of Books

"[Critchley's] fiction debut is rich, profound, and very funny." —The Guardian

"Teasing, economical, ingenious" —Times Literary Supplement

"A strange, affecting and stimulating book that's both a philosophical history and a personal memoir. Sifting through the archives of a dead friend, Critchley takes a fascinating journey through the philosophy and history of memory, and the technologies of remembering dreamed up by thinkers since classical times." —Hari Kunzru, author of Gods Without Men 

"With a sense of mischief combined with surprising reverie, Simon Critchley has braided together ideas about memory from the past with the latest thinking about unreliable narrative, altered states and the mysteries of consciousness. Memory Theater is a tantalizing, textual Moebius strip–philosophy, autobiography, and fiction twisted together." —Marina Warner, author of Stranger Magic
Other Press, 9781590517406, 112pp.
Publication Date: November 17, 2015
About the Author
Simon Critchley is Hans Jonas Professor of Philosophy at the New School for Social Research in New York. His previous books include On Humour; The Book of Dead Philosophers; How to Stop Living and Start Worrying; Impossible Objects; The Mattering of Matter (with Tom McCarthy); The Faith of the Faithless; Stay, Illusion! (with Jamieson Webster), and Bowie. He is series moderator of "The Stone," a philosophy column in the New York Times, to which he is a frequent contributor.
or
Not Currently Available for Direct Purchase