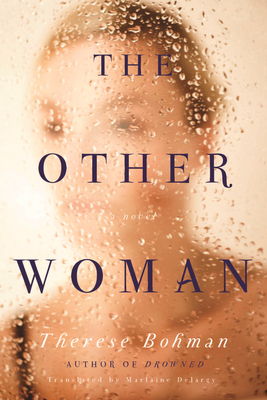 The Other Woman
A Novel
Paperback

* Individual store prices may vary.
Description
From the author of Drowned, a passionate psychological drama where questions of power and sexuality are brought to a head.
 
  She works at Norrköping Hospital, at the very bottom of the hierarchy: in the cafeteria, below the doctors, the nurses, and the nursing assistants. But she dreams of one day becoming a writer, of moving away and reinventing herself.
        
   Carl Malmberg, an older, married doctor at the hospital, catches her eye. She begins an intense affair with him, though struggling with the knowledge that he may never be hers. At the same time, she realizes that their attraction to each other is governed by their differences in social status. As her doubts increase, the revelation of a secret no one could have predicted forces her to take her own destiny in hand.
Praise For The Other Woman: A Novel…
"Equally erotic and shrewd, the latest from Bohman (Drowned) reads like a confession, or diary… The author's prose is breathtaking, oscillating between her narrator's tumultuous feelings toward her lover and the narrator's curiosity—and occasional disdain—for the world around her…. An elegant, rich take on an age-old narrative."
—PUBLISHERS WEEKLY (STARRED REVIEW)
 
"A woman with an almost Dostoevskian loneliness becomes the other woman in this novel of class and passion…. Philosophical, passionate, and pensive—[The Other Woman] explores the psychology of both intimacy and lust."
—KIRKUS REVIEWS
 
"The Other Woman hooks the reader with a captivating voice and a dramatic spin on a story we've all heard before…This captivating, character-driven tell-all provides the reader with a unique insight…And [Bohman's] bashfully, charming leading lady keeps you hooked until the very last page."
—NEW YORK DAILY NEWS
 
"A mesmerizing page-turner."
—NEW YORK JOURNAL OF BOOKS

"Bohman has crafted an intriguing, intelligent novel about the vagaries of female existence without sacrificing the character's perspicacity or, indeed, the traits that make her an occasionally unlikeable character."
—POPMATTERS
 
"In an inspired twist, Bohman…tosses out a moral question that involves not just one of the two other women but both of them. [This] lifts Therese Bohman's novel far above the typical story of female jealousy."
—COUNTERPUNCH

"[The Other Woman brings] satisfaction even to the most jaded reader."
—SEEING THE WORLD THROUGH BOOKS
 
"Therese Bohman strikes the right balance between lavish prose and simple storytelling—allowing her books to be both beautiful literary objects and vehicles which engage readers through larger ideas." 
— THE QUARTERLY CONVERSATION
 
"[The Other Woman] bursts with intellectual prowess. It's witty, provocative and thoughtful about money, class, what it is to have less and desire more, to be educated and smart but not particularly suited to anything…This is the best novel I've read so far this year."
 —ENTERTAINMENT REALM
 
"A really well-done literary novel about an affair between a young woman and an older married man. From my perspective it was almost painfully psychologically accurate, and the ending was so undramatic and realistic it came as a surprise. I really was expecting something completely different and was very happy to be wrong."
—BOSTON BIBLIOPHILE BLOG
 
"The Other Woman by Therese Bohman illustrates the tension of contemplating a new romance and falling in love…. Bohman combines exquisite details of setting, timing and each character's unique voice, urging you to read faster, or stay awake to read more and more, as the story moves through twists and turns… Bohman's intuitive sense of character, psychological twists, passion, and humor creates a fast-paced storyline that readers will devour and share with friends."
—BLOGCRITICS
 
"Engaging"
—WOMAN AROUND TOWN
 
"Bohman has a nose for danger: Her characters are curiously, alarmingly awake, and a story we should all know well is transformed into something wondrous and strange. A disturbing, unforgettable book."
—Rufi Thorpe, author of The Girls from Corona del Mar
 
"An uncannily perfect, deceptively simple, deeply satisfying literary bulls-eye about sex, friendship, class, work, gentrification, ambition, and the self."
—Elisa Albert, author of After Birth
 
"The Other Woman is an utterly propulsive and intoxicating narrative of obsession, status, and social class. Therese Bohman's honest, intelligent, comedic, and contradictory narrator is one I've been searching for in every novel I've read; I'm thrilled to have finally found her."
—Chloe Caldwell, author of Women 
Other Press, 9781590517437, 208pp.
Publication Date: February 23, 2016
About the Author
Therese Bohman is a columnist for Expressen and Tidningen Vi, writing about literature, art, culture, and fashion. Her debut novel Drowned was published by Other Press in 2012. She lives in Sweden.

Marlaine Delargy has translated novels by Åsa Larsson and Johan Theorin, as well as The Unit by Ninni Holmqvist (Other Press), and serves on the editorial board of the Swedish Book Review. She lives in England.
or
Not Currently Available for Direct Purchase