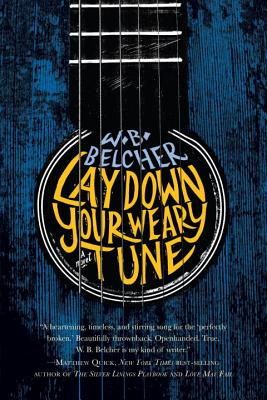 Lay Down Your Weary Tune (Paperback)
Other Press, 9781590517468, 384pp.
Publication Date: January 26, 2016
* Individual store prices may vary.
Description
In this debut novel, a ghostwriter of the memoirs of a reclusive folk music icon—part Woody Guthrie, part Bob Dylan—attempts to glean fact from fiction, only to discover the deeper he digs into the musician's past, the more his own past rises to the surface

Despite his fame, Eli Page is a riddle wrapped in a myth, inside decades of mask-making. His past is so shrouded in gossip and half-truths that no one knows who he is behind the act. Jack Wyeth, a budding writer, joins Eli in Galesville, a small town on the border of New York and Vermont, only to learn that the musician's mind is failing. As he scrambles to uncover the truth, Jack is forced to confront his own past, his own hang-ups, and his own fears. At the same time, he falls for a local artist who has secrets of her own, he becomes linked to a town controversy, and he struggles to let go of his childhood idols and bridge the divide between myth and reality.

Set against a folk Americana aesthetic, Lay Down Your Weary Tune is an emotionally charged exploration of myth-making, desire, and regret, and the inescapable bond between the past and present.
About the Author
W. B. Belcher grew up in western Massachusetts and earned his MFA from Goddard College. He lives along the Battenkill River in upstate New York with his wife and two children. Lay Down Your Weary Tune is his first novel.
Praise For Lay Down Your Weary Tune…
"An examination of art, fame, and authenticity." —The Boston Globe

"[A] richly textured novel about folk music...Belcher brings the folk music scene to life, but best of all is his ability to craft a cast of memorable characters." —Publisher's Weekly

"Appealing...Mingling elements from both literature and the blues, Belcher has crafted a memorable tale about how the masks and myths we create can become prisons that ultimately disconnect us from ourselves." —Library Journal

"This story will pluck countless heartstrings." —Booklist

"Belcher's book [is] wonderfully engrossing and rewarding reading…In the near-final reckoning of Eli Page, Belcher finds and reveals something well beyond validating grief-on-a-gilded-chair rock star self-pity…Until I read [this], rock critic Lester Bangs's pithy line 'Dylan faked his whole career' seemed both accurate and insightful, and an odd sort of compliment from a writer who clearly recognized how real the impact of Dylan's songs has been on his fans, however fake the shifting personas of the man who sang them. But Bangs never made me wonder what remains, 50 years later, of the person who preceded the personas. W.B. Belcher did." —PASTE
 
"W. B. Belcher's first novel Lay Down Your Weary Tune is the kind of book you start reading and don't put down until you reach the last page. His writing style rings clear; it is lyrical, but at the same time confrontational…Belcher's command of the language, his selection and use of words, and his ability to paint clear pictures of the people and locations make this story worth reading. But his taking his writing one step further and probing into the soul of his main character is the real attraction…This is definitely a page-turner and one that belongs on every reader's library shelf."—The New York Journal of Books

"W.B. Belcher's debut novel evokes the legend and timelessness of a true folk song. In the town of Galesville he weaves together a carefully crafted, mysterious, and epic world of characters whose stories will keep you guessing until the very end. A folkloric treasure trove and a great read." —Jocelyn Arem, author of Caffe Lena: Inside America's Legendary Folk Music Coffeehouse

"A heartening, timeless, and stirring song for the 'perfectly broken.' Beautifully thrownback. Openhanded. True. W.B. Belcher is my kind of writer." —Matthew Quick, New York Times bestselling author of The Silver Linings Playbook and Love May Fail

"As beautiful and artfully constructed as an old guitar, Lay Down Your Weary Tune feels both familiar and wholly original. William Belcher's debut is a highly readable wonder." —James Scott, author of The Kept

"Like Russell Banks and Richard Russo, W.B. Belcher's warm, lyrical prose brings to life the upstate New York I know and love so well, and even more, he does it with the clarity, compassion, and humor of a master storyteller. A terrific debut novel." —Chris Millis, author, screenwriter, and executive producer of Small Apartments

 
or
Not Currently Available for Direct Purchase