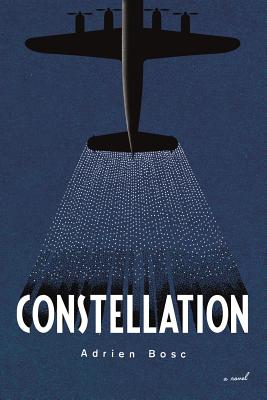 Constellation (Paperback)
Other Press, 9781590517567, 192pp.
Publication Date: May 10, 2016
* Individual store prices may vary.
Description
This best-selling debut novel from one of France's most exciting young writers is based on the true story of the 1949 disappearance of Air France's Lockheed Constellation and its famous passengers
 
On October 27, 1949, Air France's new plane, the Constellation, launched by the extravagant Howard Hughes, welcomed thirty-eight passengers aboard. On October 28, no longer responding to air traffic controllers, the plane disappeared while trying to land on the island of Santa Maria, in the Azores. No one survived.
            The question Adrien Bosc's novel asks is not so much how, but why? What were the series of tiny incidents that, in sequence, propelled the plane toward Redondo Mountain? And who were the passengers? As we recognize Marcel Cerdan, the famous boxer and lover of Edith Piaf, and we remember the musical prodigy Ginette Neveu, whose tattered violin would be found years later, the author ties together their destinies: "Hear the dead, write their small legend, and offer to these thirty-eight men and women, like so many constellations, a life and a story."
About the Author
Adrien Bosc was born in 1986 in Avignon. Constellation, the winner of the prestigious Grand Prix du roman de l'academie francaise and a best seller in France, is his first novel.

Willard Wood is the translator of Yannick Grannec's The Goddess of Small Victories, Jacqueline Raoul-Duval's Kafka in Love, and Anne Plantagenet's The Last Rendezvous, among other works. He is a winner of the Lewis Galantière Award for Literary Translation and a National Endowment for the Arts Fellowship in Translation. He lives in Connecticut.
Praise For Constellation…
"Like all great novels, Constellation works in ever expanding circles. You can read it as a short, tight account of a tragedy and its victims. You can take it as a larger profile of modernity at its zenith, with sports and art and industry and even flight itself all experiencing a moment of unprecedented growth made possible in part by the men and women who died on the plane. Or you can find inspiration in the epigraphs Mr. Bosc artfully attaches to each chapter—by Kafka, Sartre, Rimbaud, and others—and treat this as book meditation on chance, destiny, and the faults that lie sometimes in ourselves and sometimes in our stars. Any way you choose to read this slim and marvelous work, its pleasures abound." —Wall Street Journal

"Slender yet ambitious . . . the author's metacommentary transforms the narrative into a profound meditation on the far-reaching interconnectedness of tragic events."
—Publishers Weekly

"Adrien Bosc's Constellation is a thrilling and humane reimagining of a plane crash, blending fact and fiction to reanimate a fading moment in history. A bold and spare novel that reminds us what fiction can do." —Jonathan Lee, author of High Dive
 
"Constellation takes huge risks in its recreation of a tragedy, risks that are more than justified by this intelligent, moving and hugely affecting novel. His sketches of both the famous and unknown are masterfully concise portraits of lives we come to cherish, even in the moment of their death. This, combined with a dazzlingly idiosyncratic narrative, makes Adrien Bosc's debut a novel of considerable power and imaginative invention." —Stuart Evers, author of Your Father Sends His Love

"Adrien Bosc meticulously and beautifully pieces together the destiny of the 46 passengers aboard the Constellation with a depth of imagination and heart that renders these long lost lives palpably present. It is the work of a gifted and elegant writer, one who seems to instinctually know how to breathe life into a fictional world." —Dinaw Mengestu, author of The Beautiful Things That Heaven Bears

"A novel of realism propelled by Bosc's energy and unique imagination. The mysterious plane crash of Constellation in 1949 is revived within the pages of this magical novel." —Gay Talese, author of The Bridge and A Writer's Life

"Sublime, haunting, exuberant, Constellation turns a tragedy into a miracle. In reviving the victims of a doomed 1949 Air France flight, Adrien Bosc writes beautifully about coincidence and fate, including the greatest coincidence at all—that we are alive on earth together for a short time. Constellation is a novel of profound humanity." —Nathaniel Rich, author of Odds Against Tomorrow

"[Bosc's] first novel shines . . . The young writer releases the men and women from their unidentified tombs . . . to place them on the best of literary biers. Part fiction, part historical investigation, and part tribute, Constellation is radiant." —Le Figaro

"Adrien Bosc, the author of [Constellation] and also the founder of the journals Feuilleton and Desports, dug through archives, investigated through the Internet, unearthed evidence to reproduce the last moments of these prematurely shattered lives." —L'Express

"The writing is clear, brilliant, and streamlined, the construction is wise . . . There is in Bosc a bit of Hergé and of Leibniz." —Le Nouvel Observateur

"[Bosc] weaves together the connections between these people and the events of their times, searches to understand why he started out on this process, halfway between literary journalism and fictional adventure, in this unsolvable investigation where at every turn the fictional fights with the real." —Libération

"Shows great promise...With his Constellation, the fireworks have only just begun." —Livres Hebdo

"[Bosc] has unearthed astonishing biographies . . . Bosc, twenty-eight years old, has already demonstrated a curiosity, and his appetite shows here. A coroner who is attentive to the smallest clues, he searches through the debris, revives the dead, notes the hands of fate." —Le Point
or
Not Currently Available for Direct Purchase