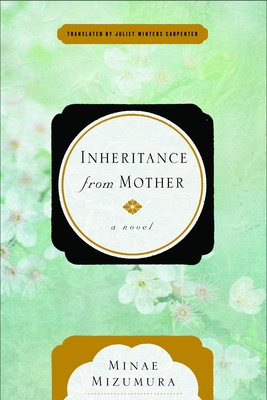 Inheritance from Mother (Hardcover)
A Novel
Other Press, 9781590517826, 464pp.
Publication Date: May 2, 2017
Other Editions of This Title:
Paperback (4/9/2019)
MP3 CD (7/25/2017)
* Individual store prices may vary.
Description
Award-winning novelist Minae Mizumura demystifies the notion of the selfless Japanese mother and the adult daughter honor-bound to care for her.
 
Mitsuki Katsura, a Japanese woman in her mid-fifties, is a French-language instructor at a private university in Tokyo. Her husband, whom she met in Paris, is a professor at another private university. He is having an affair with a much younger woman.
 
In addition to her husband's infidelity, Mitsuki must deal with her ailing eighty-something mother, a demanding, self-absorbed woman who is far from the image of the patient, self-sacrificing Japanese matriarch. Mitsuki finds herself dreaming of the day when her mother will finally pass on. While doing everything she can to ensure her mother's happiness, she grows weary of the responsibilities of a doting daughter and worries she is sacrificing her chance to find fulfillment in her middle age.
 
Inheritance from Mother not only offers insight into a complex and paradoxical culture, but is also a profound work about mothers and daughters, marriage, old age, and the resilience of women.
About the Author
Minae Mizumura is one of the most important writers in Japan today. Born in Tokyo, she moved with her family to Long Island, New York, when she was twelve. She studied French literature at Yale College and Yale Graduate School. Her other novels include the Yomiuri Prize–winning A True Novel, Zoku meian (Light and Dark Continued), a sequel to the unfinished classic Light and Dark by Natsume Soseki, and Shishosetsu from left to right (An I-Novel from Left to Right), an autobiographical work. Her most recent book in English, The Fall of Language in the Age of English, was published in 2015 by Columbia University Press. She lives in Tokyo.

Juliet Winters Carpenter studied Japanese language and literature at the University of Michigan and the Inter-University Center for Japanese Language Studies in Tokyo. Carpenter's translation of Kobo Abe's novel Secret Rendezvous won the 1980 Japan–United States Friendship Commission Prize for the Translation of Japanese Literature, and her translation of Minae Mizumura's A True Novel won the same prize for 2014–2015, making her the only person to have won this prestigious award twice.
Praise For Inheritance from Mother: A Novel…
"A must-read novel about the tangled bonds of motherhood…gorgeous and intimate." —Washington Post
 
"Mizumura craftily mixes the old with the new, creating a highly readable throwback to popular dime novels that replaces gilt with guilt and romance with real talk." —Wall Street Journal

"Mizumura's realism embraces family dynamics and bodily decline, both of which are anatomized without a hint of sentimentality…[She] depicts the ordeals of middle age with intelligence and empathy…[Readers] will find in Mizumura a fascinating example of how a writer can be at the same time imaginatively cosmopolitan and linguistically rooted." —New York Review of Books

 "There is admirable ambition in the way Mitsuki's story expands into a much larger portrait of middle-class anomie in a Japan still reckoning with its past and the paradoxes—and fraught compromises—of its identity." —New York Times Book Review
 
"[A] compelling exploration of family history and its impact on relationships and traditions." —Publishers Weekly
 
"A novel of female endurance and obligation…A long, minute, subtle consideration of aging, loyalty, and the bonds of love grounded in the material details of Japanese culture but resonating far beyond." —Kirkus Reviews
 
"Mizumura's startlingly unsentimental portrait of a woman who begins to examine her own life after her mother's death electrified readers when it was…serialized in Japan's Yomiuri Shimbun newspaper in 2010 and 2011…Chapter by chapter, Mizumura gives her heroine courage to believe in the right to independence and happiness—an inheritance not of wealth, but of self-knowledge." —O, The Oprah Magazine
 
"A story whose distinct layers, like lacquer, are laid over one another to form a lustrous whole. In Inheritance from Mother, the lines between past and present blur; the East is transposed like a palimpsest over West; and life shades into literature." —The New Republic
 
"Mizumura endows her characters with complexity in a stunningly graceful manner…Mizumura's depiction of the relationship between eastern and western ideals is one of the most gripping aspects of the novel…her work is steeped in self-awareness, brazenly critiquing the traditional structures so integral to her history. Mizumura does not avoid diving head first into those things that leave the deepest scars: death, infidelity, and the surrendering of dreams are where she starts." —The Rumpus
 
"A thoughtful examination of the emotional complexities and contradictions that surround the aging and death of a parent. Through deft, engrossing storytelling, Mizumura addresses the reality of this all too commonplace experience. It's a timely, substantial novel and a pleasure to read." —Structo
 
"A fascinating example of the overlap of Japanese and foreign influences, nicely brought to the fore by Mizumura." —Complete Review
 
"A deeply moving exploration of the complex and often fraught relationships between mothers and daughters. Mizumura uses her astute powers of observation to reveal, layer by layer, the turmoil and anger roiling beneath the surface of her characters. A beautifully crafted novel with universal appeal." —Cari Luna, author of The Revolution of Every Day

"Mizumura's previous novel in English was transcendently romantic; in Inheritance from Mother, romance manifests mainly as liability and false lure, while the years devolve from poetry to prose. The ingenious plot, however, produces vitality and beauty mercifully different from the conventional love story's, surprising us with gleeful relish and bursts of sheerest gratification." —Anna Shapiro, author of Living on Air
 
"In this coming-of-a-certain-age novel, the longings and desires of a middle-aged daughter are as bountiful as those of Emma Bovary. If Douglas Sirk and Agatha Christie went on a writing junket to Japan, they might return with this quietly seductive novel, in which Minae Mizumura's heroine uses her mother's inheritance to compose a new life story for herself." —Judith Pascoe, Professor of English, University of Iowa
 
"Mizumura has taken all the classic themes of the grand newspaper novel—sibling rivalries, unhappy marriages, family inheritances—and woven them into a moving tale for our own day." —Michael K. Bourdaghs, Professor of Modern Japanese Literature, University of Chicago
or
Not Currently Available for Direct Purchase