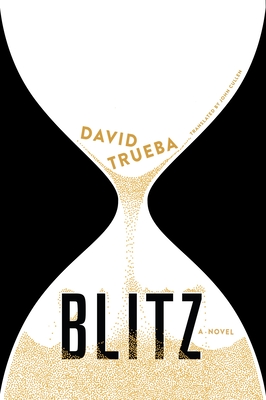 Blitz
A Novel
Paperback

* Individual store prices may vary.
Description
From the author of Learning to Lose, David Trueba's new novel about a young Spanish architect's affair with an older German woman.
 
Blitz is a romantic tragicomedy that recounts the exploits of Beto, a young architect who heads to Munich with his girlfriend to take part in a landscape-planning competition. In an instant, a text message Beto wasn't meant to receive shatters him, leaving him bewildered and heading nowhere. But unintentionally he falls into the arms of Helga, an older woman, in a cross-generational encounter that is the heart of the tale.
     With sensitivity and biting wit, Trueba crafts a story of errant souls and lost loves, humorously critiquing male narcissism, all the while showing us that in this modern age it is more important than ever to appreciate every moment and embrace intimacy when luck allows it, no matter from where.
Praise For Blitz: A Novel…
"Lively and amusing. . . Trueba's (Learning to Lose) gentle satire of youthful aimlessness is set against the background of the financial crisis, and his bumbling, self-pitying, but ultimately sympathetic Beto proves a talented guide through a largely predictable world of disappointments, reversals, and occasional joys."  
—Publishers Weekly

"With brilliant touches of witty humor, Trueba develops the theme of time with the narrative's month-by-month calendar structure, Beto's design of an hourglass garden, and the glaring age difference between the two lovers . . .  A delightfully rendered, bittersweet representation of a May-December romance." —Library Journal

"Outstanding. . . Blitz is emotionally charged, funny, and packed with biting wit. Trueba possesses a clever style that doesn't shy away from lyricism while dealing with everyday issues like sex and violence but that often drifts into art and philosophy, and the mixture is always amusing. . . Fans of Trueba's directorial work should check this one out, as well as anybody interested in great literature in translation." —Vol 1 Brooklyn 

"Trueba's tale is both moving and humorous, a powerful reminder to make the most of those intimate moments when the opportunity presents itself."—Bookriot

"A small-time tale of a young man flailing —rather harmlessly — in life and love, and still feeling his way about. . . A fine, quite nicely turned little read." —Complete Review

"On the surface it seems an improbable romance but Trueba sells it in a way that makes it seem almost inevitable for both parties as he examines their personal histories. . . As a novel, Blitz is intended to be a miniature but as miniatures go, it's darn near perfect." —Woman Around Town
 
"Gorgeously written, naked, painful. . . Trueba brings us along to admiration and acceptance and real feeling for both characters. . . Blitz is a hilarious, painful, meaningful novel that has a sophisticated European feel, despite the ordinariness of the lives of the characters. I am delighted to be introduced to the work of David Trueba." —Bowed Bookshelf

"A powerhouse of a novel, whose meditative, insightful pages challenge taboos and hit right where it hurts: in the heart of bewilderment, in the unpredictable nature of sex and desire."—El Pais

"Trueba deploys the full range of registers with a deft touch, a highly readable style, and a keen sense of narrative timing. The novel goes beyond comedy to scale greater heights."—La Vanguardia
Other Press, 9781590517840, 176pp.
Publication Date: August 30, 2016
About the Author
David Trueba is a film director and screenwriter as well as a novelist. He is the author of Cuatro amigos, which sold more than 100,000 copies in Spain, and his English-language debut, Learning to Lose, which won Spain's National Critics Prize in 2009. Trueba's latest film, Living Is Easy with Eyes Closed, which he wrote and directed, was long-listed for an Academy Award for Best Foreign Film in 2015 and won Goya awards for Best Film, Best Director, and Best Original Screenplay, among others.
 
John Cullen was the translator of many books from Spanish, French, German, and Italian, including Siegfried Lenz's The Turncoat, Juli Zeh's Empty Hearts, Patrick Modiano's Villa Triste, Kamel Daoud's The Meursault Investigation, and Philippe Claudel's Brodeck.
or
Not Currently Available for Direct Purchase