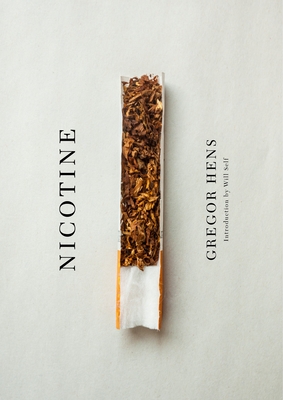 Nicotine
A Love Story Up in Smoke
Hardcover

* Individual store prices may vary.
Other Editions of This Title:
Digital Audiobook (5/29/2017)
Paperback (8/24/2021)
Paperback (11/4/2015)
MP3 CD (5/30/2017)
Compact Disc (5/30/2017)
Description
NAMED A BEST BOOK OF THE YEAR BY THE ECONOMIST

By turns philosophical and darkly comic, an ex-smoker's meditation on the nature and consequences of his nearly lifelong addiction.

Written with the passion of an obsessive, Nicotine addresses a lifelong addiction, from the thrill of the first drag to the perennial last last cigarette. Reflecting on his experiences as a smoker from a young age, Gregor Hens investigates the irreversible effects of nicotine on thought and patterns of behavior. He extends the conversation with other smokers to meditations on Mark Twain and Italo Svevo, the nature of habit, and the validity of hypnosis. With comic insight and meticulous precision, Hens deconstructs every facet of dependency, offering a brilliant analysis of the psychopathology of addiction.

This is a book about the physical, emotional, and psychological power of nicotine as not only an addictive drug, but also a gateway to memory, a long trail of streetlights in the rearview mirror of a smoker's life. Cigarettes are sometimes a solace, sometimes a weakness, but always a witness and companion.

This is a meditation, an ode, and a eulogy, one that will be passed hand-to-hand between close friends.
Praise For Nicotine: A Love Story Up in Smoke…
"Cigarettes function as punctuation for life, argues Gregor Hens, a German author and translator. They make it coherent and add drama, inserting commas, semi-colons and ellipses (and, in the end, an inarguable and often premature full stop). Smoking is bad for you, but that doesn't mean it can't be fun." —The Economist, 'Books of the Year 2017' Selection

"Nicotine is not another finger-wagging treatise on the evils of smoking. Nor is it a boring, triumphant tale of how one can muster the willpower to dump the cigarettes and replace them with a diet of unpasteurized goat's milk and raw parsnips...Instead this is a wonderfully meandering memoir, beautifully written, in which Mr. Hens recalls formative experiences through the experience of smoking" —Wall Street Journal

"Part memoir, part philosophical lament…when Nicotine stays dry, earthy and combustible, like a Virginia tobacco blend, it has a lot to say and says it well…His lapidary prose will sometimes put you in mind of the chain-smoking Norwegian writer Karl Ove Knausgaard's…" —New York Times 

"Its structure is reminiscent of the memoryscapes of W.G. Sebald, including the strange, captionless photographs. This intelligent, literary volume plumbs Mark Twain, Italo Svevo and Van Morrison. But make no mistake: Nicotine isn't a self-help book. It's not an anti-smoking screed. Nor is it a love sonnet to tobacco. It's an honest exposition of the emotional complexity of quitting." —The Washington Post

"It is by association with nicotine that Hens shows us what he wants us to know about his life…an extraordinary act of literary finesse...his story becomes captivating—laced with a saving irony—by being told through the medium of something as humble as tobacco…[A] dark, lovely, funny book." —The New Yorker

"Nicotine is a smoke ring, blown perfectly in a single puff, or—better?—a wafting trail of vapor. Will Self contributes a foreword, a rapid monologue punctuated with vigorous little twists, as though he were grinding out a stub with yellow-stained fingers." —Harper's

"Tidbits of history are woven throughout, including Adolf Hitler's anti-smoking stance and Mark Twain's wit on the subject...Smoking and cigarettes might not be good for the health of the body, but Hens's glimpse through the prism of addiction offers an enriching and enlightening account that benefits the mind and the soul." —Shelf Awareness

"Hens's short book is an idiosyncratic and thought-provoking essay on the grip of nicotine, how it shaped his life, and how it still factors into his life despite having quit smoking decades ago…Hens gives readers an understanding of what it is like to have an addiction, albeit a legal one, and how the end of an addiction can be felt as a loss." —Publishers Weekly

"The author is an idiosyncratic stylist whose sentences are often terse and elliptical, and Calleja's translation ably captures his unique voice. In a book that is as much a paean to smoking as it is a eulogy, Hens is both poetic and unforgiving about the pleasures and pains of smoking." —Kirkus Reviews

"Tobacco, labeling, and landscape all combine with a snapshot immediacy, powerful and pleasant, that gives flavor and color to Hens's discovery of the wider world, in all its variety, and to moments of great personal significance. If it's hard to communicate to nonsmokers how physically and mentally difficult it is to quit, Hens's memories of nicotine make it palpable to anyone why, even once you've stopped smoking, you're never quite over it." —4Columns

"Nicotine is a meandering journey through a life of everyday addiction, soaked in memories stained sepia by tobacco smoke...The writing is superb, an unclassifiable mix of freeform thought and transcribed memory, reminiscent of the wonderful essayist Geoff Dyer. Its malleable structure, through sheer skill and confidence, allow the many digressions to remain ever valid and precise" —The Skinny

"Elegant, lucid and consistently entertaining." —The Spectator

"Prepare to be hooked from the first sentence." —The Globe and Mail

"While Hens searches for his addiction's source—genetics, Freudian, exposure—and submits to hypnosis' trance, he offers flashes of Cigarette Power [and] despite qualms that the last cigarette might extinguish his access to literarily fertile material, Nicotine is proof positive that Hens still has the stuff." —The San Francisco Chronicle 

"Cigarettes are an overwrought cultural fixation. There are too many books, essays, movies, and songs about cigarettes. But Nicotine somehow manages to feel fresh in spite of that. Ultimately, it's a book about longing, and you don't need to be a current or former smoker to relate to that." —New York Magazine

"A series of photos that relate to the narrative are sprinkled throughout and add a touch of visual storytelling to the book...Gritty, funny, multilayered, and rich in diversity of themes explored, this is a memoir that transcends its genre and demands to be read as much more than just a man's look at his lifetime inhaling smoke." —LitReactor

"Nicotine is nothing like a manual for giving up smoking; it does not berate the smoker or extol the healthy benefits of giving up the habit...While Hens has clearly quit, and notes good reasons for doing so, including the simple ability to choose to do what he wants, he does not condemn the sinner...or the sin." —BookReporter

"Packed with highly personal insights that only someone with a decades-long smoking habit could summon, Nicotine is both a sobering testament to the power of tobacco's icy grip as well as a counterbalance to the demonizing social pressures that lead many to finally quit." —World Literature Today 

"Hens examines, with clarity and precision, the mysterious interactions of memory, desire, and free will, not so much by remembering every cigarette, but by remembering everything that happened around each cigarette." —ArtsFuse 

"[A] sober and serious discourse on what should always be a sober and serious subject: addiction." —PopMatters 

"Every cigarette I've ever smoked now seems, in retrospect, like little more than preparation for this remarkable essay—though nothing in me could have anticipated its exquisitely surprising brilliance, the precision and play of its intellect. It's about smoking, sure, but it's also about a luminous and nuanced exploration of how we're constituted by our obsessions, how our memories arrange themselves inside of us, and how—or if—we control our own lives." —Leslie Jamison, author of The Empathy Exams
Other Press, 9781590517932, 208pp.
Publication Date: January 10, 2017
About the Author
Gregor Hens is a German writer and translator. He has translated Will Self, Jonathan Lethem, and George Packer into German.
 
Jen Calleja is a writer, translator, curator, and musician. She has translated prose and poetry for Bloomsbury, PEN International, the Austrian Cultural Forum London, and the Goethe-Institut.