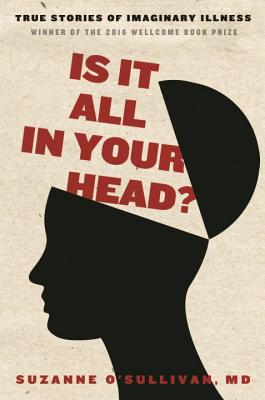 Is It All in Your Head?
True Stories of Imaginary Illness
Hardcover

* Individual store prices may vary.
Other Editions of This Title:
Paperback (9/11/2018)
Description
A neurologist's insightful and compassionate look into the misunderstood world of psychosomatic disorders, told through individual case histories
 
It's happened to all of us: our cheeks flush red when we say the wrong thing, or our hearts skip a beat when a certain someone walks by. But few of us realize how much more dramatic and extreme our bodies' reactions to emotions can be. Many people who see their doctor have medically unexplained symptoms, and in the vast majority of these cases, a psychosomatic cause is suspected. And yet, the diagnosis of a psychosomatic disorder can make a patient feel dismissed as a hypochondriac, a faker, or just plain crazy.
 
In IS IT ALL IN YOUR HEAD? neurologist Suzanne O'Sullivan, MD, takes us on a journey through the world of psychosomatic illness, where we meet patients such as Rachel, a promising young dancer now housebound by chronic fatigue syndrome, and Mary, whose memory loss may be her mind's way of protecting her from remembering her husband's abuse. O'Sullivan reveals the hidden stresses behind their mysterious symptoms, approaching a sensitive topic with patience and understanding. She addresses the taboos surrounding psychosomatic disorders, teaching us that "it's all in your head" doesn't mean that something isn't real, as the body is often the stand-in for the mind when the latter doesn't possess the tools to put words to its sorrow.

The perfect book for fans of Oliver Sacks, Is It All in Your Head? encourages us to look with compassion at the ways in which our brains act out, and to acknowledge the intimate connection between mind and body.
Praise For Is It All in Your Head?: True Stories of Imaginary Illness…
Winner of the 2016 Wellcome Book Prize

"…thoughtful and stimulating … The whole-life stories that Dr. O'Sullivan tells are compelling, but they are also carefully chosen. The range of diagnoses allows her to explicate much of the history and contemporary understanding of psychosomatic disorders and symptoms…a wise book." –WALL STREET JOURNAL
 
"Each chapter of this book presents a case study, lending vivid life to patients with psychosomatic disorders, along with extensive context for everything including the bygone diagnosis of 'hysteria' and the dawn of neurology as a medical profession....If empathy is bolstered by understanding, then this book will bring such sentiments to a rarely understood condition. It will engage readers' heads, but also quite possibly enter their hearts." —PUBLISHERS WEEKLY
 
"An intriguing look at how mental processes affect and alter our views—and feelings—of health and illness." –KIRKUS
 
"…an illuminating account of psychosomatic disease by Suzanne O'Sullivan, a neurologist. Psychosomatic illness is not fully understood, but stress and traumatic events, such as rape and domestic violence, are suspected to be a cause. That may be why it is more common in women than men. Ms. O'Sullivan unravels her patients' past to explain how memories lodged in the subconscious—from a child's death to a broken bone—can command debilitating physical illness, in some cases many years later. Psychosomatic diseases are ubiquitous and cost health systems a fortune (twice the cost of treating diabetes in America in 2002, for example), yet medical textbooks relegate them to footnotes. Patients reject the diagnosis as laden with stigma. Ms. O'Sullivan's book is a plea for change. Huge suffering could be averted if patients, doctors and everyone else stopped viewing them as diseases that are not 'real'." –THE ECONOMIST
 
"O'Sullivan illuminates one of medi­cine's most fraught moments, when a physician reaches the conclusion that there is no physical (or "organic") disease…[She] cleverly invokes a uni­versal experience…Our mind can forcefully speak through our body not only in distress, but in joy." —NEW YORK REVIEW OF BOOKS
 
"This fascinating casebook with historical insights--compiled by a seasoned neurologist who is now a consultant at the National Hospital of Neurology and Neurosurgery in London--offers a thorough examination of the significant yet complicated role emotions play in physical illness and the stigmas attached to psychosomatic disorders…the stories in Is It All in Your Head? are intellectually and factually diverse…the delivery and impact of a psychosomatic diagnosis and subsequent patient response further tug emotionally at readers. O'Sullivan never trivializes the patient or what he or she is experiencing. Rather, she respects the strength of her patients and encourages them to find ways to address underlying psychological problems in order to overcome some incredible--some might even call them mind boggling--challenges in life." – SHELF AWARENESS

"O'Sullivan earns the trust of the reader, and her storytelling is captivating…this book is highly readable, and demystifies the ways in which the body is tied inextricably to the mind." –BUST MAGAZINE

"Is It All in Your Head? consists of a series of stories...all very finely crafted, and all following the same essential pattern…This is an important book. O'Sullivan makes the powerful argument for taking psychosomatic illnesses seriously and treating the people who suffer from them with respect. This last point is especially critical: Psychosomatic diagnosis carry with them a stigma that can make treatment much harder for patient and physician alike. O'Sullivan wants us to understand that these conditions are real—just as real as laughing or crying or any other ways our bodies 'somatize' emotions." –BOOKFORUM

"In this important book, O'Sullivan lays out her case for a new approach and treatment methods for psychosomatic illness. Her argument is convincing. Taken from real life experiences, through her work as a neurologist and neurophysiologist, she shares the cases of some of her patients and ponders how come so many of them complain about symptoms without any physical manifestation… O'Sullivan seeks to establish a connection between mind and body that goes beyond simple mood disorder treatment. She advocates for new ways to look, understand and treat unexplainable symptoms, paving the way for bringing relief to her patients. Some of the cases will break your heart." – HUFFINGTON POST

"Doctors' tales of their patients' weirder afflictions have been popular since Oliver Sacks . . . Few of them, however, are as bizarre or unsettling as those described in this extraordinary and extraordinarily compassionate book." —James McConnachie, Sunday Times

"An important study of psychosomatic illness, which shows it to be a serious disease of modern society: misunderstood, misdiagnosed, and surrounded by fear." —Louise Carpenter, The Telegraph

"Honest, fascinating, and necessary." —David Aaronovitch, The Times (UK)

"A fascinating glimpse into the human condition . . . a forceful call for society to be more open about such suffering." —Ian Birrell, Daily Mail

"Is It All In Your Head? may challenge some of your most deeply-held beliefs about illness and behavior." – POPMATTERS

"English neurologist and epilepsy specialist Suzanne O'Sullivan chronicles encounters with her many patients who display severe physical impairments for which there appears to be no organic foundation. Epileptic seizures, convulsions, blindness, paralysis, panic attacks, cancer, hypochondriacal anxiety, and other apparently psychosomatic complaints that severely compromise existence are medically shown to be manifestations of the mind's influence over physical function. Frequently, the recourse prescribed is psychiatric intervention in an attempt to expose underlying mental conflicts that may have triggered the disability. Earlier psychologists such as Charcot, Janet, Breuer, Munchhausen, and of course Freud are threaded into the story along with discussions of hysteria, conversion disorder, dissociation, and more timely terms. . . The book reinforces the view that the mind powerfully controls the body." – SEATTLE BOOK REVIEW
Other Press, 9781590517956, 304pp.
Publication Date: January 17, 2017
About the Author
Dr. Suzanne O'Sullivan has been a consultant in neurology since 2004, working first at The Royal London Hospital and currently as a consultant in clinical neurophysiology and neurology at The National Hospital for Neurology and Neurosurgery, as well as for a specialist unit based at the Epilepsy Society. She has developed an expertise in working with patients with psychogenic disorders, alongside her work with those suffering with physical diseases, such as epilepsy. This is her first book.
1. Before reading Is It All in Your Head?, did you know anything about psychogenic disorders, or about physical responses to emotional stimuli more generally? What did you learn that you didn't know before? What surprised you?
2. O'Sullivan emphasizes the importance of believing her patients—of acknowledging that their physical pain is in fact real, even though she believes it to have a psychological origin. Do you believe them? If you were in O'Sullivan's place, what would it take to convince you that your patient isn't "faking it"?
3. Even after rigorous medical testing, most of O'Sullivan's patients are initially reluctant to accept her diagnosis of a psychogenic disorder. Why do you think that is? How do you think you would react to such a diagnosis?
4. Have you ever experienced a psychosomatic illness or affliction? How did you know that it was mental rather than physical?
5. What did you think of O'Sullivan's relationship with her patients? Does her experience and understanding of psychogenic disorders make it easier or harder for them to accept her diagnoses?
6. Were there any particular patients in Is It All in Your Head? that you could relate to? Who? Why?
7. The absence of a definitive medical cause of illness or pain does not prove that it is "all in your head." If you were one of O'Sullivan's patients, what would it take to convince you that your symptoms might stem from psychological trauma rather than physical trauma?
8. Do you agree with O'Sullivan that a stigma exists against sufferers of psychogenic illness or pain? Has reading Is It All in Your Head? changed the way you think about these disorders and those who suffer from them?
or
Not Currently Available for Direct Purchase