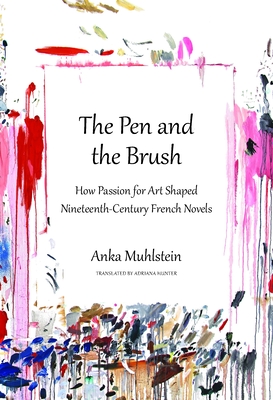 The Pen and the Brush: How Passion for Art Shaped Nineteenth-Century French Novels (Hardcover)
How Passion for Art Shaped Nineteenth-Century French Novels
Other Press (NY), 9781590518052, 240pp.
Publication Date: January 31, 2017
Description
A scintillating glimpse into the lives of acclaimed writers and artists and their inspiring, often surprising convergences, from the author of Monsieur Proust's Library

With the wit and penetration well known to readers of Balzac's Omelette and Monsieur Proust's Library, Anka Muhlstein's PEN AND BRUSH revisits the delights of the French novel. This time she focuses on late 19th- and 20th-century writers--Balzac, Zola, Proust, Huysmans, and Maupassant--through the lens of their passionate involvement with the fine arts. She delves into the crucial role that painters play as characters in their novels, which she pairs with an exploration of the profound influence that painting exercised on the novelists' techniques, offering an intimate view of the intertwined worlds of painters and writers at the time. Muhlstein's deftly chosen vignettes bring to life a portrait of the nineteenth century's tight-knit artistic community, where Cezanne and Zola befriended each other as boys and Balzac yearned for the approval of Delacroix. She leads the reader on a journey of spontaneous discovery as she explores how a great painting can open a mind and spark creative fire.
About the Author
Anka Muhlstein was born in Paris in 1935. Muhlstein has published biographies of Queen Victoria, James de Rothschild, Cavelier de La Salle, and Astolphe de Custine; studies on Catherine de Medicis, Marie de Medicis, and Anne of Austria; a double biography, Elizabeth I and Mary Stuart; and most recently, Balzac's Omelette and Monsieur Proust's Library (Other Press). She has won two prizes from the Academie francaise and the Goncourt Prize for Biography. She and her husband, Louis Begley, have written a book on Venice, Venice for Lovers. They live in New York City. Adriana Hunter studied French and Drama at the University of London. She has translated more than fifty books including Couple Mechanics, The Travels of Daniel Ascher, Balzac's Omelette, and Electrico W (winner of the French-American Foundation's 2013 Translation Prize in Fiction). She won the 2011 Scott Moncrieff Prize, and her work has been shortlisted twice for the Independent Foreign Fiction Prize. She lives in Norfolk, England.
Advertisement