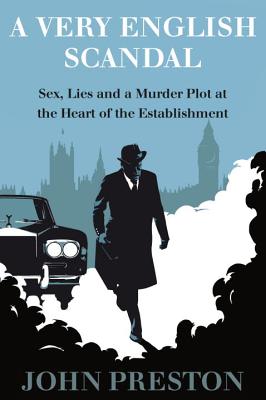 A Very English Scandal
Sex, Lies, and a Murder Plot at the Heart of the Establishment
Hardcover

* Individual store prices may vary.
Other Editions of This Title:
Compact Disc (10/11/2016)
Paperback (5/8/2018)
MP3 CD (10/11/2016)
Compact Disc (10/11/2016)
Description
Now a major TV drama series starring Hugh Grant and Ben Whishaw, a behind-the-scenes look at the desperate, scandalous private life of a British MP and champion manipulator, and the history-making trial that exposed his dirty secrets
 
While Jeremy Thorpe served as a Member of Parliament and Leader of the Liberal Party in the 1960s and 70s, his bad behavior went under the radar for years. Police and politicians alike colluded to protect one of their own. In 1970, Thorpe was the most popular and charismatic politician in the country, poised to hold the balance of power in a coalition government.
 
But Jeremy Thorpe was a man with a secret. His homosexual affairs and harassment of past partners, along with his propensity for lying and embezzlement, only escalated as he evaded punishment. Until a dark night on the moor with an ex-lover, a dog and a hired gun led to consequences that even his charm and power couldn't help him escape.
 
Dubbed the "Trial of the Century," Thorpe's climactic case at the Old Bailey in London was the first time that a leading British politician had stood trial on a murder charge, the first time that a murder plot had been hatched in the House of Commons. And it was the first time that a prominent public figure had been exposed as a philandering gay man, in an era when homosexuality had only just become legal.
 
With the pace and drama of a thriller, A Very English Scandal is an extraordinary story of hypocrisy, deceit and betrayal at the heart of the British Establishment.
Praise For A Very English Scandal: Sex, Lies, and a Murder Plot at the Heart of the Establishment…
"No actual murder is committed in A Very English Scandal, but political suicide runs rampant. John Preston has resurrected the 1979 trial of Jeremy Thorpe, the charismatic (and secretly gay) leader of the Liberal Party, whose career was upended by Britain's stringent laws against homosexuality and his own malfeasance. . . Preston has written this page-turner like a political thriller, with urgent dialogue, well-staged scenes, escalating tension and plenty of cliffhangers, especially once the trial begins."
—New York Times Book Review

"Newspaper titan William Randolph Hearst said that "truth is not only stranger than fiction, it is more interesting." Author John Preston bears witness in A Very English Scandal,  a book that details the downfall of prominent politician Jeremy Thorpe, who was tried in 1979 for conspiring to murder his former male lover. . . Preston is witty in his speculations and concise in his writing."—Minneapolis Star Tribune

"Love House of Cards? Then try this gripping real-life story of a British politician accused of trying to murder his secret male lover. Best thing I've read this year." —Cosmopolitan

"Preston, like any good journalist, has quite an ear for quotes and character sketches, and "Scandal" is sprinkled with gems that reflect an England long gone. . . The story that Preston skillfully tells here is a much broader one than that of an M.P.; it's also the tail end of a way of life for corrupt politicians of the 1960s and '70s, and the financial and social upheaval that arrived shortly after." —Seattle Times

"In December 1968, British member of Parliament Peter Bessell left a meeting with his friend and boss, Liberal Party leader Jeremy Thorpe, praying Thorpe would change his mind about a plan he'd just set in motion. The undesirable assignment wasn't a matter of political policy or election strategy; it was homicide. Thorpe wanted Bessell to attend a meeting with a would-be assassin to plan the murder of a troublesome ex-lover [Norman Josiffe]. . . Preston does a thorough job of following [Norman] Josiffe—who later changed his name to Norman Scott—through a long string of fresh starts and disappointments. . . Preston refrains from editorializing, but it's impossible not to be appalled by the ambient homophobia of the period. . . Preston's account of the fight to decriminalize male homosexuality in Britain is especially enjoyable."
—Slate's Book Review

"It is easy to forget just how much British attitudes to homosexuality, power, and privilege have changed in the last 50 years, but John Preston's terrific new book A Very English Scandal provides a supremely entertaining reminder. The scandal in question is that of Jeremy Thorpe, who, when the book begins in 1960 was a Liberal Member of Parliament and later became leader of the party. Although Thorpe always denied it, the book accepts widely circulated claims that he was a bisexual who often slept with men. . . Preston does a wonderful job of pointing out some typically British eccentricities." —NY1

"In this addictive true crime account of one of Britain's greatest political scandals, London-based novelist Preston (The Dig) chronicles Thorpe's early, secretive love life, at a time when sodomy was still illegal, and his exposure. . . Knee-deep in politics, scandal, and betrayal, the book also conveys the sobering, grim reality of lives destroyed by dirty politics and homophobic culture."
—Publishers Weekly

"In his narrative of the scandal that engulfed Great Britain's Houses of Parliament in the 1970s, Preston (The Dig) delivers an operatic account about hypocrisy, deceit, and betrayal at the heart of the government's establishment. . . This book, which is based on extensive interviews with principal players and reads like a thriller, is recommended for those with a penchant for 1970s British political culture."
—Library Journal

"Preston tells the story like a good old-fashioned mystery, with chapter titles such as 'The Postcard,' 'Unexpected Developments,' and 'A Simple Plan.' Preston presents Thorpe as unfeeling and disconnected from his sexual desires, a classic case of a closeted man whose public persona and private realties were constantly at odds...Preston shows how Thorpe's secrets and increasingly desperate actions damaged everyone who got near him. It would take another decade before Thorpe's secrets would emerge in tabloid headlines after the failed plan to kill Scott became a national scandal, forcing Thorpe to resign as party leader. Preston details these years with page-turning suspense." —Gay & Lesbian Review 

"I loved it; eccentric, dark, humane and English in the very best sense. It's going to be a sure fire-hit"
 —Alain de Botton, author of The Course of Love

"I spent a thrilling 48 hours reading it. The narrative is so vivid, the characterization so brilliant . . . I thought I knew all about these events, but the full horror of them has only now become apparent." 
—Antonia Fraser

"A terrific book and brilliantly researched. John Preston writes wonderful dead-pan prose and reveals the depths of depravity, the absurd power of snobbery and the old boy networks of the time" 
—Claire Tomalin

"The hugely entertaining account by John Preston of the Jeremy Thorpe affair is a strange tale of furtive liaisons, fraudulent deals, blackmail plots and conspiracy to murder, rendered more extra- ordinary by the the man at the centre being, for a while, leader of the Liberal Party."
—Tablet
 
"A gripping account of the Jeremy Thorpe case. . . Sometimes the details make one laugh out loud or gasp with amazement at the tale of the shooting of Rinka, the Alsatian dog, and all that followed."
—Spectator
 
 "This is probably the most forensic, elegantly written and compelling account of one of the 20th century's great political scandals. . . An entertaining mix of tragedy and farce, involving people in high and low places, amply justifying its subtitle, 'Sex, Lies and a Murder Plot at the Heart of the Establishment'."
—Observer (Guardian)

"Told with masterful skill by author John Preston. It grips like a detective story, as compelling as BBC2's Line Of Duty and every bit as dirty in what it exposes about the upper echelons of society in the Sixties and Seventies. . . A wonderfully woven tale"
—The Daily Mail 

'Fluent, readable … a vivid tableau of the players in Thorpe's long, tragic downfall.'
—Evening Standard

'The unbelievable truth … Preston is a natural storyteller … he provides the context for actions that seem unbelievable today'
The Times
—The Times 

'Gripping … cack-handed assassins, buffoonish policemen, dodgy Home secretaries and sozzled judges. The conclusion of an Establishment cover-up is hard to avoid.'
—The Daily Telegraph 
 
'Wonderfully readable … John Preston is the ideal author, having researched for years many minor characters and talked to dozens of well-known political and literary friends and enemies of Thorpe.'
—Standpoint
 
"Gleams like a truly superior airport novel." —What's He  On About Blog
Other Press, 9781590518144, 352pp.
Publication Date: October 11, 2016
About the Author
John Preston is the arts editor and television critic of the Sunday Telegraph. He is the author of four highly acclaimed novels, including The Dig (Other Press, 2016), and a travel book, Touching the Moon. He lives in London.
or
Not Currently Available for Direct Purchase