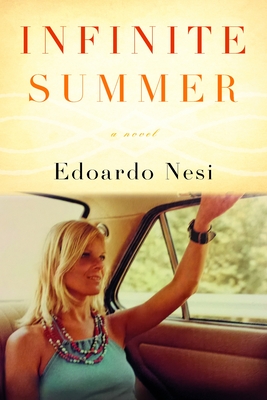 Infinite Summer
A Novel
Hardcover

* Individual store prices may vary.
Description
A novel set in Tuscany during the magical years when thousands of businesses blossomed, manufacturing objects for everyday life as well-made and beautiful as the Renaissance art that inspired them
 
Infinite Summer brings the reader back to Italy in the 1970s, a time when growth and full employment propelled smart and industrious young men to create companies devoted to design, architecture, automobiles, and more. Three men share a dream of building a textile factory from scratch. Ivo Barrocciai, the enthusiastic son of a textile artisan, embarks on an elaborate project: to build a luxurious factory that will be "the envy of the Milanese." He recruits Cesare Vezzosi, a small building contractor, and Pasquale Citarella, a hardworking foreman from the south. Their relationships with each other and with their wives, their secret passions, their ambitions, and the compromises they have to make create a comical, moving fresco. It is at once a family saga and a love story—not only about people, but also about a reborn, ambitious, and courageous nation that revolutionized taste and fashion, a nation proud and thrilled with its new place in the world. Nesi shows us Italy at its best: the Italy with which we fell in love.
Praise For Infinite Summer: A Novel…
Named One of PUBLISHERS WEEKLY's TOP 10 Summer Reads of 2017
Named One of PUREWOW's Top 8 Summer Reads of 2017
Named One of VALET MAGAZINE's Best Books of Summer 2017
 
"This novel, set in the booming economic years of Tuscany in the 1970s, follows three men all involved in building a textile factory. But it's so much more than that—a saga of their wives, ambitions, politics, desires—that it invites fairly apt comparisons to Elena Ferrante, a kind of a male version of her Neapolitan Novels." —CONDE NAST TRAVELER

"A perfect 2017 beach book…Beautifully translated by Alice Kilgarrif, the novel is about the passion for life and business felt by three very different Italian men who come together to create an innovative factory that is meant to be as striking as the fabric it produces. The book is an entertainment with substance that often recalls the lush, erotic delights of Luca Guadagnino's gorgeous 2010 film about an Italian family business dynasty, 'I Am Love.' …Nesi's novel teems with life and passion, as well as nostalgia for a not-so-long-ago political and pop culture era."
—CONNECTICUT POST

"Read it, then book a ticket to Tuscany ASAP." —PUREWOW

"Italian writer and politician Nesi introduces readers to the Italy of the 1970s, decades after the economic downfall of WWII, when a rebounding country is bright and hopeful again. Drawing on his real-life experiences in the textile industry, Nesi charts the growth of this new Italy through the founding of a grand textile company...A love letter to Italy...A testosterone-fueled tale of triumph in a changing world." —PUBLISHERS WEEKLY

"A bubbling…tribute to manufacturing, production, and the wonders of capitalism." —KIRKUS REVIEWS

"I love this novel so much! Nesi, the prolific, award-winning writer, translator, politician, and filmmaker, has recreated Tuscany in the 1970s, a time when business and creativity boomed. The story revolves around the visionary, hyper Ivo Barracciai, son of an artisan, his dream of building the most fabulous textile factory in the world, and the contractor and construction foreman who make it happen. Lots of rich and wonderful architectural and craftsman description, corruption, love and family scenarios, Italian genius and craziness. Very funny, but deeply affecting—evokes "The Sopranos" and the novels of Elena Ferrante. A don't-miss." —Lisa Howorth, SQUARE BOOKS (Oxford, MS)
Other Press, 9781590518229, 320pp.
Publication Date: July 25, 2017
About the Author
Edoardo Nesi is a writer, filmmaker, politician, and translator. He began his career translating the work of such authors as Bruce Chatwin, Malcolm Lowry, Stephen King, and Quentin Tarantino. He has written twelve books, of which Story of My People won the Strega Prize and L'età dell'oro won the Bruno Cavallini Prize. He wrote and directed the film Fughe da fermo, based on his novel of the same name, and translated David Foster Wallace's Infinite Jest into Italian. In 2013 he was elected to the Italian Parliament's Chamber of Deputies.

Alice Kilgarriff studied Italian and Spanish at Cardiff University before goingon to train as a translator and interpreter.She has worked with Bompiani publishing house, Welsh National Opera (Cardiff), Royal Opera House (London), and many academic institutions. She lives and worksin Italy and Wales
or
Not Currently Available for Direct Purchase