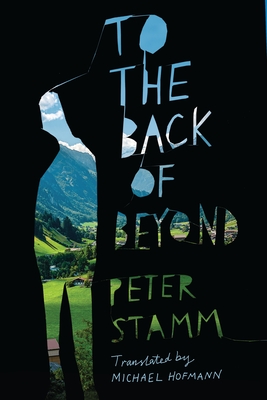 To the Back of Beyond
A Novel
Paperback

* Individual store prices may vary.
Description
Man Booker Prize nominee Peter Stamm explores in his sixth novel what it means to be in the middle of nowhere, in mind and in body.

Happily married with two children and a comfortable home in a Swiss town, Thomas and Astrid enjoy a glass of wine in their garden on a night like any other. Called back to the house by their son's cries, Astrid goes inside, expecting her husband to join her in a bit. But Thomas gets up and, after a brief moment of hesitation, opens the gate and walks out. 

No longer bound by the ties of his everyday life--family, friends, work--Thomas begins a winding trek across the countryside, exposed as never before to the Alpine winter. At home, Astrid wonders where he's gone, when he'll come back, whether he's still alive. 

Following Thomas and Astrid on their separate paths, To the Back of Beyond becomes ultimately a meditation on the limits of freedom and on the craving to be wanted.
Praise For To the Back of Beyond: A Novel…
Named Best books of 2017: Fiction in Translation by FINANCIAL TIMES

"Stamm's superb descriptions of alpine nature and internal human conflict (Thomas, wandering through the Alps, often reflects on his wife and family fondly but doesn't want to return home) are aided by Hofmann's excellent translation. Even when Thomas's actions cause pain for those he has promised to love, his introspection makes his impulse to walk away from everything less condemnable. This is a moving work about freedom and wanting." —PUBLISHERS WEEKLY
 
"In this densely detailed, largely opaque book, the novelist leaves his readers as unmoored as his characters." —KIRKUS REVIEWS
 
""The Swiss novelist is an aficionado of ordinary people and things unsaid… an unusual existential mystery…. Critics are often taken aback by the power the Swiss writer manages to elicit from these characters. This is partly due to his pitiless prose, tautly translated from the German by Michael Hofmann, its simplicity and calmness adding to the menace of his images." —THE ECONOMIST
 
"Michael Hoffman's translation from the German is cool and precise. To the Back of Beyond follows Thomas and Astrid in alternating sections; his give a careful account of his route, procuring provisions, the footpaths, slopes, valleys, and streams, the landscape with its 'thin shreds of mist.' She waits, searches, tries to calm the children. One month after Thomas disappears, there is a twist in the plot. It is masterfully timed. . . Both of them, it is clear, are in thrall to fantasies — one dreams about slipping the ties of responsibility, the other about seamlessly restoring what has been broken." —HARPER'S
 
"…perceptive…What initially seems a paean to a life free of constraints becomes a keen exploration of the marital bond. Stamm's precise observations of nature and character animate every line as both husband and wife confront "a future that was not prescribed and that could, with every step, be altered." —THE NEW YORKER
 
"Stamm's writing is taut and economical: every word is carefully chosen, and the deceptively simple style rewards close reading…And by abandoning conventional literary realism, Stamm creates a fertile space to explore human relationships and comment on current affairs…In To the Back of Beyond Peter Stamm plays with multiple meanings and eschews traditional literary devices, particularly when it comes to the outcome of Thomas's disappearance." —TIMES LITERARY SUPPLEMENT
 
"From the opening paragraph, Peter Stamm's "To the Back of Beyond" is mysterious and mesmerizing. Many novels have sprung from the premise of a spouse walking away from a marriage, but Stamm's take is entirely original…. The book moves smoothly between his point of view and Astrid's, so skillfully that this inexplicable adventure seems completely plausible…. Stamm's pivot halfway through the book is masterful: The story opens up, moving forward and backward in time almost simultaneously. The outcome becomes murky, but Stamm's control never wavers…. this strange, lovely book not a story of loss or grief but a hopeful story of profound love."  —MINNEAPOLIS STAR TRIBUNE
 
"This Swiss master's sixth novel to appear in English unfolds in elliptical and entrancing prose and examines the true cost of breaking free and starting anew."  —MINNEAPOLIS STAR TRIBUNE (HOLIDAY GUIDE)
 
"…a pleasurable and immersive read…. Through Stamm's lucid writing (and Hofmann's rich translation) we witness the passage of time and glorious landscapes, we slip into the minds of this dysfunctional couple with ease. To The Back of Beyond is an emotional novel that delivers much more than its premise implies, it is literarily intriguing and an unexpected pleasure to engage with." —BERFROIS
 
"Reading To The Back of Beyond, his third novel, one begins to discern recurring themes in his work: man-woman relationships, marriage, desire, infidelity, family, a particular bourgeois matrix of life that can become a trap despite it – or even, because of it – being the end-point of the individualist desire that lies at the foundation of capitalist societies…As the novel nears its end, Stamm does two skillful things with time: the first is to indicate effortlessly its passing in large segments, so that we move from the earlier calibration of time as hours and days through weeks and months to years and decades; the second, to loop back in time to give us the story of how Astrid and Thomas came to be together…Stamm's interest does not lie in the texture of lives that are usually depicted by novelists in lyrical- or psychological-realism, especially in the logical progression of events that generally provides the dynamo for plots…Stamm is not even interested in psychological interiority. He is more concerned about something that I can only call existential, something that will be indicated merely through the most oblique of hints…The translation, by Michael Hofmann, a mighty critic and poet as well as one of the foremost translators from the German language, does an impeccable job in rendering the blanched austerity of Stamm's style and its deliberate affectlessness." —NEW STATESMAN
 
"As usual with Stamm, the story gets its energy from an intriguing blankness about motive, with nothing presented by way of justification for Thomas's actions…exceptionally moving writing…" —GUARDIAN
 
"…This is an optimistic, even romantic book. It praises the rejuvenating power of nature, examines how identity is formed in collaboration with those around us and somehow manages to see the good in long-term relationships, even as it presents a lengthy list of reasons why a person might choose to exit one. Stamm's cool, atonal style suits this sort of subject. It makes the moral at the centre of the fable that bit deeper – it makes it real." —LITERARY REVIEW
 
"The fiction of Peter Stamm, an acclaimed Swiss novelist who writes in German and has a growing reputation in English, finds drama in the ordinary…Stamm eschews gothic detail or excess of emotion… To the Back of Beyond is the story of a midlife crisis…In Michael Hoffman's translation, Stamm's prose has a hypnotic quality. It is more common in German than in English to splice together complete clauses with commas; Hoffman preserves the punctuation, which effectively conveys the drift and elision of image and detail that gives the narrative its dreamlike tinge…His realism is pressed into the service of metaphysics: the idea that others are most alive in our imagination. This is either romantic and consoling, or existentially bleak, depending on your taste. If the rigours of the unsettling form that Stamm has devised limit his freedom to dramatise his characters, this high-wire act between sentimentality and nihilism is nevertheless an ingenious and beautiful creation." —FINANCIAL TIMES
 
"Stamm's latest offering, gracefully translated by the virtuosic Michael Hoffmann, is titled in English To The Back of Beyond. Here Stamm deploys again, with confidence and dexterity, qualities that have made this writer a favorite of both critics and the reading public. He writes a clean, low-key prose, chary of modifiers, that owes much to his early admiration for the Hemingway of the Michigan stories." —ARTS FUSE
 
"Among the novel's strengths are the questions it provokes in the reader: Is the life we're living the one we want? What motivates us to obey our routines? Can one person ever truly know another? In a sense the questions are unanswerable, but Stamm's To the Back of Beyond makes a fascinating stab at addressing them, at least for this very ordinary, but extraordinary, Swiss couple." —BOOKPLEASURES
 
"Thomas's doubt about his life and its purpose reflects a common feeling that most of us have had at one point or another. This is a novel that invites reflection." —CANADIAN BOOKWORM

"A brilliant examination of freedom and rejuvenation." —LARGEHEARTED BOY

"The straightforward exposition casts a fairytale-like spell…" —WASHINGTON INDEPENDENT REVIEW OF BOOKS

"…To the Back of Beyond is a story about a man leaving his wife, but more importantly, it is a story of their bond of love." —WORLD LITERATURE TODAY

"…I was forced to look hard, hard at myself, and you can't ask much more of a book than that..." —WORDS WITHOUT BORDERS

"I found the novel captivating" —MARKS IN THE MARGIN

"As always, Stamm is precise and clear with his prose and his story line…" —SEEING THE WORLD THROUGH BOOKS

"…flashes of beautifully rendered observations, turning a cliché escape into something both ethereal and lucid, with just enough surprise and wonder." —PLOUGHSHARES BLOG

"[a] compelling anti-dystopia" —THE WHITE REVIEW


Other Press, 9781590518281, 160pp.
Publication Date: October 3, 2017
About the Author
Peter Stamm is the author of the novels All Days Are Night, Seven Years, On a Day Like This, Unformed Landscape, and Agnes and the short-story collections We're Flying and In Strange Gardens and Other Stories. His prize-winning books have been translated into more than thirty languages. For his entire body of work and his accomplishments in fiction, he was short-listed for the Man Booker International Prize in 2013, and in 2014 he won the prestigious Friedrich Hölderlin Prize. He lives in Switzerland. 
Michael Hofmann has translated the work of Gottfried Benn, Hans Fallada, Franz Kafka, Joseph Roth, and many others. In 2012 he was awarded the Thornton Wilder Prize for Translation by the American Academy of Arts and Letters. His Selected Poems was published in 2009, and Where Have You Been? Selected Essays in 2014. He lives in Florida and London.
or
Not Currently Available for Direct Purchase