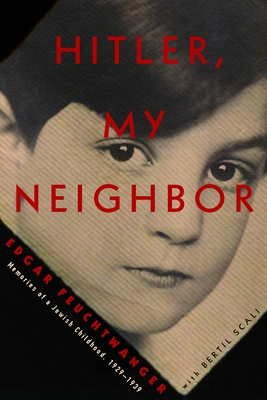 Hitler, My Neighbor
Memories of a Jewish Childhood, 1929-1939
Hardcover

* Individual store prices may vary.
Other Editions of This Title:
Paperback (3/31/2020)
Description
An eminent historian recounts the Nazi rise to power from his unique perspective as a Jewish boy growing up in Munich with Adolf Hitler as his neighbor.

Edgar Feuchtwanger came from a prominent German Jewish family: the only son of a respected editor, and the nephew of best-selling writer Lion Feuchtwanger. He was a carefree five-year-old, pampered by his parents and his nanny, when Adolf Hitler, the leader of the Nazi Party, moved into the building across the street in Munich.
 
In 1933 his happy young life was shattered. Hitler had been named Chancellor. Edgar's parents, stripped of their rights as citizens, tried to protect him from increasingly degrading realities. In class, his teacher had him draw swastikas, and his schoolmates joined the Hitler Youth.
 
From his window, Edgar bore witness to the turmoil surrounding the Night of the Long Knives, the Anschluss, and Kristallnacht. Jews were arrested; his father was imprisoned at Dachau. In 1939 Edgar was sent on his own to England, where he would make a new life, start a career and a family, and try to forget the nightmare of his past—a past that came rushing back when he decided, at the age of eighty-eight, to tell the story of his buried childhood and his infamous neighbor.
Praise For Hitler, My Neighbor: Memories of a Jewish Childhood, 1929-1939…
"The title says it all. A young Jewish boy growing up in Munich in the 1930s, Feuchtwanger writes about living across the street from Hitler, the future mass murderer he could see through his window." —New York Times Book Review

"Composed of diaristic vignettes, Hitler, My Neighbor offers a singular portrait of 1930s Germany, unique both for its intimate glimpses of Hitler in semi-private moments and for its point of view. The narrative unfolds from a child's perspective but benefits from an adult historian's attention to detail." —Newsweek

"He can't wrap his mind around the contradictions, but neither can many adults. Illuminating how it was possible for so many to be so confused is the book's great achievement." —The New Yorker

"Remarkable." —Minneapolis Star Tribune

"An intimate look at the horror wrought by Hitler." —Kirkus Reviews

"Feuchtwanger is an excellent writer. He wisely focuses on the senses, an especially significant technique for authors of childhood experiences. He sees the world through the eyes of a child, yet delivers from the aspect of an adult trained in writing history. The result is an exceptionally powerful and emotionally charged story." —New York Journal of Books

"Hitler, My Neighbor is a rare look at the conflicted, often horrifying childhood of a Jewish boy in Nazi Germany." —Book Reporter

"Edgar Feuchtwanger's captivating memoir brings an enigmatic and terrifying neighbor—glimpsed through a child's eyes—into the heart of a Jewish family's home life, where discussions revolve around how to make sense of Germany's descent into fascism and, ultimately, how to survive it." —Despina Stratigakos, author of Hitler at Home
Other Press, 9781590518649, 224pp.
Publication Date: November 7, 2017
About the Author
Edgar Feuchtwanger was born in Munich in 1924 and immigrated to England in 1939. He studied at Cambridge University and taught history at the University of Southampton until he retired in 1989. His major works include From Weimar to Hitler, Disraeli, and Imperial Germany 1850–1918. In 2003 he received the Order of Merit of the Federal Republic of Germany for promoting Anglo-German relations.

Bertil Scali is a French journalist and writer. He wrote and co-directed a TV documentary about Edgar Feuchtwanger's childhood in Munich, and is the author of Villa Windsor.
or
Not Currently Available for Direct Purchase