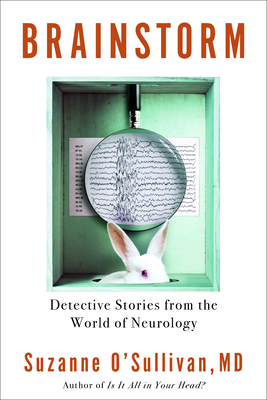 Brainstorm
Detective Stories from the World of Neurology
Hardcover

* Individual store prices may vary.
Other Editions of This Title:
MP3 CD (10/30/2018)
Compact Disc (10/30/2018)
Paperback (1/2/2079)
Description
A leading neurologist recounts some of her most astonishing, challenging cases, which demonstrate how central the study of epilepsy has been to our understanding of the brain.
 
Brainstorm follows the stories of people whose medical diagnoses are so strange even their doctor struggles to know how to solve them. A man who sees cartoon characters running across the room; a girl whose world suddenly seems completely distorted, as though she were Alice in Wonderland; another who transforms into a ragdoll whenever she even thinks about moving.

The brain is the most complex structure in the universe. Neurologists must puzzle out life-changing diagnoses from the tiniest of clues, the ultimate medical detective work. In this riveting book, Suzanne O'Sullivan takes you with her as she tracks the clues of her patients' symptoms. It's a journey that will open your eyes to the unfathomable intricacies of our brains and the infinite variety of human experience.
Praise For Brainstorm: Detective Stories from the World of Neurology…
Named a Best Book of the Year by The Guardian

"Brilliant…[a] beautifully humane account." —The Guardian, Best Books of the Year

"Mesmerizing…a true gift to readers who may have brain injuries or disorders, and well beyond that population, to anyone interested in the brain and how its wounding shapes behavior." —Minneapolis Star Tribune

"A collection of probing and empathetic stories of difficult neurological cases…O'Sullivan is a skilled storyteller in the same league as Oliver Sacks." —Kirkus Reviews
 
"[O'Sullivan] succeeds both in showing the brain as the most sophisticated of all puzzles and in giving a sense of the intricate problem solving that goes into the diagnosis and treatment of brain ailments…a valuable resource." —Publishers Weekly

"A terrific follow-up [to Is It All in Your Head?]…In the space between cold diagnostic data and the personal challenges facing her patients, O'Sullivan's sympathy, compassion and understanding come through…Brainstorm deserves a place on the same bookshelf [as The Man Who Mistook His Wife for a Hat]." —Seattle Times

"A tremendously interesting work…wonderfully humane." —The Telegraph

"A fascinating attempt to draw the lay reader into understanding more about the function and malfunction of the brain using real-life stories." —The Times (UK)
 
"Fascinating…these profiles poignantly capture the indiscriminate nature of epilepsy and its wide-ranging manifestations. O'Sullivan's prose strikes a balance between empathy and science, thoughtfully communicating each person's story…Enlightening and humbling." —Booklist

"As one would expect from a neurologist in the Oliver Sacks tradition, O'Sullivan is a sure guide to these maverick brains and strange auras." —The Guardian

"Engaging and diverse…Brainstorm isn't just a good read. It is full of interesting science, clearly described and carefully woven in with more anecdotal passages…an engrossing book written by a doctor whose primary interest is in her patients." —The Lancet
 
"O'Sullivan is a calm and clear guide to the diagnostic methods (equal parts art and science) of modern neurology…one of the larger, more humane achievements of her book is to have broadened our sense of what a storm in the brain might look like, or feel like." —Irish Times

"Tender, moving, and fascinating…This is a book about neurology, and how the function of our brains affects everything. But it is much more than that. Suzanne O'Sullivan's real detective work is found in the gaps and spaces between doctor and patient, where she gets to the heart of who we are." —Christie Watson, author of The Language of Kindness
Other Press, 9781590518663, 352pp.
Publication Date: October 30, 2018
About the Author
Suzanne O'Sullivan, MD, is the author of Is It All in Your Head? (Other Press), which won the 2016 Wellcome Book Prize. She has been a consultant in neurology since 2004, working first at the Royal London Hospital and currently as a consultant in clinical neurophysiology and neurology at the National Hospital for Neurology and Neurosurgery, as well as for a specialist unit based at the Epilepsy Society. She has developed expertise in working with patients with psychogenic disorders, alongside her work with those suffering from physical diseases such as epilepsy.