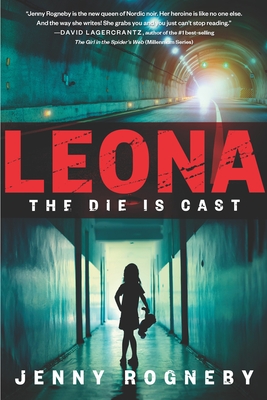 Leona (Paperback)
The Die Is Cast: A Leona Lindberg Thriller
Other Press, 9781590518823, 464pp.
Publication Date: August 1, 2017
* Individual store prices may vary.
Description
This best-selling Scandinavian thriller follows its troubled heroine as she investigates a high-profile robbery for Stockholm's Violent Crimes Division.

Naked and bloody, a seven-year-old girl walks into a bank in central Stockholm in broad daylight and gets away with millions. Leona Lindberg of Stockholm's Violent Crimes Division agrees to work on the case. With a long, distinguished history in the police force, she seems the perfect choice. But Leona is grappling with deep issues of her own--a gambling addiction, a strained marriage--that could jeopardize the investigation. As she struggles to keep the volatile pieces of her life under control, the line between right and wrong becomes increasingly unclear--and even irrelevant. 

This is a hard-boiled crime novel, filled with unexpected twists and turns, featuring an unusual heroine. Leona makes for gripping reading while challenging feminine norms and posing questions about what lies behind the choices we make.
About the Author
Jenny Rogneby was born in Ethiopia, but was given away for adoption when she was one year old. She grew up in northern Sweden, studied criminology at Stockholm University, and became an investigator in the Stockholm City Police Department. Her work inspired her to start writing and she formed the character of Leona, a criminal investigator with a dark past whose actions challenge social norms. In Sweden, Jenny is also known for her former career as a pop singer.
Praise For Leona: The Die Is Cast: A Leona Lindberg Thriller…
"Jenny Rogneby is the new queen of Nordic noir. Her heroine is like no one else. And the way she writes! She grabs you and you just can't stop reading." —David Lagercrantz, New York Times bestselling author of The Girl in the Spider's Web (Millenium Series)

"[Jenny Rogneby's protagonist] Leona is caught in a downward spiral, as events take surprising turns to a stunning climax in the final pages. A best-seller in Scandinavia, this debut thriller by former police investigator Rogneby is the first in a series featuring the compelling, haunted Leona." —Booklist

"Disturbing…[author] Rogneby, an investigator in Stockholm's police department, brings authenticity to this hard-boiled tale."  —Publishers Weekly

"Readers who enjoy rooting for the bad guy may find their match in Leona, who is reminiscent of Jeff Lindsay's serial killer hero Dexter but less likeable. Making her fiction debut, Swedish criminologist Rogneby has written an unusual and compelling crime novel." —Library Journal

"Compelling as a thrill ride that also plays as a slyly subversive psychological study, Jenny Rogneby's Leona: The Die is Cast is quite the original…intricately plotted tale of robbery, gambling, pill popping, child abuse, corruption and, naturally, murder startlingly unfolds…that's just the starting point in a continually surprising series of wildly outrageous, escalating adventures that shift from Leona's miserable home life to hideouts, sewers and crime scenes. Author Jenny Rogneby lets her reader try to fathom what exactly is driving Leona and whether in any way they can understand, comprehend or anticipate her actions." —Boston Herald

"Fans of Stieg Larsson and Henning Mankell need to know Jenny Rogneby's name—the latest crime writer out of Sweden. In what is the first volume of a trilogy, Leona: The Die is Cast opens with the visceral scene of a naked 7-year-old girl walking into a Stockholm bank and stealing millions. Investigator Leona Lindberg of Stockholm's Violent Crimes Unit is put on the case, but her personal life—a failing marriage, a pesky gambling problem and a sick child—threaten to jeopardize the investigation. As she gets sucked into the case, Leona begins to question the morality of institutional police power and what we really know about the people around us." —Read it Forward

"The first in a trilogy of novels about Leona Linberg, a detective in Stockholm's Violent Crimes Division, Leona: The Dies is Cast both introduces the complex and wily protagonist and lays out a series of bank robberies for our heroine to solve. Each robbery is committed by a seven-year-old girl, who walks into the bank covered in blood and makes off with the loot in a backpack. Borrowing a bit from familiar Nordic noir writers like Henning Makell, Rogneby also forges her own path with her supremely messed up yet likeable heroine. I'm in for book two." —Lit Hub
 
"In what has to be one of the most original and suspenseful openings in a psychological crime thriller, Swedish bestselling author, Jenny Rogneby's debut novel, (part one in a three-part series) Leona: The Die Is Cast, turns all thrillers on their heads, and rips to shreds all previously written rules on the genre…From the evocative beginning, to the shocking denouement, Leona: The Die is Cast, is an extraordinary debut novel filled with unique characters and heart-pumping situations we never see coming. Jenny Rogneby is an exciting and fresh new voice, bringing all her years of experience as a criminal investigator into the pages, giving them the voice of authenticity other crime thrillers lack. Totally riveting. Roll on the sequel."  —New York Journal of Books