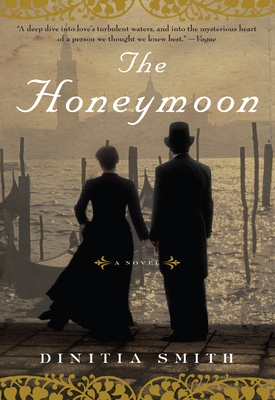 The Honeymoon
A Novel of George Eliot
Paperback

* Individual store prices may vary.
Other Editions of This Title:
Hardcover (5/3/2016)
Description
Based on the life of George Eliot, famed author of Middlemarch, this captivating account of Eliot's passions and tribulations explores the nature of love in its many guises
 
Dinitia Smith's spellbinding novel recounts George Eliot's honeymoon in Venice in June 1880 following her marriage to a handsome young man twenty years her junior. When she agreed to marry John Walter Cross, Eliot was recovering from the death of George Henry Lewes, her beloved companion of twenty-six years. Eliot was bereft: left at the age of sixty to contemplate profound questions about her physical decline, her fading appeal, and the prospect of loneliness.
            In her youth, Mary Ann Evans—who would later be known as George Eliot—was a country girl, considered too plain to marry, so she educated herself in order to secure a livelihood. In an era when female novelists were objects of wonder, she became the most famous writer of her day—with a male nom de plume. The Honeymoon explores different kinds of love, and of the possibilities of redemption and happiness even in an imperfect union. Smith integrates historical truth with her own rich rendition of Eliot's inner voice, crafting a page-turner that is as intelligent as it is gripping.
Praise For The Honeymoon: A Novel of George Eliot…
"Smith's vivid exploration of the mind of author George Eliot, given name Marian Evans, and her late-in-life marriage to John Walter Cross raises the bar for historical fiction…Eliot fans will certainly inhale every page, but any historical-fiction readers will thoroughly relish Smith's tale of a remarkable woman and an unlikely Victorian love." —BOOKLIST (starred review)

"[My] favorite book no one else has heard of...Beautifully written." —Lesley Stahl of 60 MINUTES

"Appealing...An intelligent, delicate...portrait of genius." —KIRKUS

"Smith's portrait of Eliot's honeymoon with Cross ... plausibly brings to life a puzzling period of her life. With the historical record lacking or shrouded, it is the perfect example of when fictional storytelling about an eminent person is warranted." —THE WASHINGTON POST

"Smith's enchanting account humanizes a figure renowned as much for her refutation of conventional female stereotypes and social limitations as for her genius for story and language. Eliot's personal life is reflected here as a series of deep insecurities regarding her appeal to men and the contributions her partners made to her work — Felix Holt, Middlemarch, Daniel Deronda — novels that endure as some of the most formative texts in English literature." —THE NEW YORK TIMES BOOK REVIEW

"A mesmerizing reimagination of George Eliot's accursed marriage." —VANITY FAIR

"A deep dive into love's turbulent waters, and into the mysterious heart of a person we thought we knew best."  —VOGUE
 
"…Smith…does well with invented incidents, such as a gondolier's aggressive sexual interest in Cross, and encounters with Dickens, Darwin, and the pioneering women's-rights activist Barbara Bodichon, with whom Eliot had a loyal friendship." —THE NEW YORKER

"Smith has admirably fleshed out her subject, and her take should be welcomed by anyone interested in the life of this great writer—and in historical fiction generally." —LIBRARY JOURNAL

"The intelligent and gripping tale weaves historical truths with the author's imagining of Eliot's inner voice in this enchanting look at her honeymoon in 1880 Venice." —THE NATIONAL EXAMINER 

"One of the greatest challenges of fiction is to dare to step inside a great figure of the past, to relive their experiences, but also to fill in the gaps, to recreate their inner voice. Dinitia Smith sets out to do just this, and succeeds brilliantly, in her latest novel, The Honeymoon." —HISTORICAL NOVELS REVIEW

"If you never read George Eliot because you were slightly intimidated, The Honeymoon will reassure you. And if you're already a fan of Middlemarch, Adam Bede, The Mill on the Floss, and Daniel Deronda, then this book will fill your imagination like a new friend you can't believe you've lived so many years without. Smith's George Eliot is brilliant and bold—as you know she is—but Smith is equally daring and no less incisive. She is as worthy a successor to so formidable a writer as is Colm Tóibín to Henry James." —André Aciman, author of Out of Egypt: A Memoir

"In this affecting novel, Dinitia Smith brings a biographer's diligence and a novelist's imagination to bear upon the life of George Eliot. Smith hews closely to the factual contours of Eliot's last months—in particular, her marriage to a man twenty years her junior—while making provocative, speculative leaps into the mind and heart of the Victorian author. In so doing, Smith finds a way to consider some of the same questions that preoccupied Eliot in her own masterful fictions: What is the meaning and purpose of marriage? What are the challenges of imagining our way into the experience of those around us? And how might we—even with the best intentions in the world—fail in our comprehension of those closest to us?" —Rebecca Mead, author of My Life in Middlemarch 

"The brilliant George Eliot was one of the most fascinating women in history. Dinitia Smith sets the scene for her dramatic last act with depth and style." —Brooke Allen, critic and author

"The Honeymoon is one of those novels that seems to unfold without words, perfectly imagined, like a dream. It's an eloquent story about George Eliot's late marriage to a much younger man; but this only touches the surface. Dinitia Smith digs into the interior life of genius here — exploring the greatest English novelist of the Victorian period. She brings that fine mind, and this astonishing age, to pulsing life. I love the pace of the narrative, the deep feeling that dwells here, deepening at every turn. This is wonderful fiction, taking us into the interior of human consciousness itself, into the heart of creation." —Jay Parini, author of The Last Station

Other Press, 9781590518885, 432pp.
Publication Date: November 14, 2017
About the Author
Dinitia Smith is the author of four novels, including The Illusionist, which was a New York Times Notable Book of the Year. Her stories have appeared in numerous publications and she has won a number of awards for her writing, including fellowships from the National Endowment for the Arts and the Ingram Merrill Foundation. Until recently, Smith was a cultural correspondent for the New York Times specializing in literature and the arts. She has taught at Columbia University, New York University, the Bread Loaf Writers Conference, and elsewhere.
or
Not Currently Available for Direct Purchase