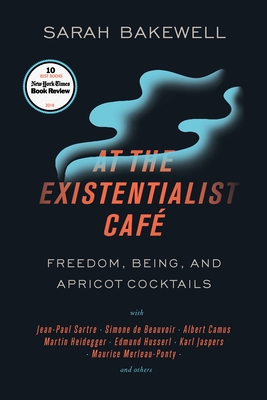 At the Existentialist Café
Freedom, Being, and Apricot Cocktails with Jean-Paul Sartre, Simone de Beauvoir, Albert Camus, Martin Heidegger, Maurice Merleau-Ponty and Others
Paperback

* Individual store prices may vary.
Other Editions of This Title:
MP3 CD (10/25/2016)
Hardcover (3/1/2016)
Description
Named one of the Ten Best Books of 2016 by the New York Times, a spirited account of a major intellectual movement of the twentieth century and the revolutionary thinkers who came to shape it, by the best-selling author of How to Live Sarah Bakewell.

Paris, 1933: three contemporaries meet over apricot cocktails at the Bec-de-Gaz bar on the rue Montparnasse. They are the young Jean-Paul Sartre, Simone de Beauvoir, and longtime friend Raymond Aron, a fellow philosopher who raves to them about a new conceptual framework from Berlin called Phenomenology. "You see," he says, "if you are a phenomenologist you can talk about this cocktail and make philosophy out of it!"
     It was this simple phrase that would ignite a movement, inspiring Sartre to integrate Phenomenology into his own French, humanistic sensibility, thereby creating an entirely new philosophical approach inspired by themes of radical freedom, authentic being, and political activism. This movement would sweep through the jazz clubs and cafés of the Left Bank before making its way across the world as Existentialism.
    Featuring not only philosophers, but also playwrights, anthropologists, convicts, and revolutionaries, At the Existentialist Café follows the existentialists' story, from the first rebellious spark through the Second World War, to its role in postwar liberation movements such as anti-colonialism, feminism, and gay rights. Interweaving biography and philosophy, it is the epic account of passionate encounters--fights, love affairs, mentorships, rebellions, and long partnerships--and a vital investigation into what the existentialists have to offer us today, at a moment when we are once again confronting the major questions of freedom, global responsibility, and human authenticity in a fractious and technology-driven world.
Praise For At the Existentialist Café: Freedom, Being, and Apricot Cocktails with Jean-Paul Sartre, Simone de Beauvoir, Albert Camus, Martin Heidegger, Maurice Merleau-Ponty and Others…
"We're in the middle of a boom in serious popularizing books that try to bring us closer to the classics by anchoring them in the lives of their creators, books like Stephen Greenblatt's Will In The World, which explores how young Shakespeare made himself into Will Shakespeare, and Sarah Bakewell's At The Existentialist Cafe, which grounds the work of Sartre, Camus, de Beauvoir and others in their gaudy personal experience." —NPR'S FRESH AIR  
 
"At the Existentialist Café is a tale told in a personal, engaging way, with frank opinions on the readability of the texts concerned. It weaves together philosophy with biography and historical context (cafés, jazz and zazous, the smuggling of unpublished papers from occupied territories), and follows How to Live in its attractive use of illustrations amongst the text." —LA TERRASSE
 
"Writing about that many huge thinkers in that huge of a world event would seem to make for an epic huge serious tome. But Bakewell handles everything—the development in thinking, the feuds, the historical context—smoothly and gracefully and with good humor, with no sense of drudge-y academic philosophy-talk. Reading At The Existentialist Café is like sitting down with her at the Existentialist Café, as friends, and she's pointing over at the table with all the eccentrics shouting over each other and she's giving you the scoop, the skinny, the gossip, because she's hung out with them, sat at the table. You want to sit at the table with her. Even just to listen." —ENTROPY MAGAZINE

"[a]n erudite page-turner… Bakewell's book brought to life, warts and all, the characters who shaped the new philosophy of existentialism, a way of thinking about everyday life that aims at describing human experience as fully and vividly as possible. Narrating the story of existentialism in its historical context and in richly evocative detail, Bakewell charted the intellectual and personal encounters among the ever-evolving, frequently fractious circle of philosophers and social critics centered around Sartre and de Beauvoir." —LOS ANGELES REVIEW OF BOOKS

Other Press, 9781590518892, 464pp.
Publication Date: August 8, 2017
About the Author
Sarah Bakewell was a bookseller and a curator of early printed books at the Wellcome Library before publishing her highly acclaimed biographies The Smart, The English Dane, and the best-selling How to Live: A Life of Montaigne, which won the National Book Critics Circle Award for Biography. In addition to writing, she now teaches in the Masters of Studies in Creative Writing at Kellogg College, University of Oxford.