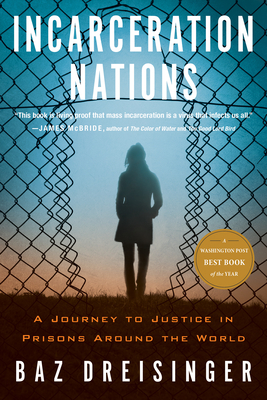 Incarceration Nations
A Journey to Justice in Prisons Around the World
Paperback

* Individual store prices may vary.
Other Editions of This Title:
Digital Audiobook (2/8/2016)
Hardcover (2/9/2016)
MP3 CD (2/9/2016)
Compact Disc (2/9/2016)
Paperback, Chinese (3/10/2016)
Description
In this crucial study, named one of the Washington Post's Notable Nonfiction Books of 2016 and now in paperback, Baz Dreisinger goes behind bars in nine countries to investigate the current conditions in prisons worldwide.

Beginning in Africa and ending in Europe, Incarceration Nations is a first-person odyssey through the prison systems of the world. Professor, journalist, and founder of the Prison-to-College-Pipeline program, Dreisinger looks into the human stories of incarcerated men and women and those who imprison them, creating a jarring, poignant view of a world to which most are denied access, and a rethinking of one of America's most far-reaching global exports: the modern prison complex.

From serving as a restorative justice facilitator in a notorious South African prison and working with genocide survivors in Rwanda, to launching a creative writing class in an overcrowded Ugandan prison and coordinating a drama workshop for women prisoners in Thailand, Dreisinger examines the world behind bars with equal parts empathy and intellect. She journeys to Jamaica to visit a prison music program, to Singapore to learn about approaches to prisoner reentry, to Australia to grapple with the bottom line of private prisons, to a federal supermax in Brazil to confront the horrors of solitary confinement, and finally to the so-called model prisons of Norway. Incarceration Nations concludes with climactic lessons about the past, present, and future of justice.
Praise For Incarceration Nations: A Journey to Justice in Prisons Around the World…
"[Baz Dreisinger's] maternal turmoil when her students are denied parole, rearrested, shot, deprived of opportunity or go missing, as well as her teacherly pride in their successes, is the genuine heart of [this] story…The hopeful note on which this book ends… seems in no small part due to the wish that even our harsh system of punishment can explore connections to the world in ways that can push us for the better." —The New York Times Book Review

"Norway might as well be another galaxy, considering the description offered in Baz Dreisinger's intriguing new book, Incarceration Nations...The great gift of Incarceration Nations is that, by introducing a wide range of approaches to crime, punishment and questions of justice in diverse countries — Rwanda, South Africa, Brazil, Jamaica, Uganda, Singapore, Australia and Norway — it forces us to face the reality that American-style punishment has been chosen. It is not normal, natural or inevitable…To be clear, this is not a typical criminal justice reform book stocked with data, policy analyses and prescriptions for change. Nor is it written by a criminal justice expert…The heart and soul of this book are the stories of the people [Dreisinger] encounters along the way."—The Washington Post

 "Incarceration Nations… is a book about hope, inspiration, and new beginnings."
—Huffington Post / The Blog

"Dreisinger's refusal to offer sweeping generalizations or simple directives in the name of restorative justice is bold...[Incarceration Nations is] an eye-opening, damning indictment of the American prison system and the way its sins reverberate around the globe." —Kirkus Reviews

"Powerful...Dreisinger carries out an incisive inquiry into the standards for a just society's humane treatment of its prisoners." —Publishers Weekly

"[Baz Dreisinger] spent two years visiting prisons around the world--Incarceration Nations is the astounding culmination of her undertaking. Armed with compassion and a vast knowledge of incarceration history, Dreisinger explores facilities from Rwanda to Australia…[and her] zeal to change the penal system is contagious…Incarceration Nations is crucial reading for the world's largest jailer (United States) and the rest of the global population." —Shelf Awareness

"[Baz Dreisinger] isn't coy about her idea of the greater good: She marches to the tune of Angela Davis's crusade for the abolishment of prison…The work Dreisinger does is vital, occasionally lifesaving." —Newsday

"[Dreisinger's] commitment is admirable." —Financial Times

"Given the current national attention surrounding mass incarceration, from the wide popularity of Michelle Alexander's book The New Jim Crow, to Kendrick Lamar's explosive political performance at the Grammys, there's perhaps no better time for Americans to reflect on their contemporary prison system and its origins. Stepping into the conversation with her new book, Incarceration Nations, author and activist Baz Dreisenger takes the debate the a step further, analyzing the philosophies and legislation behind the various prison and judicial systems across the world…Dreisinger…effectively puts the popular zeitgeist of criminal justice under the microscope, guiding the reader through a deep analysis of the prison system's history and motives, as well as through popular conceptions of punishment… Incarceration Nations ultimately does what any good manifesto should do: ask its readers to look outside the comfort zone of their long-held beliefs. While some readers may be more swayed by Dreisinger's calls for prison reform than her views on forgiveness, such views are worthwhile ideals to consider as the people of the world seek to reevaluate the state of their prisons and prisoners." —PopMatters

"Incarceration Nations is an important book, one that pulls back the curtain on a global human tragedy that, for most of us, is hidden from view. The author's unique ability to draw out the humanity in even the most troubled of souls reflects the passion and understanding she brings to her work. Her Prison-to-College Pipeline program, like her writing class in Uganda and drama workshop in Thailand, is a beacon of light that illuminates a stepping stone on a path to change."—Woman Around Town

"Incarceration Nations is a thoughtful, well-written and distressing look at the problems we face in our nation and in the world. Dreisinger does not claim to have the answers to our problems, but she has reminded us that doing nothing is an unacceptable alternative."—Bookreporter

"In a world where mass incarceration has reached levels of near insanity, Dresinger's stirring work offers new ideas in an area that seems to be starving for them. This book is a more than a cry for massive overhaul in prison reform, it gives voice to the silent millions of men and women who live behind prison walls on every continent, and whose suffering is a reflection of our own inhumanity and fear. Forgiveness, payback, restoration, these are the words peppered throughout this well-written work of redemption and identity.  This book is living proof that mass incarceration is a virus that infects us all." —James McBride, author of The Color of Water andThe Good Lord Bird
 
"Incarceration Nations sheds important light on the ways that justice systems around the world are similar, as well as their unique aspects. It uncovers both their most horrifying and hopeful parts. Offering historical investigation and myriad facts, and complementing that research with personal experiences and stories of human beings, the book captures the reader into more inquiry about this vast and critical subject. This is a great read for both students of criminal justice, as well as citizens of the world." —Debbie Mukamal, Executive Director, Stanford Criminal Justice Center,  Stanford Law School
 
"Despite tacit awareness that the prison crisis is global and that the global prison's modern form is US-generated, work on incarceration is almost always limited by national context.  The work of gaining access and trust, of studying multiple intricate systems and national contexts, of traveling long distances and juggling multiple exchanges—while achieving depth of focus—is surely too great for one scholar.  Or so it would seem.  Dreisinger's Incarceration Nations, which documents prisons on four continents, appears to do the impossible.  It's a vital work—part memoir, part scholarly excavation—that manages to inspire even as it chronicles some of the world's most horrific places.  Dreisinger's long history of work with the currently and formerly incarcerated is the perfect background and material for weaving an account that asks all of the right questions, setting us on a path while acknowledging that answers are really just the ground for asking anew." —Gina Dent, Associate Professor and Chair, Feminist Studies, UC Santa Cruz

"In Incarceration Nations, Baz Dreisinger makes a truly important contribution to the discussion of one of America's most notorious exports—prisons.  Observing the American penal landscape through the lens of prisons in nine diverse countries, Dreisinger is able to feel sympathy for both victims and prisoners while showing that nations from Uganda to South Africa to Australia expect more than just punishment and warehousing out of their corrections systems.  As deplorable as the conditions in some of those prisons are, America can learn a lot from Incarceration Nations about how to tackle our own mass incarceration dilemma."  —Vincent Schiraldi, Senior Advisor, NYC Mayor's Office of Criminal Justice

"Incarceration Nations is required reading for anyone concerned about the severity of punishment in America, and that should be all of us. Baz Dreisinger traces our legacy of mass incarceration around the globe. She does it with honesty, courage, and humility over the size of the problem, and yet she finds magical possibilities everywhere she goes when the imprisoned are treated as real persons. There are answers. This book says we can find them." —Robert A. Ferguson, George Edward Woodberry Professor of Law, Literature, and Criticism, Columbia University
Other Press, 9781590518991, 336pp.
Publication Date: August 1, 2017
About the Author
Baz Dreisinger is an Associate Professor in the English Department at John Jay College of Criminal Justice, City University of New York, and the founder and Academic Director of the Prison-to-College Pipeline program (P2CP), which offers credit-bearing college courses and reentry planning to incarcerated men. She is also a reporter on popular culture, the Caribbean, world music, and race-related issues for the New York Times, Los Angeles Times, Wall Street Journal, and NPR, among others, and a co-producer and co-writer of the documentaries Black & Blue: Legends of the Hip-Hop Cop and Rhyme & Punishment. She is the author of Near Black: White to Black Passing in American Culture (2008).
or
Not Currently Available for Direct Purchase