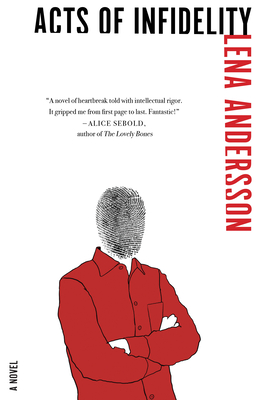 Acts of Infidelity (Paperback)
A Novel
Other Press, 9781590519035, 336pp.
Publication Date: April 23, 2019
* Individual store prices may vary.
Description
Like diving into the mind of a brilliant, infuriating friend, this novel dissects the experience of "the other woman" with tremendous wit and insight.

When Ester Nilsson meets the actor Olof Sten, she falls madly in love. Olof makes no secret of being married, but he and Ester nevertheless start to meet regularly and begin a strange dance of courtship. Olof insists he doesn't plan to leave his wife, but he doesn't object to this new situation either...it's far too much fun.

Ester, on the other hand, is convinced that things might change. But as their relationship continues over repeated summers apart, and winters full of heated meetings in bars, she is forced to realize the truth: Ester Nilsson has become a mistress.

Ester's and Olof's entanglements and arguments are the stuff of relationship nightmares. Cutting, often cruel, and written with piercing humor, Acts of Infidelity is clever, painful, maddening, but most of all perfectly, precisely true.
About the Author
Lena Andersson is a columnist for Dagens Nyheter, Sweden's largest morning paper. Considered one of the country's sharpest contemporary analysts, she writes about politics, society, culture, religion, and other topics. Her fifth novel and English-language debut, Willful Disregard, was awarded the 2013 August Prize, Sweden's highest literary honor.

Saskia Vogel is from Los Angeles and lives in Berlin, where she works as a writer and Swedish-to-English literary translator. Her 2019 debut novel, Permission, has been translated into four languages. She has written on themes of gender, power and the art of translation for publications such as Granta, The White Review, The Offing, and The Paris Review Daily. Her translations include work by Lina Wolff, Katrine Marçal, Karolina Ramqvist, Johannes Anyuru and the modernist eroticist Rut Hillarp.
Praise For Acts of Infidelity: A Novel…
"[Andersson] exposes the cruelty and the comedy of romantic obsession…gripping." —The New Yorker
 
"A thoughtful and sharp exploration of how our culture views infidelity." —Elle (UK)
 
"Andersson (well served by Saskia Vogel's subtle translation) is an electrifying writer." —Times Literary Supplement
 
"Engrossing…a cogent, astute novel." —Publishers Weekly
 
"Piercing…As dryly comic as it is horrifying on an emotional level, the novel will ring true to anyone who has ever loved unwisely…a razor-sharp examination of the self-deluded mind…irresistible." —Booklist
 
"Andersson's writing, crisply translated from the Swedish by Vogel, is wry and refreshingly unsentimental." —Kirkus Reviews
 
"Andersson's acerbic, sharp-witted novel puts the lie to stereotypes about aloof, chilly Swedes…Ester and Olof are the stuff of great characters: fascinating people engaged in terrible behavior." —Barnes & Noble Reads, 15 Newly Translated Novels You Need to Read in 2019
 
"Andersson tells [the story] with energy and wit, and her psychological insights make the twists and turns of the relationship engrossing." —Book Riot
 
"A razor-sharp take on being a mistress…Andersson adroitly juxtaposes contemporary practice against human nature; the epilogue is a pure gut punch delivered to everyone: the married, the single, the hopeful, the desperate." —Literary Hub
 
"Acts of Infidelity powerfully captures the frustration of pursuing someone who wishes neither to commit nor to break things off…captivating…funny and poignant." —The Literary Review 
 
"[A] truly stunning read…Endless wisdom and elegance." —Daily Mail
 
"[A] scalpel-sharp look at a doomed relationship…funny, intelligent…Every other sentence begs to be underlined, reveals an uncomfortable nugget of truth." —The White Review

"This is a follow up to Willful Disregard, but you don't need to have read that to appreciate the craftsmanship of Acts of Infidelity…Andersson's book is cutting and honest, and Ester's situation and feelings are frustrating, complicated and so, so real." —Stylist
 
"A novel of heartbreak told with intellectual rigor. It gripped me from first page to last. Fantastic!" —Alice Sebold, author of The Lovely Bones
 
"There are few people writing about love and longing with such unflinching sharpness and insight as Lena Andersson. She gives feelings and experiences so often dismissed as trivial the attention and gravity they deserve, to brilliant, and often painful, effect." —Sophie Mackintosh, author of The Water Cure