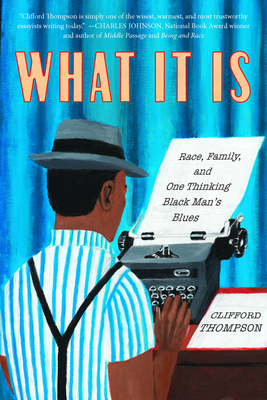 What It Is
Race, Family, and One Thinking Black Man's Blues
Hardcover

* Individual store prices may vary.
Description
An African-American writer's concise, heartfelt take on the state of his nation, exploring the war between the values he has always held and the reality with which he is confronted in twenty-first-century America.

In the tradition of James Baldwin's The Fire Next Time and Ta-Nehisi Coates's Between the World and Me comes Clifford Thompson's What It Is. Thompson was raised to believe in treating every person of every color as an individual, and he decided as a young man that America, despite its history of racial oppression, was his home as much as anyone else's. As a middle-aged, happily married father of biracial children, Thompson finds himself questioning his most deeply held convictions when the race-baiting Donald Trump ascends to the presidency—elected by whites, whom Thompson had refused to judge as a group, and who make up the majority in this country Thompson had called his own.

In the grip of contradictory emotions, Thompson turns for guidance to the wisdom of writers he admires while knowing that the answers to his questions about America ultimately lie in America itself. Through interviews with a small but varied group of Americans he hears sharply divergent opinions about what is happening in the country while trying to find his own answers—conclusions based not on conventional wisdom or on what he would like to believe, but on what he sees.
Praise For What It Is: Race, Family, and One Thinking Black Man's Blues…
One of Time's Most Anticipated Books of Fall 2019

"An engaging and important book, an earnest attempt to analyze our chaotic moment and to project a possible way out of it through dialogue and reflection." —Times Literary Supplement

"[A] thoughtful memoir…In prose that is subtle and graceful, Thompson's narrative casts a refreshing light on race in America." —Publishers Weekly

"[A] graceful and searching clutch of essays…A coolly delivered yet impassioned study of how much Trump's election has shifted and revealed Americans' thinking about race." —Kirkus Reviews

"This frank and personal examination of race and racism in America will be an important addition to many collections." —Library Journal
 
"In What It Is, the reader experiences, via Thompson's plaintive and disillusioned voice, the discomfort of personal recalibration. Thompson explores the world as it is and carefully thinks through how each of us can find our place within it." —BookPage

"Have we thought of the essay as a blues-form? It tests limits and possibilities, faces down grief and loss, refuses easy solutions, and tackles harsh contradictions. This is exactly what Clifford Thompson does in What It Is. He moves through an America gripped by stubborn racial and social demons, thinking, listening, talking with grit and grace." —Margo Jefferson, author of Negroland

"Clifford Thompson has written an elegant and important book." —Jo Ann Beard, author of The Boys of My Youth

"In What It Is, Clifford Thompson offers dispatches from the field, that is, the homes of political allies and adversaries across America, where he parses the rational and irrational impulses that led to the divisive 2016 presidential election. Without insult or hyperbole, Thompson considers reckless and insightful political positions alike with a stunning willingness 'to risk being made uncomfortable' as much by false virtue as by searing truth. Thompson holds himself to a higher standard of integrity than we're used to finding in our social and political discourse. As a writer and a thinker, but more importantly, as a son, a husband, and a father, Thompson reveals why we can no more turn away from history than we can surrender the future to chance." —Gregory Pardlo, Pulitzer Prize–winning author of Digest and Air Traffic: A Memoir of Ambition and Manhood in America

Praise for Clifford Thompson:
 
"Clifford Thompson is simply one of the wisest, warmest, and most trustworthy essayists writing today." —Charles Johnson, National Book Award winner and author of Middle Passage and Being and Race
 
"[Thompson's] prose style is consistently thoughtful, surprising and unobtrusively elegant, and the voice navigates with remarkable smoothness between personal experience and critical analysis…he vaults to the front ranks of essayists of his generation." —Phillip Lopate
Other Press, 9781590519059, 176pp.
Publication Date: November 12, 2019
About the Author
Clifford Thompson's work has appeared in publications including The Best American Essays 2018, Washington Post, Wall Street Journal, Threepenny Review, and Village Voice. He is the recipient of a Whiting Award for nonfiction and teaches at New York University, Sarah Lawrence College, and the Bennington Writing Seminars. He lives in Brooklyn, New York.
or
Not Currently Available for Direct Purchase