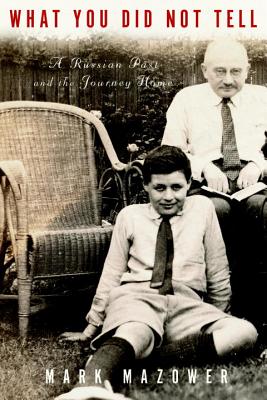 What You Did Not Tell (Hardcover)
A Russian Past and the Journey Home
Other Press, 9781590519073, 400pp.
Publication Date: October 17, 2017
Other Editions of This Title:
Paperback (6/5/2018)
* Individual store prices may vary.
Description
**NAMED FINANCIAL TIMES "TOP 10 BOOKS OF THE YEAR"**
**NAMED EVENING STANDARD "BOOK OF THE YEAR"**
**NAMED NEW STATESMAN "BEST BOOK OF 2017"**


A warm and intimate memoir by an acclaimed historian that explores the European struggles of the twentieth century through the lives, hopes, and dreams of a single family—his own.

Uncovering their remarkable and moving stories, Mark Mazower recounts the sacrifices and silences that marked a generation and their descendants. It was a family which fate drove into the siege of Stalingrad, the Vilna ghetto, occupied Paris, and even into the ranks of the Wehrmacht. His British father was the lucky one, the son of Russian-Jewish emigrants who settled in London after escaping the Bolsheviks, civil war, and revolution. Max, the grandfather, had started out as a socialist and manned the barricades against Tsarist troops, never speaking a word about it afterwards. His wife Frouma came from a family ravaged by the Terror yet making their way in Soviet society despite it all.

In the centenary of the Russian Revolution, What You Did Not Tell revitalizes the history of a socialism erased from memory--humanistic, impassioned, and broad-ranging in its sympathies. But it is also an exploration of the unexpected happiness that may await history's losers, of the power of friendship and the love of place that made his father at home in an England that no longer exists.
About the Author
Mark Mazower is a historian specializing in modern Greece, twentieth-century Europe, and international affairs. He is currently the Ira D. Wallach Professor of History at Columbia University. His books include Salonica, City of Ghosts: Christians, Muslims and Jews, 1430–1950, winner of the Duff Cooper Prize and the Runciman Award; Hitler's Empire: Nazi Rule in Occupied Europe, winner of the LA Times Book Prize for History; Dark Continent: Europe's Twentieth Century; and Governing the World: The History of an Idea, a Financial Times Best Politics Book. His articles and reviews on history and current affairs appear regularly in the Financial Times, the Guardian, the London Review of Books, The Nation, and the New Republic. Born in London and educated at Oxford, he lives in Manhattan.
Praise For What You Did Not Tell: A Russian Past and the Journey Home…
"This beautiful book by Mazower, a historian at Columbia University, revolves around his grandfather Max's enigmatic postwar silences. Max had been a brilliant and leading organizer of the Yiddish Bund, a humane form of non-Communist leftism that attracted tens of thousands of adherents in prerevolutionary Russia, Lithuania and Poland. Hunted by czarist police, the Bundists would be crushed not by their enemies but by the far smaller band of jealous, self-interested Bolsheviks, who had other ideas about how to pursue a revolution. An organizer in Vilna and Lodz, Max renounced his activism and settled in a quiet suburb of London. There he raised a family and provided sanctuary for often traumatized emigrants. Soon, however, Mazower's narrative opens out onto an expansive, branching cast of characters that includes family members as well as numerous icons of 20th-century Jewish history (from Emma Goldman to Walter Benjamin). These stories are remarkable, if often devastating. Max's Bundist associate Shmuel Zygielboym persuades the BBC to report on the gassings of Polish Jewry, only to commit suicide in guilt over having left his wife and child behind in the Warsaw Ghetto. Max's long-ago lover is a Menshevik firebrand named Sofia Krylenko, the sister of Lenin's much-feared people's commissar for justice, while the siblings and cousins of Max's deeply adored wife, Frouma, later became ensnared in Stalin's Terror. Mazower's family saga may begin as an effort to recover a way of being Jewish that is often now lost from memory. Yet it is imbued throughout with perceptive asides about what we can learn from "history's losers," about solidarity across political divisions and about the tremendous tolls taken by the destabilizing uncertainty of not knowing, under repressive regimes, whether and how loved ones have died. "What You Did Not Tell" is, in the end, a profound testament to the saving grace of a sense of rootedness in place and home." —NEW YORK TIMES BOOK REVIEW

"Within the experience of a single family can be seen the forces that shaped whole nations and peoples…There comes a moment in every historian's life when his thoughts turn homeward, away from grand clashes and epic struggles. Who were they, my people, the flesh of my flesh? What currents of history shaped them, inspired them, traumatized them, destroyed them? In 'What You Did Not Tell,' Mark Mazower, a distinguished British-born historian, explores the story of his own family, especially that of his paternal grandparents, Jews who emerged at the turn of the 20th century from the poverty and backwardness of the Russian provinces into the ferment of socialist struggle and, eventually, into the turmoil of the wider world." —WALL STREET JOURNAL

"An enchanting, beautifully written memoir of his ancestors' experiences of 19th – and 20th – century Europe…What You Did Not Tell is pitched in a haunting, elegiac key, but there is great pleasure to be taken from how Mazower constructs his tale. Above all, the book is an undeclared tribute to the historian's tradecraft...There are few historians who can write as grippingly as Mazower about secrets and the painstaking work of revealing them…It all reads like a very good detective novel." —FINANCIAL TIMES

"Memory and secrets, how they are buried and how they can be unearthed, lie at the heart of Mark Mazower's fascinating and scholarly reconstruction of a family's life and the myriad relations, friends, acquaintances, places, houses and adventures that spin out from it. Mazower is a distinguished historian of 20th-century Europe and he brings to his digging the doggedness and meticulousness of the obsessive researcher...All this evidence put together offers not simply a biographical narrative, but, woven into it, a vast and rich picture of leftwing European Jewry throughout the 20th century…What You Did Not Tell is proof of what historical research can yield, providing you have the determination, skill and boundless curiosity to pursue it to the bitter end. But it is also an affectionate portrait of a family whose members Mazower got to know, love and respect more and more as he discovered things that reticence, modesty and an instinctive need for silence had kept resolutely hidden. These were good and generous people, warm and accepting, whose fight for justice was based on their own personal knowledge of poverty and exploitation." —GUARDIAN

"…unusual and exceptionally interesting…[Mazower] excavates, through rigorous research and tenacious sleuthing, the history of a family whose lives spanned the entire twentieth century, and whose fates were closely interwoven with its many ideological terrors and violent upheavals." —NEW YORK REVIEW OF BOOKS

"Mark Mazower's elegiac and arresting family memoir starts in the violence and tumult of pre-revolutionary Russia, and comes to rest in the quiet suburbs of north London…From the trauma and complexity of his family's past, Mazower extracts a tale 'not so much about suffering…as about resilience and tenacity", summed up in a loving portrait of his late father, a man who found peace in Highgate, blending the culture of exiled Russian Jewry with the embracing values of interwar England. Bill Mazower, his son writes, had a capacity for taking 'pleasure in the small things'. In the wake of the vast things that rent his Russian family and sent his forebears into flight, that is a fine and moving epitaph." —THE TIMES

"This is intensely felt history, with person­alities reconstructed from fragments of their written style. Mark Mazower found a kind of Jewish/East European War and Peace waiting to be pieced together from archives that began in the family attic...a marvellous declar­ation of historiographical intent." —TIMES LITERARY SUPPLEMENT

"…an inquiry into the importance of roots and the psychic contentment that comes with belonging...What You Did Not Tell is a marvellous book from the pen of a fine historian, written in a foreign country and steeped in nostalgia." —JEWISH CHRONICLE

"How is it that the places we live in come to feel that they are ours?" a noted historian asks in this exacting memoir….Mazower, plowing through letters, diaries, and archives, finds that his grandfather's story encompasses many of the horrors of twentieth-century Europe." —NEW YORKER

"This is historical story-telling at its very best." —STANDPOINT MAGAZINE

"An eloquent mediation on how we carry our history with us over many generations." —Lorien Kite, THE FINANCIAL TIMES

"Vivid." —RTÉ

"Remarkable." —NEW STATESMAN

"A deeply personal book, but one that will resonate with many readers, particularly those grappling with a fraught heritage." —MINNEAPOLIS STAR TRIBUNE

"After discovering his grandfather's work as an agent for the Jewish socialist Bund, Mazower, a Columbia University historian, explored the efforts people later took to hide their involvement in the revolution. Through the story of his grandfather, Mazower reconstructs the history of this largely forgotten Jewish socialist group that, he writes, was instrumental to the revolution's success." —PUBLISHERS WEEKLY

"Mazower (history, Columbia Univ.; The Balkans: A Short History) illuminates Russian revolutionary politics and émigré life in Britain in this fascinating family history… Readers of family histories and those with an interest in the Jewish Labour Bund will appreciate this book." —LIBRARY JOURNAL

"What You Did Not Tell: A Russian Past and the Journey Home by Mark Mazower is an eloquently written rhapsody on the art of remembering. It is rhapsodic both in the primary sense of the word, in that it is a chronicle exuding a certain air of poetry and exalted, almost epic feeling, and in the more literal sense of being a fabric of words, facts, events and lifelines retrieved from memory and archive and stitched together to form a long-silenced record of a life, an era, a time in human thought and action…a powerful, intimate approach to a momentous slice of history." —BOOKANISTA

"Amid a flood of publications that mostly seek to defame and slander the revolution, Mazower's book stands out as one of the few serious and engaging works…it provides a fascinating insight into how the history of the Russian revolutionary movement shaped entire generations and especially a layer of intellectuals who would eventually turn away from any active involvement in the socialist movement. This reviewer hopes that What You Did Not Tell will find many readers and that some of them will be motivated to delve more deeply into the rich and complex history of the Russian revolutionary movement." —WSWS (WORLD SOCIALIST WEBSITE)

"What You Did Not Tell is a memoir that only one of our finest historians could have written. To call it a "memoir" even is to represent only a small part of Mazower's investigation into his family's past. This is a saga of cities—Vilna, Moscow, Paris, London and New York—and a profound meditation on what it takes to call a place home. It spans more than a century and sheds sparkling light on the Bundists, the first mass Marxist party in Russian history. It is history made intimate, history made personal—a story of idealism, exile, revolution and defeat. One of the great thrills of What You Did Not Tell is to behold Mazower's deep knowledge of Europe meld with his own ancestral past." —Michael Greenberg, author of Hurry Down Sunshine

"The family memoir of a great historian and a subtle writer who is always attentive to humane detail." —Orhan Pamuk, recipient of the 2006 Nobel Prize in Literature

"A simultaneously sweeping and intimate family portrait." —KIRKUS REVIEWS

"It sheds light on the acute political, social, and intellectual dilemmas that confronted European Jews (and others too, but most particularly Jews) in the early 20th century. Beyond that, it is an affecting human portrait, drawn from life. Mark Mazower writes with sensitivity, imagination, and a literary flair worthy of his other better-known forebear." —JEWISH REVIEW OF BOOKS

"…a meticulous, sensitive, and fascinating account of his family's remarkable story, one that provides a window into the hopes and fears of those who suffered some of the worst calamities of the twentieth century." —COMMONWEAL MAGAZINE

"[A] bracing record of persecution and resistance….Mazower lets out the line of his family narrative gradually, like a fly on the water, before hooking the reader with a revelation (a betrayal, execution or disappearance). And his eye for interpreting snapshots brilliantly decodes old photo albums….[T]his inspired blend of memoir and investigation left me with a sense of the sad cycle of history." —THE GUARDIAN

"What one might expect to be merely a charming family portrait, albeit one blessed by Mazower's silk-textured writing, turns out to be a riveting account of people caught up in the last century's most dramatic moments…Mazower engagingly weaves together these lives…" —FOREIGN AFFAIRS

"Mazower tells a story that is both a family saga and something larger…. His book places his family history firmly within the dark history of 20th-century Europe of which he has written so compellingly. Yet he ends What You Did Not Tell not with a gloss on history but with a tribute to the reticent English father who did his best to turn away from the dark." —THE NATION

"Many families have stories that are passed down to the next generation, but Mazower has gone beyond storytelling and legend. He has repaid the debt to those who went before him." —JERUSALEM POST