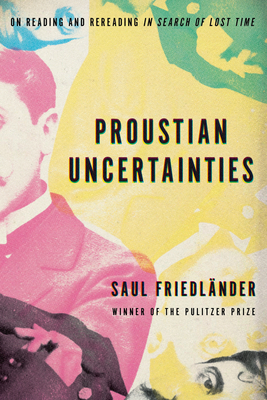 Proustian Uncertainties
On Reading and Rereading In Search of Lost Time
Hardcover

* Individual store prices may vary.
Other Editions of This Title:
Paperback (1/17/2023)
Description
Named a Times Literary Supplement Best Book of the Year 

A Pulitzer Prize–winning historian revisits Marcel Proust's masterpiece in this essay on literature and memory, exploring the question of identity—that of the novel's narrator and Proust's own.
 
This engaging reexamination of In Search of Lost Time considers how the narrator defines himself, how this compares to what we know of Proust himself, and what the significance is of these various points of commonality and divergence. We know, for example, that the author did not hide his homosexuality, but the narrator did. Why the difference? We know that the narrator tried to marginalize his part-Jewish background. Does this reflect the author's position, and how does the narrator handle what he tries, but does not manage, to dismiss? These are major questions raised by the text and reflected in the text, to which the author's life doesn't give obvious answers. The narrator's reflections on time, on death, on memory, and on love are as many paths leading to the image of self that he projects.
 
In Proustian Uncertainties, Saul Friedländer draws on his personal experience from a life spent investigating the ties between history and memory to offer a fresh perspective on the seminal work.
Praise For Proustian Uncertainties: On Reading and Rereading In Search of Lost Time…
"[A] haunting work…Friedländer has always imbued his scholarship with an acute literary sensibility…incisive and quizzical…[an] intimate and subtle book." —Wall Street Journal

"[A] superb new book…Friedländer, the great historian of Nazi Germany and the Jews and also the author of his own Proustian memoir, When Memory Comes, argues that Proust's narrator is a 'disembodied presence unlike that in any novel before,' and that it's the relation of that presence to Proust himself that makes the Recherche, with its biting social satire, so unique." —Times Literary Supplement, Books of the Year
 
"The pleasure of [Proustian Uncertainties] comes from…the author unspooling thoughts and venturing theories collected over many years about a book he clearly loves…By taking a bird's-eye view of the novel, Friedländer notices continuities and contradictions that are hard to see from within the teeming thickets of Proust's prose." —Harper's

"[An] excellent volume about In Search of Lost Time and Proust himself." —Literary Hub

"[A] thought-provoking examination…[Friedländer] is a wise, enthusiastic guide to Proust." —Kirkus Reviews

"[Friedländer] meditates on the 'extraordinary pull' and hidden depths of Marcel Proust's À la recherche du temps perdu in this intriguing extended essay…Proust fans will enjoy these appreciative, personal peregrinations through 'one of the most important novels ever written.'" —Publishers Weekly

"[A] personal and idiosyncratic reading of Marcel Proust's In Search of Lost Time…impressive and will certainly draw in a curious literary readership." —Library Journal

"Saul Friedländer, whose work on memory has played a critical role in filling in the lacunae of recorded history, has turned his lens on the uses of memory in Proust's extraordinary record of time in books that remain timeless." —Maryanne Wolf, author of Proust and the Squid: The Story and Science of the Reading Brain and Reader, Come Home: The Reading Brain in a Digital World

Praise for Saul Friedländer:
 
"Friedländer describes his experiences in lean, graceful sentences; his language seems armored against the dissolution it describes." —New York Review of Books
 
"[Friedländer's] judgments are scrupulous and levelheaded. And he treats the historical controversies that have raged around so many of the topics he covers with untiring fair-mindedness…Friedländer succeeds in binding together the many different strands of his story with a sure touch. He has written a masterpiece that will endure." —New York Times Book Review
 
"[Friedländer's] intellectual discipline may be that of the historian but his writing is animated by the passion of memory that only his generation can fully express." —The Guardian
Other Press, 9781590519110, 176pp.
Publication Date: December 8, 2020
About the Author
Saul Friedländer is an award-winning Israeli-American historian and currently a professor of history (emeritus) at UCLA. He was born in Prague to a family of German-speaking Jews, grew up in France, and lived in hiding during the German occupation of 1940–1944. His historical works have received great praise and recognition, including the 2008 Pulitzer Prize for General Non-Fiction for his book The Years of Extermination: Nazi Germany and the Jews, 1939–1945.