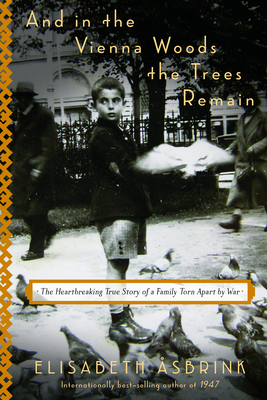 And in the Vienna Woods the Trees Remain (Hardcover)
The Heartbreaking True Story of a Family Torn Apart by War
Other Press, 9781590519172, 448pp.
Publication Date: January 21, 2020
* Individual store prices may vary.
Description
Winner of the August Prize, an intricate weave of documents, substantive narrative, and emotional commentary that centers on a young Jewish refugee's friendship with the future founder of IKEA.

Otto Ullman, a Jewish boy, was sent from Austria to Sweden right before the outbreak of World War II. There he became best friends with Ingvar Kamprad, who would grow up to become the founder of IKEA. Despite the huge Swedish resistance to Jews, the thirteen-year-old Otto was granted permission to enter Sweden—all in accordance with the Swedish archbishop's secret plan to save Jews on condition that they converted to Christianity. Otto found work as a farmhand at the Kamprad family's farm Elmtaryd in Agunnaryd in the province of Småland. Ingvar and Otto became very close friends. But at the same time, Ingvar Kamprad was actively engaged in Nazi organizations and a great supporter of the fascist Per Engdahl. Otto's parents were trapped in Vienna, and the last letters he received were sent from Theresienstadt.

With thorough research, including personal files initiated by the predecessor to today's Swedish Security Service (SÄPO) and more than 500 letters, Elisabeth Åsbrink illustrates how Swedish society was infused with anti-Semitism and how families are shattered by war and asylum politics.
About the Author
Elisabeth Åsbrink is a journalist and author from Sweden and previously served as the chairperson of PEN Sweden. Her book, And in the Vienna Woods the Trees Remain, received worldwide attention for revealing new information about IKEA founder Ingvar Kamprad's ties to Nazism. It won several awards, including the August Prize for Best Swedish Non-Fiction Book of the Year, the Danish-Swedish Cultural Fund Prize, and Poland's Ryszard Kapuściński Award for Literary Reportage. Åsbrink made her debut as a playwright with RÄLS, based on the minutes taken at a meeting convened by Hermann Göring in 1938, and has since written four plays.

Saskia Vogel is from Los Angeles and lives in Berlin, where she works as a writer and Swedish-to-English literary translator. Her 2019 debut novel, Permission, has been translated into four languages. She has written on themes of gender, power and the art of translation for publications such as Granta, The White Review, The Offing, and The Paris Review Daily. Her translations include work by Lina Wolff, Katrine Marçal, Karolina Ramqvist, Johannes Anyuru and the modernist eroticist Rut Hillarp.
Praise For And in the Vienna Woods the Trees Remain: The Heartbreaking True Story of a Family Torn Apart by War…
"Engrossing…compelling…Top-notch microcosmic World War II history and an excellent illustration of the immense power of the written word." —Kirkus Reviews (starred review)

"Åsbrink's historic timeline of Christianity's long scourge-and-purge tactics against Jews is chilling, as are the parallels readers will note to today's immigration discussions…[a] must-read." —Booklist

"And in the Vienna Woods the Trees Remain is a gripping saga of love, friendship, betrayal, and, above all, courage—the courage of parents trapped in the Nazi inferno who yet never waver in their devotion to their son. This is one of the most moving books I have ever read about that dark period in history." —Francine Klagsbrun, author of Lioness: Golda Meir and the Nation of Israel

Praise for 1947: Where Now Begins: 

"1947 is one of those books that makes you want to major in history. It is one of the best books, certainly the best nonfiction book, that I've read recently. I think the subtitle, Where Now Begins, really speaks to one of the things that makes this book so important: The echoes of 1947 are resonating very, very clearly today." —Nancy Pearl on NPR's Morning Edition
 
"An extraordinary achievement." —New York Times Book Review
 
"A skillful and illuminating way of presenting, to wonderful effect, the cultural, political, and personal history of a year that changed the world." —Kirkus Reviews
 
"Åsbrink writes sentences that make one gasp in admiration…[1947] should be read for its poetry, its insights, and the interweaving of personal and political judgments." —Sydney Morning Herald
 
"Extraordinarily inventive and gripping, a uniquely personal account of a single, momentous year." —Philippe Sands, author of East West Street
 
"This is history as a series of eclectic snapshots of events and episodes and people, from the Nuremberg Trials to the partition of India, during a year in which the world tried to redefine its hopes and come to terms with its failures: and it makes for fascinating, disquieting, lively, and often surprising reading." —Caroline Moorehead, author of Village of Secrets
 
"Lucid and vivid…An outstanding work, history as it should be told." —Salil Tripathi, Chair of the PEN International Writers in Prison Committee, and author of The Colonel Who Would Not Repent
 
"Åsbrink deftly brings together the tangle, the mess, the aspirations, and the disappointments which characterized the period and which for her resonate personally through her family history." —Rosemary Ashton, author of One Hot Summer: Dickens, Darwin, Disraeli, and the Great Stink of 1858