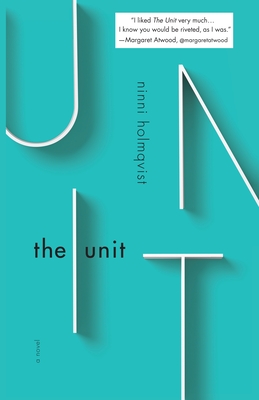 The Unit
A Novel
Paperback

* Individual store prices may vary.
Description
"I enjoyed The Unit very much...I know you will be riveted, as I was." —Margaret Atwood on Twitter

A modern day classic and a chilling cautionary tale for fans of The Handmaid's Tale. Named a BEST BOOK OF THE MONTH by GQ.

"Echoing work by Marge Piercy and Margaret Atwood, The Unit is as thought-provoking as it is compulsively readable." —Jessica Crispin, NPR.org

Ninni Holmqvist's uncanny dystopian novel envisions a society in the not-so-distant future, where women over fifty and men over sixty who are unmarried and childless are sent to a retirement community called the Unit. They're given lavish apartments set amongst beautiful gardens and state-of-the-art facilities; they're fed elaborate gourmet meals, surrounded by others just like them. It's an idyllic place, but there's a catch: the residents—known as dispensables—must donate their organs, one by one, until the final donation. When Dorrit Weger arrives at the Unit, she resigns herself to this fate, seeking only peace in her final days. But she soon falls in love, and this unexpected, improbable happiness throws the future into doubt.
Praise For The Unit: A Novel…
"A haunting, deadpan tale set vaguely in the Scandinavian future…Holmqvist's spare prose interweaves the Unit's pleasures and cruelties with exquisite matter-of-factness…[Holmqvist] turns the screw, presenting a set of events so miraculous and abominable that they literally made me gasp." —Washington Post
 
"Orwellian horrors in a Xanadu on Xanax—creepily profound and most provocative." —Kirkus Reviews

 "This haunting first novel imagines a nation in which men and women who haven't had children by a certain age are taken to a 'reserve bank unit for biological material' and subjected to various physical and psychological experiments, while waiting to have their organs harvested for 'needed' citizens in the outside world… Holmqvist evocatively details the experiences of a woman who falls in love with another resident, and at least momentarily attempts to escape her fate." —New Yorker
 
"This is one of the best books I've read over the past two years…Thought-provoking and emotionally-moving, The Unit is a book you'll be discussing with others long after you're done reading it." —Orlando Sentinel
 
"Like Margaret Atwood's The Handmaid's Tale, this novel imagines a chilling dystopia: single, childless, midlife women are considered dispensable. At 50 the narrator, Dorrit, is taken to a facility where non-vital organs will be harvested one by one for people more valued by society; she knows that eventually she'll have to sacrifice something essential' like her heart. Dorrit accepts her fate–until she falls in love and finds herself breaking the rules." —More magazine
 
"Holmqvist handles her dystopia with muted, subtle care…Neither satirical nor polemical, The Unit manages to express a fair degree of moral outrage without ever moralizing…it has enough spooks to make it a feminist, philosophical page-turner." —Time Out Chicago
 
"The Unit raises issues of love, gender, freedom, and social mores through the perspective of how we assess an individual's contribution to society…Holmqvist's ability to invest the reader in both the story and the characters is exceptional. It is a book you hesitate to put down…The Unit deserves a wide readership." —Blogcritics.org


"Chilling…stunning…Holmqvist's fluid, mesmerizing novel offers unnerving commentary on the way society devalues artistic creation while elevating procreation, and speculation on what it would be like if that was taken to an extreme. For Orwell and Huxley fans." —Booklist
 
"An exploration of female desire, human need, and the purpose of life." —Publishers Weekly

"The message is bold if not on the nose: If you don't fall into a classic nuclear family, then your value as a human are the spare parts you can give those who do contribute to traditional family structures. The book's main character, a writer named Dorrit, is forced to think about the meaning of her life. She'd had a lover, but he wouldn't leave his wife; she'd birthed art, but never a child. Holmqvist's writing is clear and precise…the clinical tone contributes to the The Unit's eeriness. The Unit itself is a place of luxury—amenities include a library, a cafe, immaculately manicured gardens—but it feels as much like home to Dorrit as the promotional photos of an upscale condo. Holmqvist's is a book of quiet cruelty, and perhaps the most harrowing twist of all is that the world outside the walls of the Unit—one with married couples, one with children—seems even worse. In that way, The Unit's strength is uncovering beauty in bleakness."—GQ.com

"Ninni Holmqvist's The Unit, originally published in 2006, offers a shrewd, timely exploration of gender…The novel has been compared to The Handmaid's Tale, but where Margaret Atwood's classic focuses on procreation, Holmqvist's novel feels broader, holding both capitalism and traditional gender roles under a harsh light. Dorrit is honest about her life, and she wonders whether the freedom she had in her youth was worth the price she pays now. Any woman — young or old — will relate to her plight." —Washington Post 

"Ninni Holmqvist's 2009 book The Unit, newly reissued, imagines a world in which people who haven't procreated are forced to make a different—ultimate—contribution to society...The Unit feels like an inversion of Margaret Atwood's Gilead, where fertile women are forcibly impregnated under biblical sanction. Here, the justification for horror—the extraction of human tissue from the childfree—is secular, a capitalist democracy demanding its toll... The Unit contains elements that echo a number of different speculative and dystopian works. The domed environment and omnipresent cameras seem to predict Suzanne Collins's Hunger Games trilogy; the prospect of forcible organ donation brings to mind Kazuo Ishiguro's Never Let Me Go... Holmqvist's intention isn't realism—it's to unravel and critique assumptions about the meaning of life. Is it criminal, she wonders, to live a quiet life dedicated only to self-actualization? Do artists who never achieve greatness have value? Does every citizen have a responsibility to contribute to their society? In exploring such questions, Holmqvist takes liberal assumptions about Scandinavian paternalism versus American individualism and flips them upside down... Holmqvist's writing is spare in style, elegantly succinct, but the layers of the world she's created are manifold. Other dystopian stories like The Handmaid's Tale might seem particularly chilling in a moment when democracy feels like it's under threat, but The Unit is haunting in its assertion that democracy itself isn't enough. The tyranny of popular sentiment can be just as dangerous, Holmqvist argues,presenting scene after scene of intelligent, compassionate citizens indoctrinated into doubting their own worth." —TheAtlantic.com 

"Margaret Atwood has a line on the cover, and no surprise—this dystopian tale of childless men and women relocated in middle age to 'a reserve bank unit for biological material' rivals The Handmaid's Tale for a weirdly believable future in which the childless support families with children giving up parts of their bodies until, at last, they make their 'final donation' and disappear altogether. The reasonableness of this system feels very Scandinavian, certainly very Canadian…Holmqvist has written the sci-fi novel of our narcissistic era, when many people choose to focus on themselves and their art (Dorrit, the heroine of this novel, is a literary fiction writer) or their career over marriage and family. Not being needed by others is a boon when one is young but a death sentence for the middle aged." —Hudson Review 

"Translated into English in 2009 and recently reissued, this Swedish novel imagines a dystopian future for the childless in which literally offering pieces of yourself is a legitimate contribution to society…Not only is it an intimate portrait of creative, single individuals coming to terms with a graphic and imminent death, but their apparent willingness to accept it for the good of others…This begs the question: what does it mean to be a good citizen? To whom are we ultimately responsible? How do we, as well as our society, measure worth? What is the value of one life or the cost of another?" —Buzz Magazines 
Other Press, 9781590519271, 288pp.
Publication Date: July 18, 2017
About the Author
Ninni Holmqvist lives in Skåne, Sweden. She made her debut in 1995 with the short story collection Kostym [Suit] and has published two further collections of short stories since then. She also works as a translator. The Unit marks Holmqvist's debut as a novelist.
or
Not Currently Available for Direct Purchase