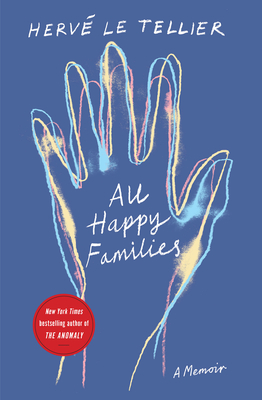 All Happy Families (Paperback)
A Memoir
Other Press, 9781590519370, 192pp.
Publication Date: March 26, 2019
* Individual store prices may vary.
Description
A prominent French writer delves into his own history in this eloquent reflection on dysfunctional family relationships.

Hervé Le Tellier did not consider himself to have been an unhappy child--he was not deprived, or beaten, or abused. And yet he understood from a young age that something was wrong, and longed to leave. Children sometimes have only the option of escaping, and owe to that escape their even greater love of life.

Having reached a certain emotional distance at sixty years old, and with his father and stepfather dead and his mother suffering from late-stage Alzheimer's disease, Le Tellier finally felt able to write the story of his family. Abandoned early by his father and raised in part by his grandparents, he was profoundly affected by his relationship with his mother, a troubled woman with damaging views on love.

In this perceptive, deeply personal account, Le Tellier attempts to look back on trying times in his life without anger or regret, and even with humor.
About the Author
Hervé Le Tellier is a writer, journalist, mathematician, food critic, and teacher. He has been a member of the Oulipo group since 1992 and one of the "Papous" of the famous France Culture radio show. His books include A Thousand Pearls (for a Thousand Pennies), Enough About Love, and Eléctrico W.

Adriana Hunter studied French and Drama at the University of London. She has translated more than fifty books including Camille Laurens's Who You Think I Am and Hervé Le Tellier's Eléctrico W, winner of the French-American Foundation's 2013 Translation Prize in Fiction. She lives in Kent, England.
Praise For All Happy Families: A Memoir…
"Acutely observed…An unexpected coming-of-age tale." —BBC, Ten Books to Read This March

"Moving…The writing is unquestionably sincere." —Kirkus Reviews

"All Happy Families pulls apart the fabric of a dysfunctional family to show its underpinnings, complex and heartbreaking, delicate and nuanced…Le Tellier's masterful writing does his characters justice while not letting them go unscathed, and his ability to see his life and his family with tenderness and love is a blueprint for how we can continue in the face of our pasts. A tender and moving read, its stories stayed with me long after the last page." —Tanya Marquardt, author of Stray: Memoir of a Runaway
 
Praise for Eléctrico W:

"An engaging snapshot of these [characters'] briefly intersecting lives." —New York Times Book Review

"Romantic and atmospheric, this novel also benefits from a particularly fine sense of place and time...witty, sad, and interesting." —Publishers Weekly

"Delicate handling of deep themes--loss, missed connections, meaninglessness--gives the novel an emotional charge." —Kirkus Reviews