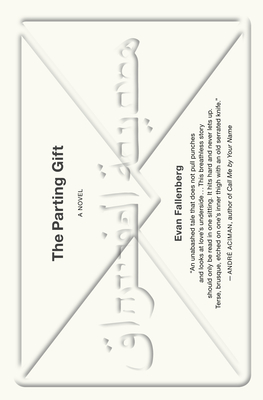 The Parting Gift
A Novel
Hardcover

* Individual store prices may vary.
Other Editions of This Title:
Paperback (6/2/2020)
Description
"An unabashed tale that does not pull punches and looks at love's underside…This breathless story should only be read in one sitting. It hits hard and never lets up. Terse, brusque, etched on one's inner thigh with an old serrated knife." —André Aciman, author of Call Me by Your Name

This erotic tale of jealousy, obsession, and revenge is suffused with the rich flavors and intoxicating scents of Israel's Mediterranean coast.

An unnamed narrator writes a letter to an old college friend, Adam, with whom he has been staying since his abrupt return to the States from Israel. Now that the narrator is moving on to a new location, he finally reveals the events that led him to Adam's door, set in motion by a chance encounter with Uzi, a spice merchant whose wares had developed a cult following.

From his first meeting with Uzi, the narrator is overwhelmed by an animal attraction that will lead him to derail his life, withdraw from friends and extend his stay in a small town north of Tel Aviv. As he becomes increasingly entangled in Uzi's life—and by extension the lives of Uzi's ex-wife and children—his passion turns sinister, ultimately threatening all around him. 

Written in a circuitous style that keeps you guessing until the end, The Parting Gift is a page-turner and a shrewd exploration of the roles men assume, or are forced to assume, as lovers, as fathers, as Israelis, as Palestinians.
Praise For The Parting Gift: A Novel…
"An erotic, mysterious novel." —New York Times Book Review

"A feverish and hypnotic epistolary novel, and a tantalizing literary treat. While wholly its own creation, readers may feel the influences of Patricia Highsmith (the sense of mounting dread) and Edmund White (the white-hot sexual encounters are salacious, surprising and erotic)…haunting, emotionally satisfying and beautifully written." —Shelf Awareness (starred review) 

"Magnetic…a complicated study of the ways in which religious heritage—from codes of honor to familial expectations—interacts with business and acceptance, family and lovers, and self-realization…A beautiful novel whose only fault is ending too soon." —Kirkus Reviews

"Riveting…Fallenberg writes with a quiet yet rising intensity that draws the reader into the story." —The Advocate, The Best Books We Read in 2018: LGBTQ Novels
 
"Fallenberg lushly describes the physical aspects of this passion in rich and supple language, making this a very sexy read." —Lambda Literary
 
"Intoxicating…Fallenberg is a fearless writer; particularly on the vulnerability and rawness of desire. His crisp taut sentences compel us to keep reading." —Jerusalem Post
 
"Keeps us glued to the page…a well-written, compelling novel with a bold narrative that explores the frailty of human relationships, same-sex and otherwise." —Times of Israel
 
"A suspenseful page-turner of personal entanglement." —World Literature Today
 
"Fascinating…a sharp, short, streamlined text, compelling and vividly readable from the first sentence, and falling easily into that category of books which are 'difficult to put down.'" —Entropy

"The Parting Gift is itself a gift, an intricate and complex story, beautifully and tenderly told. It offers one surprise after another and accomplishes what only great literature can by compelling us to confront the parts of ourselves we'd rather not look at." —Imbolo Mbue, New York Times bestselling author of Behold the Dreamers
 
"This is a perfect little book—a whip-crack of a story, propelling us so seamlessly and irresistibly from vulnerability to viciousness, from the familiar to the monstrous, that it's in a class with Lolita and Rebecca. In prose both sensuous and eviscerating, Evan Fallenberg sweeps us onward where we'd otherwise drag our feet, into terrain where one loses track of just who is twisting the knife in the narrator, in the reader, in the soul of a country." —Rachel Kadish, author of The Weight of Ink
 
"Intoxicating. Intense. Impiously pure. Evan Fallenberg has penned a 'lust letter' to the human condition and brilliantly depicts the engagement of sex in the pursuit of love. From the first page, The Parting Gift dares you to put it down, and you will not because the language is simply riveting. This brutal epistolary novel is disturbingly profound, a Giovanni's Room in a beach town north of Tel Aviv where the sights, tastes, and most of all the smells are simply to die for." —Xu Xi, author of Dear Hong Kong

"An unabashed tale that does not pull punches and looks at love's underside only to find in the brute sex between two men the binding stuff that makes us all selfless and selfish. We may dream of loyalty in us and in others but find treachery everywhere, more in us perhaps than in others. For there may be no truth in life, and love is wicked, stubborn, always scared, never kind. And yet there is a twist at the end that is worth every page of this breathless story that should only be read in one sitting. It hits hard and never lets up. Terse, brusque, etched on one's inner thigh with an old serrated knife." —André Aciman, author of Call Me by Your Name
Other Press, 9781590519431, 256pp.
Publication Date: September 4, 2018
About the Author
Evan Fallenberg is the author of three novels and a translator of Hebrew books, plays and films. His work has won or been short-listed for numerous awards, including the American Library Association Barbara Gittings Stonewall Award for Literature, the Edmund White Award for Debut Fiction and the PEN Translation Prize. He teaches at Bar-Ilan University in Tel Aviv and is faculty co-director of the Vermont College of Fine Arts International MFA in Creative Writing & Literary Translation. Fallenberg is the recipient of residency fellowships from the National Endowment for the Arts, MacDowell Colony, Banff Centre for the Arts, Fondation Ledig-Rowohlt and Sun Yat-sen University, and is the founder of Arabesque: An Arts and Residency Center in Old Akko, Israel.
or
Not Currently Available for Direct Purchase