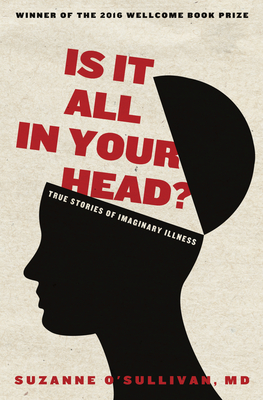 Is It All in Your Head? (Paperback)
True Stories of Imaginary Illness
Other Press, 9781590519493, 304pp.
Publication Date: September 11, 2018
Other Editions of This Title:
Hardcover (1/17/2017)
* Individual store prices may vary.
Description
Winner of the 2016 Wellcome Book Prize, a neurologist's insightful and compassionate look into the misunderstood world of psychosomatic disorders, told through individual case histories.

It's happened to all of us: our cheeks flush red when we say the wrong thing, or our hearts skip a beat when a certain someone walks by. But few of us realize how much more dramatic and extreme our bodies' reactions to emotions can be. Many people who see their doctor have medically unexplained symptoms, and in the vast majority of these cases, a psychosomatic cause is suspected. And yet, the diagnosis of a psychosomatic disorder can make a patient feel dismissed as a hypochondriac, a faker, or just plain crazy.

In Is It All in Your Head? neurologist Suzanne O'Sullivan takes us on a journey through the world of psychosomatic illness, to reveal the hidden stresses behind mysterious symptoms. With patience and understanding, she addresses the taboos surrounding psychosomatic disorders, teaching us that "it's all in your head" doesn't mean that something isn't real, as the body is often the stand-in for the mind when the latter doesn't possess the tools to put words to its sorrow. She encourages us to look with compassion at the ways in which our brains act out, and to question our failure to credit the intimate
connection between mind and body.
About the Author
Dr. Suzanne O'Sullivan is the author of Is It All in Your Head? (Other Press), which won the 2016 Wellcome Book Prize. She has been a consultant in neurology since 2004, working first at the Royal London Hospital and currently as a consultant in clinical neurophysiology and neurology at the National Hospital for Neurology and Neurosurgery, as well as for a specialist unit based at the Epilepsy Society. She has developed expertise in working with patients with psychogenic disorders, alongside her work with those suffering from physical diseases, such as epilepsy.
Praise For Is It All in Your Head?: True Stories of Imaginary Illness…
"Thoughtful and stimulating…The whole-life stories that Dr. O'Sullivan tells are compelling [and] carefully chosen…a wise book." —Wall Street Journal
 
"O'Sullivan illuminates one of medicine's most fraught moments, when a physician reaches the conclusion that there is no physical (or 'organic') disease." —New York Review of Books
 
"In this important book, O'Sullivan…advocates for new ways to look, understand, and treat unexplainable symptoms, paving the way for bringing relief to her patients. Some of the cases will break your heart." —Huffington Post

"Each chapter of this book presents a case study, lending vivid life to patients with psychosomatic disorders…If empathy is bolstered by understanding, then this book will bring such sentiments to a rarely understood condition. It will engage readers' heads, but also quite possibly enter their hearts." —Publishers Weekly 

"Doctors' tales of their patients' weirder afflictions have been popular since Oliver Sacks…Few of them, however, are as bizarre or unsettling as those described in this extraordinary and extraordinarily compassionate book." —Sunday Times 

"Honest, fascinating, and necessary." —The Times (UK)