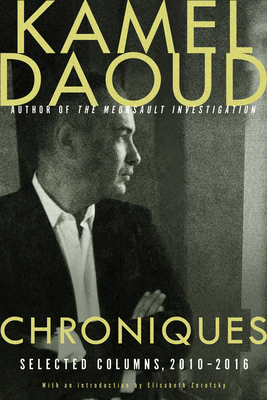 Chroniques
Selected Columns, 2010-2016
Hardcover

* Individual store prices may vary.
Description
This engaging collection of essays showcases the extraordinary passion, insight, and range of Kamel Daoud, bestselling author of The Meursault Investigation.

Kamel Daoud has been a journalist for more than twenty years, writing the most-read column in Algeria, in Le Quotidien d'Oran, while also collaborating on various online media and contributing to foreign publications such as the New York Times. During the 2010-2016 period, he put his name to almost two thousand texts--first intended for the Algerian public, then read more and more throughout the world as his reputation grew.

Whether he is criticizing political Islam or the decline of the Algerian regime, embracing the hope kindled by Arab revolutions or defending women's rights, Daoud does so in his own inimitable style: at once poetic and provocative, he captures his devoted followers with fresh, counterintuitive arguments about the nature of humanity, religion, and liberty.
Praise For Chroniques: Selected Columns, 2010-2016…
"Daoud is a brilliant, indeed dazzling, thinker…[Chroniques is] sharp, smart, and searingly felt, demonstrating breathtaking understanding of both the world of letters and life experience. Daoud's essays are literally death-defying, often painful, and always deeply thoughtful." —Los Angeles Review of Books

"Daoud…offers unsparing critiques of political Islam, Arab dictatorships, Western complicity, and social and cultural repression…A stunning, defiant, and impassioned collection." —Kirkus Reviews (starred review)

"Incisive, occasionally witty and always irreverent, Daoud's pen spares no one…Daoud's courage in confronting the Algerian state is particularly commendable." —Times Literary Supplement

"Shrewd and sharp…These thought-provoking writings will appeal to readers interested in geopolitical events in one of the most troubled regions of the world." —Library Journal

"Nothing of Kamel Daoud's exquisite prose is lost in translation in this brilliant English edition of his collected essays. Daoud is our interpreter and critic of the Arab—and by extension, Islamic—world, and no one, from the Islamists to the dictators to every rogue in between, is immune from his pointed jabs." —Hooman Majd, author of The Ayatollah Begs to Differ

"Chroniques offers an astute and sobering critique of a region besieged by a fatalistic adherence to religious dogma and by tyrannical rule disguised as national stability. Kamel Daoud has the audacity to think differently, to confront Islamism and oppression, to reflect judiciously on a people and a region that he intimately understands, and to deconstruct the myth of an 'Arab' identity. Daoud's acumen is matched only by his linguistic prowess and his use of elegant prose to unpack delicate and contentious questions of our times." —Safwan M. Masri, author of Tunisia: An Arab Anomaly

Praise for The Meursault Investigation:

"Stunning…an intricately layered tale that…nudges us into a contemplation of Algeria's history and current religious politics; colonialism and postcolonialism; and the ways in which language and perspective can radically alter a seemingly simple story and the social and philosophical shadows it casts backward and forward." —Michiko Kakutani, New York Times
 
"Mesmerizing…an absorbing, independent story and a shrewd critique of a country trapped in history's time warp." —Wall Street Journal
 
"Rich and inventive…so convincing and so satisfying that we no longer think of the original story as the truth, but rather come to question it." —New York Times Book Review
 
"Remarkable…[The Meursault Investigation's] themes of voicelessness and vengeance feel utterly present-day." —Vogue
 
"A tour-de-force." —The New Yorker

"What makes Daoud's book so good is that, steeped in independent thinking, it offers an illuminating, if controversial portrait of today's Algeria." —Fresh Air, NPR
 
"A biting, profound response to French colonialism…Daoud's prose is propulsive and charged. The pages glitter with memorable phrases." —The Economist
Other Press, 9781590519561, 336pp.
Publication Date: October 16, 2018
About the Author
Kamel Daoud is an Algerian journalist based in Oran, where he writes for the Quotidien d'Oran—the third largest French-language Algerian newspaper. He contributes a weekly column to Le Point, and his articles have appeared in Libération, Le Monde, Courrier International, and are regularly reprinted around the world. A finalist for the Prix Goncourt, The Meursault Investigation won the Prix François Mauriac and the Prix des Cinq-Continents de la francophonie. International rights to the novel have been sold in twenty countries. A dramatic adaptation of The Meursault Investigation was performed at the 2015 Festival d'Avignon, and a feature film was released in 2017.

Elisabeth Zerofsky's writing has appeared in The New Yorker, n+1, The New Republic, and Harper's. She is a graduate of Brown University and was a Fulbright fellow in Paris from 2008 to 2009.
or
Not Currently Available for Direct Purchase